All of Ireland had been put on Red Alert for the strength of the winds, Amber warnings were issued for Northern Ireland by Sunday night and on Monday morning these were extended to include Wales, the Isle of Man and SW Scotland. Yellow Wind warnings of severe weather also covered other parts of Britain. Disruption and damage continue today for Scotland and NE England with train disruption, trees down, a derelict building has collapsed in Glasgow and flood warnings continue due to heavy rain in the NW and coastal impacts of the storm.
Coastguards had continued to warn people to stay away from shorelines as the wild conditions continued.
Ophelia wasn't all about damage and gales. It was strangely warm, Kent, Norfolk and Suffolk all saw temperatures over 23C (73F) on Monday. What huge amounts of people did notice, was the sky. #RedSun and #YellowSky resulted in lots of photos on social media of the strange celestial colourings.

View more of the photos from Allseasons-Si here.
Gloom and an orangey yellow tinge with periods of near day darkness. The sun did look reddish and it was all linked to Ophelia. Ahead of the low-pressure centre, very warm air was being drawn up from western Europe and even northern Africa. This air included Saharan dust and smoke particles from the Iberian wildfires, which are raging in parts of Portugal and NW Spain. Cars and windows are now covered in muck thanks to all these extra tiny particles.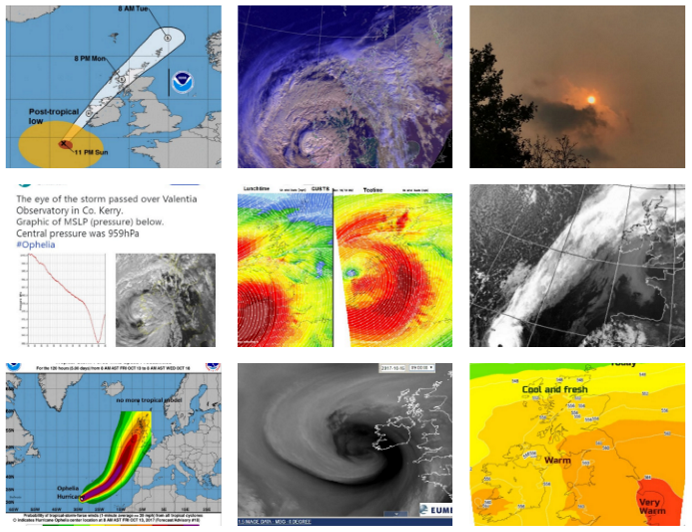 There is still a strong wind warning for eastern Scotland and NE England on Tuesday, as the low pressure pull away towards Norway. The forecast charts show more low pressure lining up from the Atlantic, usual extra-tropical/mid-latitude ones, so autumn can carry on with it's wet and windy bouts.
Ophelia, you have been quite incredible.