Depending on where you were across the British Isles #Ophelia brought gales and damaging gusts, wild, stormy weather with driving rain and violent seas or by comparison, orange skies with a strange red sun, real warmth and an ominous day darkness. It was also the 30th anniversary of the Great '87 Storm.
As trees fell, 3 people were killed in Ireland with thousands of homes left without power. Flights were cancelled, as were many bus services. All the school in Ireland and Northern Ireland were closed which continues into a second day as damage inspections take place with attempts to restore power. ESB said around 245,000 homes remain without power, down from 330, 000 during Monday. RTE News

The power interruptions have had knock effects for water services. Some treatment plants and pumping stations did have reservoir storage and backup generators but with roads blocked by fallen trees in the south, crews were unable to get through to carry out repairs. Around 200,000 households remain without water due to burst mains. Even for those with water Boil Water Notices have been issued in places as the power failures impact the disinfection of water plants.
As post tropical Ophelia clears away from NE Britain on Tuesday, the impacts will take days or weeks to fix. Roofs were ripped off schools and stadium, part of the reason the school children get another day off, to check for structural damage and await the power and/or water supplies.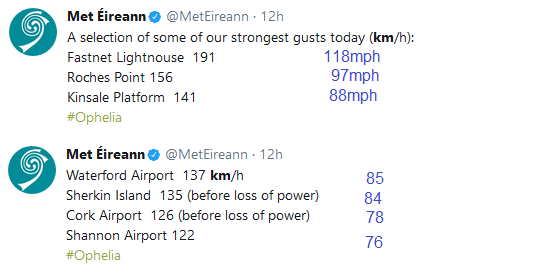 Any gust over 73mph can be described as hurricane-force. Gwynedd had gusts of winds 90mph 78 knots with severe gales/storm force mean winds for western Wales, the Isle of Man and the Peak District. Up in the Cumbria Fells a gust of 99mph was recorded. Co Down saw a gust of 71mph, Ronaldsway 78mph.