Ophelia has strengthened to a Category 3 hurricane this afternoon, with maximum sustained winds of 115mph. This sets a record as the most eastern cat. 3 hurricane in the Atlantic on record. Ophelia continues to move northeast at 25 mph to the southeast of the Azores today.
Ophelia is being steered by a deep southwesterly flow on the southern side of a broad long-wave upper trough extending south over the North Atlantic. This upper trough will amplify over the next few days, which will cause Ophelia to accelerate its forward speed as the mid-level flow increases, with Ophelia's forward speed gradually increasing to 30 knots by the end of Sunday.
Models are in general agreement on Ophelia then tracking NE toward Ireland, and becoming a post-tropical depression by Monday, as vertical wind shear increases and it moves over sea surface temperatures below 20C further north. Ophelia looks to fall favourably into the right entrance region of a strong jet streak on the forward side of the upper trough, where upper divergence will help maintain large scale ascent, which combined with energy produced by a baroclinic environment of differing airmasses separated by the jet stream, will help maintain a strong but increasingly large wind field containing hurricane force winds as Ophelia approaches Ireland. What's more, sea surface temperatures are generally a few degrees above average over where Ophelia will pass before reaching Irish waters, so this may add extra energy to help maintain the intense circulation.
Model guidance forecast the centre of Ophelia, either making landfall along the west coast of Ireland or staying over the Atlantic just west of the west coast. But either way, Ophelia will be a powerful extratropical depression likely producing hurricane-force winds as it approaches Ireland.
06z GEFS (ensemble) tracks for Ophelia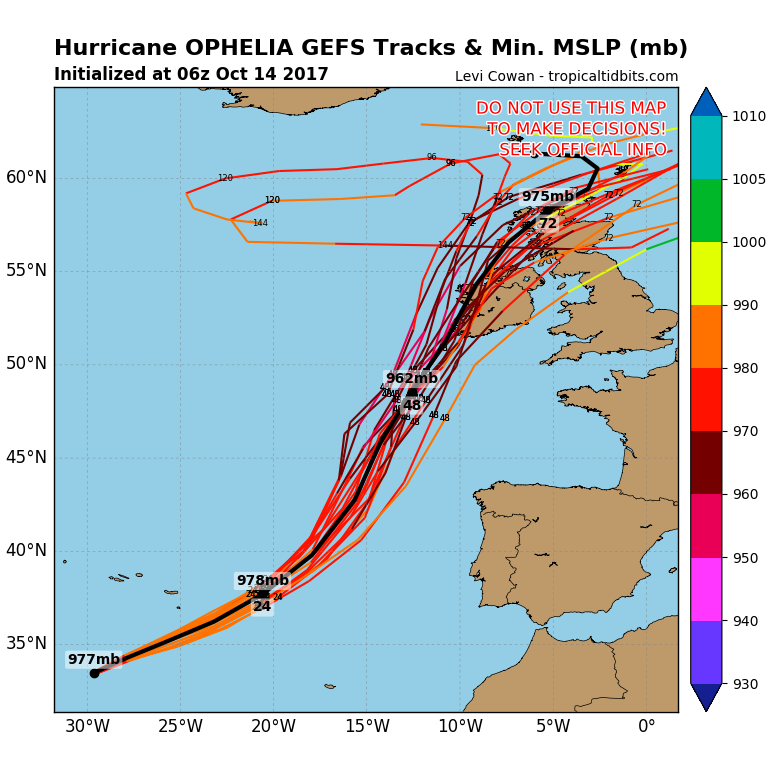 Met Eireann have issued a STATUS RED wind warning for Monday/Monday night for Galway, Mayo, Clare, Cork and Kerry. They are forecasting mean wind speeds in excess of 50 mph and wind gusts in excess of 80 mph over these areas. A STATUS ORANGE wind warning has been issued for the rest of the country, with wind speeds between 40-50mph and gusts between 68-80mph.
Such strong winds could produce structural damage, cause widespread power outages across Ireland and Northern Ireland and create travel disruption. Also the winds over the Atlantic will create large swell and waves, ECMWF model forecasting wave heights reaching 35 feet or 10m to the south Ireland on Monday evening. This will create dangerous marine conditions, with potential for coastal flooding and tidal flooding inland.
Ophelia will weaken and fill as it continues on its expected forecast track northeast up the western side of Ireland then up across northern Scotland during Tuesday morning.
However, for the UK, a spell of very windy weather is likely for the north and west and the Met Office have issued yellow wind warnings for Monday and Tuesday for northern and western areas in association with ex-Ophelia. Strongest winds on Monday evening/night with southerly wind gusts of between 55 and 65 mph across much of the warning area with the potential for gusts of 80 mph in coastal areas, particularly in Northern Ireland. The wind warning extending into Tuesday morning, though by then southwesterly wind gusts between 50 and 60 mph across much of the warning area with the potential for gusts of 70 mph across the Central Belt of Scotland and parts of Northeast England.
Rainfall shouldn't be so much an issue compared to the wind, though western Ireland and NW Scotland could see 24 hour totals in excess of 50mm (2 inches) by Tuesday morning.