Written By Ian Simpson
4th September 2017
Summary
There are some conflicting signals this time around, with ENSO and the Arctic sea ice in similar states to what we had this time last year, although last year we were coming out of a very pronounced El Nino event. There is very little support among the seasonal forecast models for extended Scandinavian blocking during October like we had last year, and the majority favour a stronger-than-average mean westerly flow over the UK during October and to a lesser extent September as well. There is quite a strong signal for anticyclonic conditions to become more frequent into November, but with high pressure positioned unfavourably for cold weather; the majority consensus is for November to be milder than average.
Temperature
Most of the long-range forecast models are going for a slightly warmer than average September, but the shorter-range guidance, notably from the GFS model outputs and the MJO, point to an anticyclonic/southerly regime setting up for a time around 20 September. This points to a warmer than average September, probably by about 1C over much of the country, although there is about a 30% chance of temperatures coming out close to average, with near average temperatures most likely across the south of Britain. October will most likely bring close to average temperatures for much of the country, with a slight (~30%) chance of it coming out rather warmer than average. For November, the signals favour above-average temperatures (~70% chance). As a result, Autumn 2017 is expected to be warmer than average overall but is unlikely to end up among the warmest autumns on record.
September Averages
England 13.7c
Wales: 12.9c
Scotland: 11c
N.Ireland: 12.3c
October Averages
England 10.4c
Wales: 9.9c
Scotland: 8c
N.Ireland: 9.4c
November Averages
England 6.8c
Wales: 6.8c
Scotland: 5c
N.Ireland: 6.5c
Rainfall
The majority of the signals suggest a wetter than average September (60-70% chance) and October (>75% chance), especially in western parts of the UK, associated with the positive NAO and stronger than average mean westerly flow that is forecast. November is looking more likely to be drier than average (about 50% chance) but there is some support for above average rainfall in the west in November as well in spite of the majority of the signals suggesting above average sea level pressure for the month.
September Averages
England: 68.6mm
Wales: 112.2mm
Scotland: 131.3mm
N.Ireland: 91.7mm
October Averages
England: 90.4mm
Wales: 165.4mm
Scotland: 170.3mm
N.Ireland: 120.1mm
November Averages
England: 86.8mm
Wales: 157.6mm
Scotland: 160.1mm
N.Ireland: 112.1mm
See below for the in depth forecast factors...
---
Autumn Forecast Factors In Depth
Some signals leading into last year's autumn had similarities with this year's, such as the transition from a positive ENSO to a neutral to slightly negative ENSO. September was notably warm, with a hot spell around the 13th but mostly changeable weather early and late in the month. October was mostly a dry and sunny month, except in eastern coastal areas, with persistent easterly winds and near-average temperatures. November was a cold and sunny month for most, generally the coldest November since 2010.
ENSO Signal
ENSO switched to a positive state during mid to late spring, which for a time triggered forecasts of a possible 2017/18 El Nino, but this is now looking somewhat unlikely. ENSO is currently trending towards a neutral state and the majority of forecast ensembles from NMME are going for a neutral to slightly negative ENSO base state during Autumn 2017. The ECMWF guidance is similar, and the JAMSTEC model goes for a slightly positive ENSO state, but close to neutral. The Met Office model shows more support for ENSO heading into weak La Nina territory but with a slight chance of ENSO remaining slightly positive.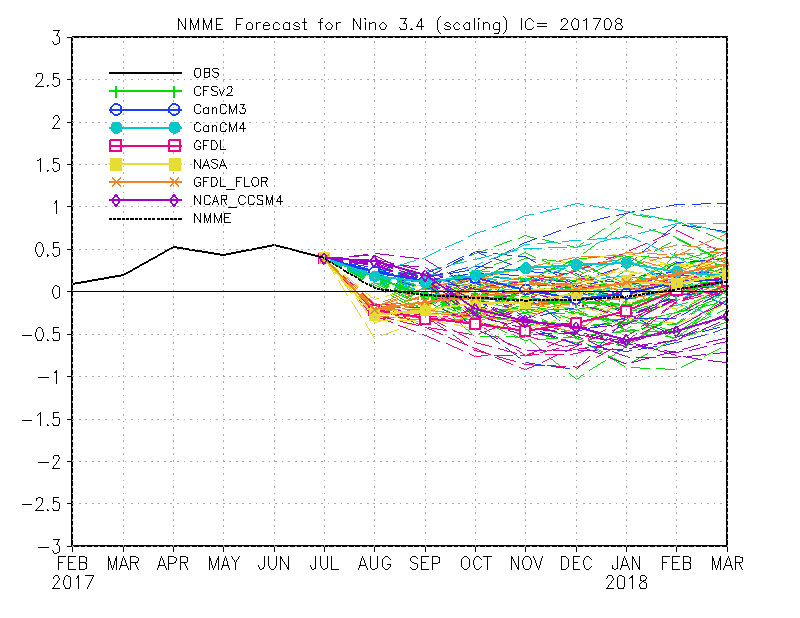 1953, 1958, 1969, 1980, 1981, 1995, 2005 and 2012 stick out as analogues for this ENSO progression, and composites for those years from NCEP/NCAR do not show much of a relationship with autumn patterns; there is a very weak link with above-average sea-level pressure over the UK but too weak to place much confidence in. Breaking it down by month, there is a weak tendency for cyclonic/westerly Septembers, anticyclonic Octobers, and above-average pressure extending over to the UK from the mid-Atlantic in November.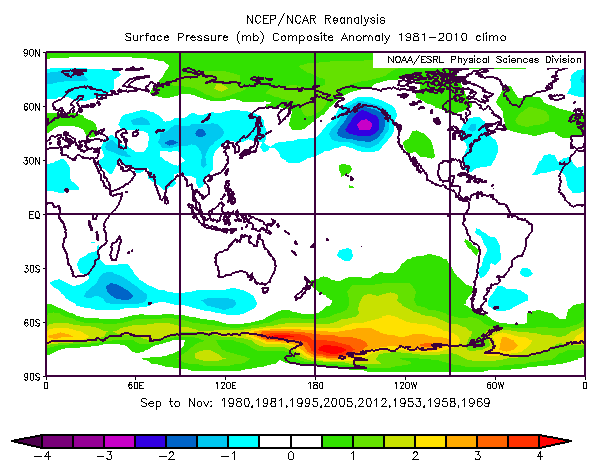 Stratospheric conditions
The QBO has been in a westerly phase for most of 2017 but has recently trended into a weak easterly phase. Meanwhile, the temperature of the stratosphere is generally below average between 25N and 90N. The stratosphere is worth monitoring more closely as we head into November, for if the trend towards an easterly phase strengthens this may promote a weak jet stream and high latitude blocking in November and more especially into the winter of 2017/18. On the other hand, a cold stratosphere tends to promote the opposite.
MJO
The MJO is forecast to head into phases 1/8 towards mid-September according to NCEP, but confidence on this is low, as some of the other forecast centres disagree with this. The composites for MJO phase 8 suggests an enhanced west/south-westerly flow over the British Isles, while the composites for phase 1 suggest a cyclonic type with a southerly bias. I have a suspicion that the NCEP forecasts are too progressive, and that we may end up around phase 7 by mid-September, with a strong phase 1 or 8 MJO rather developing later in the month. Into October the MJO is likely to progress into phase 2 or 3, which according to the composites will most likely help maintain cyclonic/unsettled/westerly conditions. Beyond that, confidence in the progression of the MJO drops considerably.
Arctic Sea Ice
The Arctic sea ice extent and volume are currently running at near-record low levels, as has been typical for recent years, but ice melt has been rather slower than in many recent years over the summer and so we are not currently breaking records for either extent or volume. The Arctic sea ice extent is currently unusually low around the Chuckhi and Beaufort Seas but is not far short of the long-term normal on the Atlantic side or in the Russian Arctic. Temperatures in the Russian Arctic have been running close to or just below normal over the summer months, in contrast to most recent years.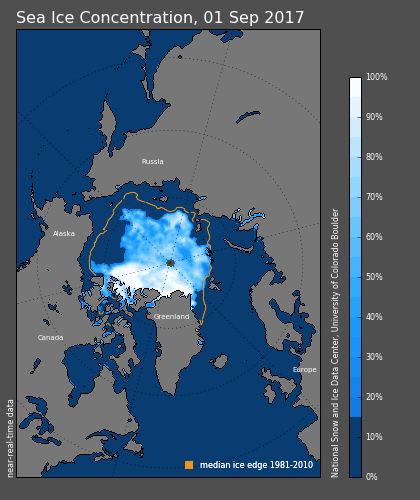 Overall, the ice pack is quite similar to how it looked at the end of Summer 2008. Autumn 2008 ended up relatively cool for recent years.
Years with notably low summer sea ice survival have had a weak tendency for the autumn as a whole to be characterised by a positive Arctic Oscillation and to be more anticyclonic than average over the UK. Much of this anticyclonic tendency has come from the Octobers of those years. This may not be among the better predictors of how Autumn 2017 will pan out, however, as 2017 may end up near the bottom of the list of low survival years, if the sea ice does not melt out substantially during September.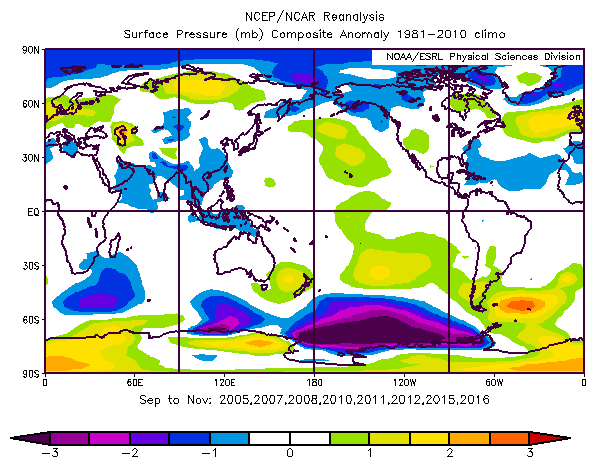 North Atlantic Oscillation and Arctic Oscillation
As noted above, the ENSO analogues hint at above-average pressure to the south of Greenland through this autumn, suggesting that the NAO and AO may end up in predominantly negative states relative to the long-term normal. However, most forecast models appear to be going for a weakly positive NAO and AO for Autumn 2017. NOAA's NAO forecasts are also going for a slightly positive NAO through early to mid-September. A positive NAO does not always translate to an enhanced westerly flow over the UK itself (e.g. consider Scandinavian blocking high setups) but in view of the model forecasts below, there is a good chance that on this occasion the positive NAO will correspond to a more westerly than average autumn over the UK, especially for September and October.
The Met Office long-range models (judging by the tercile predictions for months 2-4 and 3-5) are hinting at a greater chance of below-average pressure around and to the west of Iceland, suggesting that a positive NAO is more likely through the autumn as a whole, with high pressure featuring more prominently closer to the UK later in the season with the Arctic Oscillation trending negative later in the season.
The Netweather long-range model has been fluctuating in recent days, but is currently offering similar guidance to the Met Office model, with a slightly enhanced mean westerly flow for September and October and then slightly above average pressure over the UK during November. Netweather's model has also been pointing to above-average blocking to the north and/or east of the UK during the following winter, but this signal does not kick in during the autumn months.
The CanSIPS forecast model is suggesting an enhanced westerly flow in September, a cyclonic/westerly October, and then above-average pressure in November, and the signal for high pressure continues into the winter of 2017/18 also. Correspondingly, CanSPIS suggests mostly above-average rainfall for September and October, and then rainfall falling rather below normal in November. The CFS forecasts tend to fluctuate significantly, but here, too, there is a suggestion of an enhanced westerly flow during the autumn with a tendency for above-average rainfall in western Britain. The CFS does not have as strong a signal for anticyclonic conditions in November.
Temperatures and rainfall
The Met Office model also forecasts that the cold blob in the Atlantic Ocean will remain but will weaken. Over the UK temperatures are forecast to be most likely above the long-term normal, but not exceptionally so (probably by less than a degree Celsius), as may be expected with a slightly enhanced westerly flow and mean Northern Hemisphere temperatures running about 0.3-0.5C above the 1981-2010 long-term average.
CanSIPS forecasts that temperatures will be a little above normal (by <1C) over the UK, but with near-average temperatures over the south during September.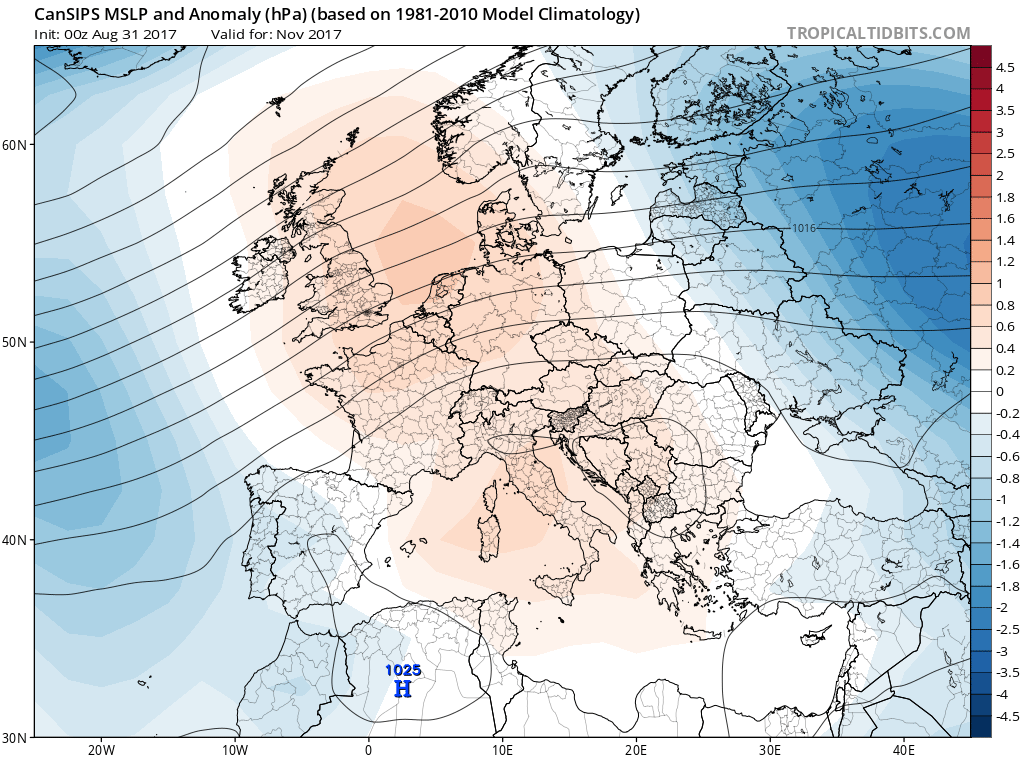 Thus, there is a fairly consistent suggestion that September and October will be characterised by near-average sea level pressure over the UK, with a slightly enhanced mean westerly flow probable, especially in October, which, if correct, could turn out to be a rather wet and unsettled month. In November there is a strong suggestion that anticyclonic types will be more frequent than usual, but with the strength of the mean westerly flow over the UK most likely close to average.
Sea surface temperatures are generally forecast to be above normal except for that cold blob over the North Atlantic which has been persistent over the past few years and there is speculation that it could be related to melting Arctic sea ice and a weakening of the warm ocean current from the Gulf Stream.
The ECMWF Seasonal is suggesting a drier than average September with close to average temperatures, a wet October with close to average temperatures, and then a mild November with above average rainfall mainly for the west.
The JAMSTEC model does not give a monthly breakdown but the seasonal prediction is for a wetter than average autumn over the UK and much of France, wettest relative to normal over Ireland, and moderately warm temperature anomalies. Projections of a dry autumn over eastern Scandinavia and a cool one over a large section of eastern Europe and Asia perhaps point to above-average blocking over eastern Scandinavia, a watered-down version of what we saw last autumn. However, this signal is at odds with many of the other forecast models and in any case is not forecast to extend far enough west to have much of an influence over the UK.
Long Range Forecast Updates
The seasonal long range forecasts are updated every 3 months, the Winter Forecast will be issued during November.
For regular long range updates, see the monthly forecast which is updated weekly. Netweather Extra subscribers also have access to daily updates of the long range CFS model.