Airmass image at 18z Thurs 29th Jan 1015 courtesy of EUMETSAT
The low also brings heavy rain/sleet or snow – parts of N Ireland, Wales and NW England saw 5-10cm Thursday night, as the low's convective bands made landfall – though there was a mix of rain and sleet across SW and southern England on the southern side of the low, before it exited across SE England while on the northern side parts of northern Home Counties saw snow.
So generally, this small tight low had all the hallmarks of a polar low – though there are a few characteristics that were missing that made it less clear that it fitted the bill, some literature suggests that a 500mb temperature of -40C or below is normally required though other literature states that the difference between sea surface temperature and 500mb temperature is more critical. Also, some literature suggests a polar low should be purely barotropic (i.e. forms entirely within a cold airmass) rather than baroclinic (forms along a frontal boundary) – Thursday's low did form near an old upper air boundary where less cold air aloft moving west from Scandinavia was sandwiched between cold air over the UK and cold air flooding off Greenland - hence the occluded front around the low seen on the fax chart.
Outlook for the next 7 days
Friday saw slightly less cold conditions with a general thaw (away from higher ground) of lying snow that fell on Wednesday and Thursday/Thursday night – due to less cold air pulled into the circulation of the low to the east of the UK. But Winds are veering more northerly over the next 24 hours, bringing in an increasingly colder airmass sourced from arctic regions.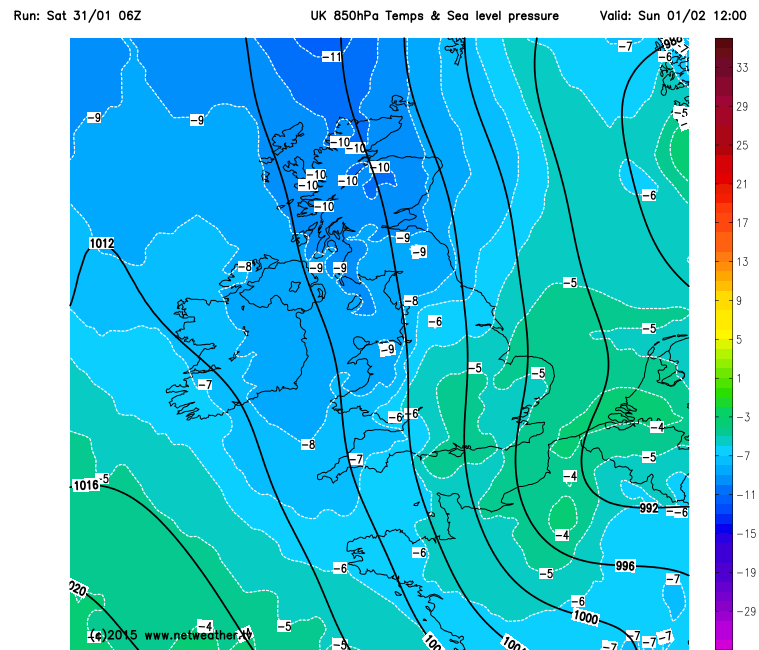 This evening and overnight, the cold northerly wind will be noticeable – bringing in further sleet and snow showers, particularly across northern Scotland, eastern and southeastern England – as an occluded frontal system slides down eastern UK, with covering in places in these areas by dawn on Sunday.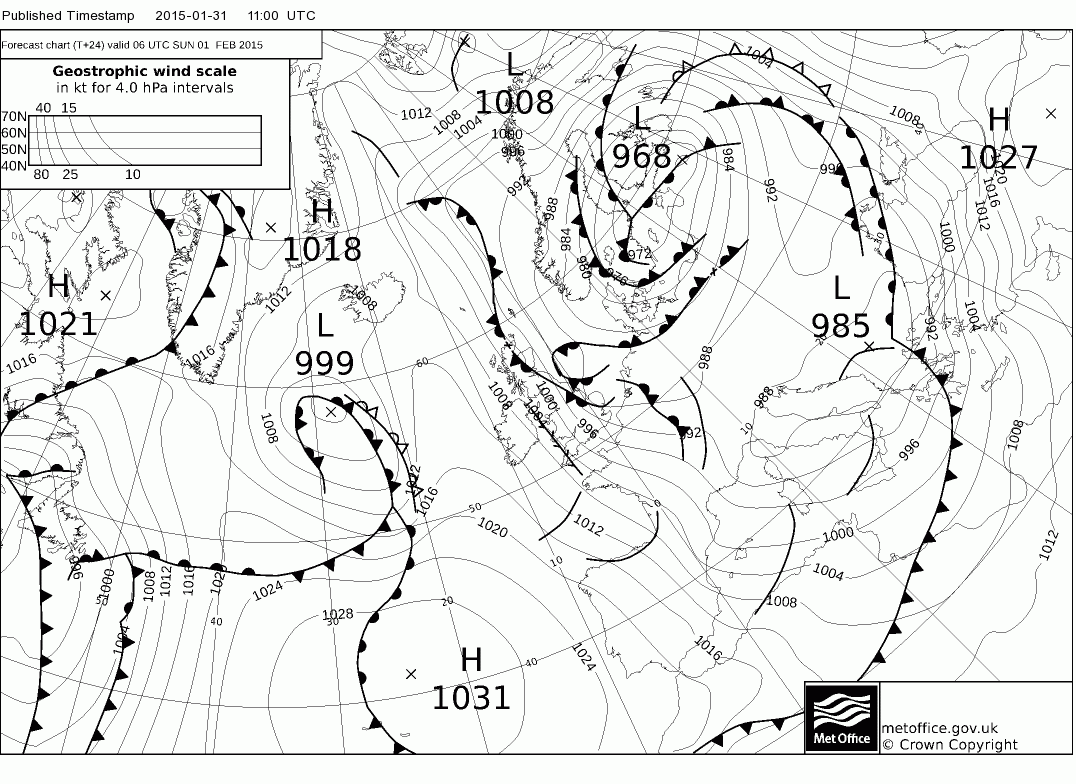 Sunday's looking drier and brighter than today on the whole though away from eastern and western coastal fringes – where we'll see further wintry showers – particularly frequent across east Yorkshire, Lincs, East Anglia and Kent exposed to the northerly wind.
Early next week, remaining cold in a raw northerly wind, with further sleet and snow showers across eastern and western coastal areas, drier and sunnier inland, with widespread overnight frosts with a risk of ice where showers have fallen. ECM and GFS indicate a more organised band of sleet and snow moving down across Scotland and Northern Ireland early Tuesday morning, perhaps bringing a risk of disruption. This band of snow also moving down across NE England before moving out into the N Sea. Otherwise, Tuesday generally dry and perhaps bright or sunny inland, with sleet or snow showers near western and eastern coasts.
During Wednesday and through into Thursday winds to veer more to a northeasterly as a ridge of high pressure builds in from the west and low pressure to the east sinks down into southern Europe. So those sleet and snow showers or flurries along eastern coasts of England perhaps moving more inland at times. Otherwise central, northern and western areas generally dry and bright as that high builds in.
By the end of the week, it looks like the high close to the west will build further east, so most areas becoming dry, even in the east on Friday, but with the cold air trapped beneath a high pressure inversion, we could see some hard overnight frosts.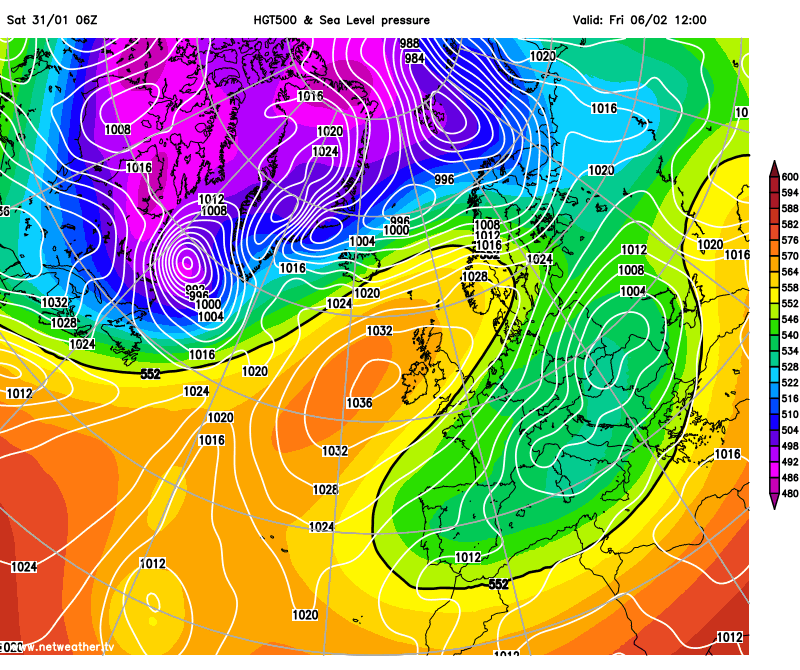 Next weekend, it looks most likely, looking at current model output, that anticyclonic conditions will persist, with high pressure with just west or over the UK, so remaining cold and sunny by day with hard overnight frosts. No positive signs that the cold air will be removed yet.