"Storms are not limited to national borders and it is therefore logical to name such extreme weather conditions. Because many people travel between our countries, using common names makes it a lot easier to estimate the dangers of a major storm system." KNMI director Gerard van der Steenhoven
The Netherlands has introduced several names including Jan and Kitty. Jan refers to Jan Pelleboer, the first weatherman on radio and TV and to Jan Buisman, historical geographer and writer. Kitty is named after Kittie Koperberg, WWII victim, a Jewish librarian who joined the KNMI in 1938.
"The three national met services worked together to compile the suggested names and chose some of the most popular names along with names that reflect the three nations' diversity."
Now for the additional rules:
If a low pressure is a remnant of a tropical storm or hurricane that has crossed the Atlantic, we refer to this low as "ex-hurricane Flossie". If the cyclone is going to affect Ireland or the UK and there will be impacts warranting an orange or amber warning, then it could be a named storm. Rather than taking a name from the list, it keeps its tropical name showing its link to definite system it once was. This happened with Lorenzo in October 2019 #StormLorenzo. It was a hurricane, underwent transition into a post-tropical low and hit Ireland as an extra-tropical low pressure with orange warnings for wind, a named storm.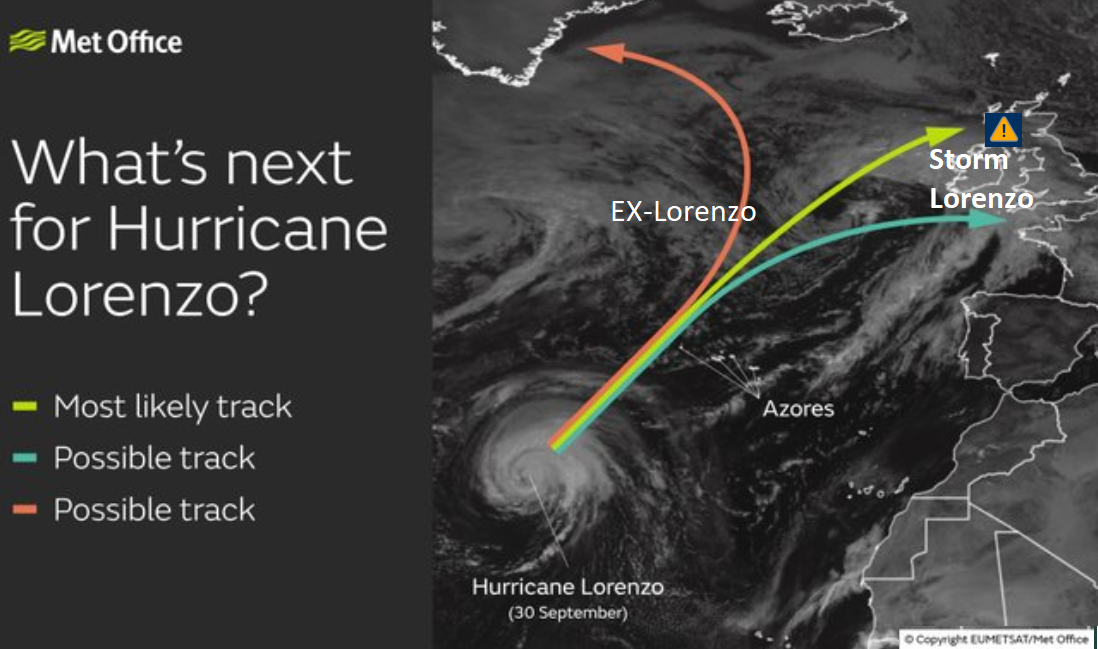 This group of UK, Ireland and Netherlands (West) is not the only collaboration. There are currently two active groups in Europe, the west and southwest groups. The southwest group is formed by Meteo France, Spain AEMET and Portugal IPMA. A southeastern group is also being developed around the Mediterranean Sea. Each block has its own list of names, but if the storm moves from one area to another, it keeps its first name.
A look back at previous fun and games from this later on.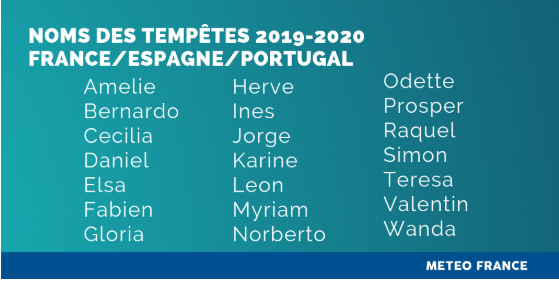 When does a low pressure get a Storm Name?
Big question
Met Eireann "A storm is named by a National Met Service when Orange or Red level winds are forecast to impact over a wide land area. Orange or Red level gusts can occur in exposed areas without the event being named."

KNMI – "Storms where KNMI issues an orange or red code for gusts of wind will now be given a name we want to increase the awareness of dangerous weather before it strikes."

Met office "A storm will be named when it has the potential to cause an amber or red warning."
It is not just wind, other weather types will also be considered, rain leading to flooding. The Environment Agency, SEPA and Natural Resources Wales collaborate on flood warnings with the UK Met Office. Therefore 'storms systems' could be named on the basis of impacts from the wind but also include the impacts of rain and snow. The Met Office warnings are impact based not about set criteria, like Met Eireann.
Previous seasons
Name our storms "provides a clear, authoritative and consistent message to the public" allegedly. One issue arises due to when the model data appears. It's after the morning breakfast news, so most people have headed off to work, or school and then the Met Office model run comes in and warnings are decided upon. If a storm name needs to have a hint of an amber, then they are often issued about 9:30- 11am. We can all get our news, and weather notifications at any time, anywhere but if most people have already set off for the day? Storm Deirdre 2018 was named just after the late evening news, so people had gone to bed. The night before a mid-Dec Saturday in the run-up to Christmas with terrible winter weather due, bizarre.
In November 2018 Storm Diana (named by Portuguese Met) nipped in before Deirdre. Two of the five storms heading for the UK hadn't come from the list. Then Storm Etienne, another one from Portuguese Dec 2018. The whole thing was chaotic.
The previous season in Jan 2018, a low pressure brought gales, high gusts and disruption to East Anglia with significant snow further north. That same low rapidly deepened and hit the Low countries as Storm David #TempeteDavid, named by Meteo France. People in eastern England asked why it hadn't been named for them with trees down, power cuts and a large number of overturned lorries. It was a code red in the Netherlands.
Storm Emma joined in with the Beast from the East, later in Jan 2018. After the red warning for snow in Central Scotland, Emma brought blizzard conditions to SW Britain and southern Ireland, named by the Portuguese Met.
Unofficial, too early, naming has always plagued this project, with suggestions that the names shouldn't be released in advance to stop certain writers. However, even other agencies get caught out. In March 2019, Network Rail named Storm Hannah although it didn't exist. The low caused transport issues and downed trees in Richmond Park.
It seems this time that a storm event could be named and identified before the Amber is issued, so that the name can be used early enough to be useful but the fine details of the warning area would still have time to be firmed up. Last season wasn't #NameourStorms finest hour. I'm still hopeful and pleased it exists. Paul Michaelwaite, Netweather Director has had enough. He wants #BoycottStormNames.
Your opinion? There is a whole thread on the Netweather forum.