I like the idea of the Name our Storms project, here in Great Britain and Ireland. It seems rather marmite in its reputation and it hasn't had the best week. I still think it does do its job, most of the time, raising the awareness of severe weather and bringing together the warning messages through social media.
It is up against the tabloids' quest for apocalyptic mayhem and there are difficulties with the different ways that the UK Met Office and Met Eireann issue their warnings. One impact based, one from set criteria, particularly with wind strengths along with the limitations and constrictions of only naming a storm once an Amber warning is issued, which often doesn't happen until too near the actual event.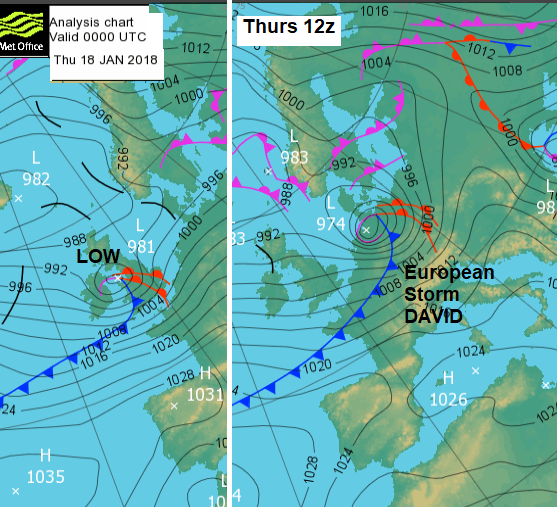 However, forecasting the weather can be frustrating and nail-biting and difficult itself so no wonder the naming of storms is an uncomfortable business when we are geographically so exposed to low pressures straight off the ocean. As happened today, these rapidly deepening lows move over the UK and then deepen further over the North Sea before smashing into Benelux, Germany, Poland or Denmark.
Everyone is into the low naming game now. Germany has done it for ages, it's a business. You can buy a circulation and name it yourself. A high pressure is more expensive than a low as they last longer. On Dec 11th 2017, a new collaboration started with Spain/France/Portugal AEMET, MeteoFrance & IPMA naming Storm Ana which moved from Iberia across Biscay into France. They bring us David today.
All of this has resulted in a strange sequence of events this week which involved #StormFionn and Met Eireann (Ireland) bit of a damp, blustery squib, nothing from UK Met Office for Weds night low, Meteo France naming the low Storm David or #TempêteDavid and DWD (Germany) naming it #Friederike.
It was a tricky forecast. The low pressure, which had been identified as a cyclone of interest days earlier, came whizzing our way steered by a really strong jetstream. It had deepened once at the right entrance of the jet core, then moved across the jet axis and was forecast to rapidly deepen again at the left exit, all influences from high up in the atmosphere, upper air development forecasting. Would this second deepening occur once the low was away from the UK, resulting in a windy night but nothing too severe, or would it clip East Anglia and cause severe impacts? If you have seen any of the footage from the Netherlands today of people unable to stand up or being pushed over and along by the violent winds you will know that the worst of this storm wasn't over the UK.
But it was that worry and closeness that made this low a forecasting nightmare during Wednesday night. Never mind the snowfall over northern England, Northern Ireland and southern Scotland. Going by other named storms and with hindsight, last night's low should have had a name, it would have been Georgina. It doesn't really matter. Fionn being named on Tuesday probably upset the potentially big message of the week.
There were still warnings (Yellow Be Aware ones) for severe weather. This is not an exact science, it is about likelihood and probability. Anyone can make an amazing weather story after the event. Improvements can and should be made, so that it all works better. That could be done without huge blame and finger pointing, just seeking user feed back. It wasn't a 1987 Michael Fishesque episode. Hopefully, this will happen so that forecasters and the media can make use of this communication tool effectively.
To work well there needs to be clarity, good lead times, consistency and flexibility, not just sticking to set warning update times. Until Georgina .