That's not all though, this ongoing easterly feed of snow showers which has been around for several days now. There is now a red warning for SW Britain. A red warning means:
Extreme weather is expected,you should take action now to keep yourself / others safe from weather impact. Widespread damage, travel and power disruption and risk to life is likely. You must avoid dangerous areas and follow advice of emergency services and local authorities
Next, we have a deepening area of low pressure coming towards SW Britain and southern Ireland bringing a new snow threat.
This low is known as Storm Emma, named by the Portuguese Met Service. Didn't we have Fionn? Yes, we've had Georgina too but don't ask. It's mayhem, and we have serious winter weather to think about, so on we go with Emma.
Everything is out of kilter after the SSW event. We have a high over Scandinavia, this bitter easterly flow, Atlantic low pressures aren't giving NW Scotland a glancing blow as usual, they are much further south. So, Iberia is getting troubled by wind and rain and over the next few days, low pressures will push up towards southern Britain with weather fronts hitting the very cold air. That mix means snow is forecast, heavy and widespread in the SW. There will be problems with ice and a forecasting nightmare of balancing milder air against this intense cold and who will get rain, snow, nothing or the awful, dangerous freezing rain.
As a warm front comes up against this cold air, we will see heavy snow, sleet, maybe freezing rain then just rain. The cold air seems quite reluctant to give up its grip on the UK though. Oh, and it's spring. Meteorological spring starts on March 1st.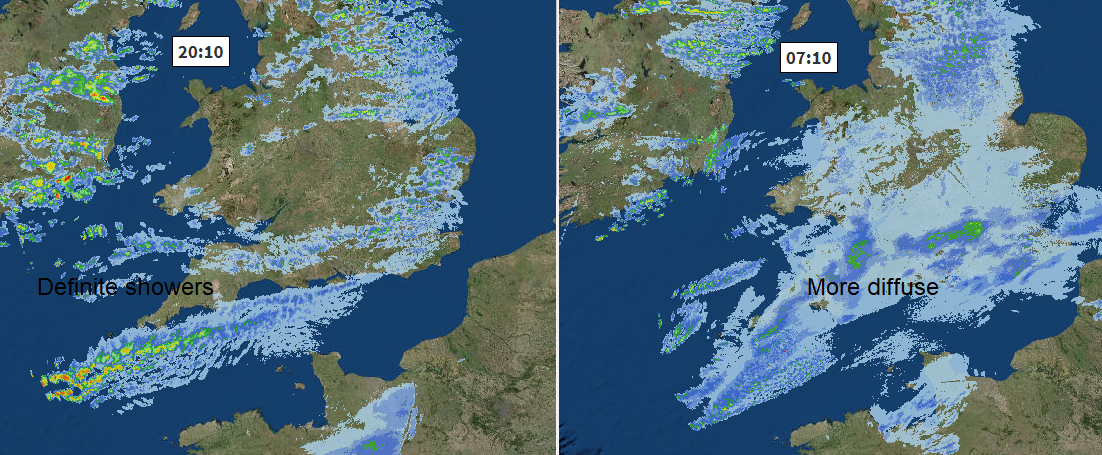 As lines of snow showers continue to feed in from the east for the northern half of the UK, you can follow the individual cells on the radar; we now see a more diffuse smudgy return on the radar over southern Britain. Things are changing already. Most of this isn't reaching the ground yet, but as frontal bands approach there will be heavy and widespread snow over SW Britain today. The main Snow & Wind warnings run from early afternoon until the small hours of Friday morning
Added onto that will be strong, even gale force easterly winds, causing blizzard conditions and drifting. Conditions on the roads will be treacherous; there will be disruption to rail, air and ferry services. An amber warning is still a serious state of affairs so don't wait on the red starting to adjust your plans, do that now.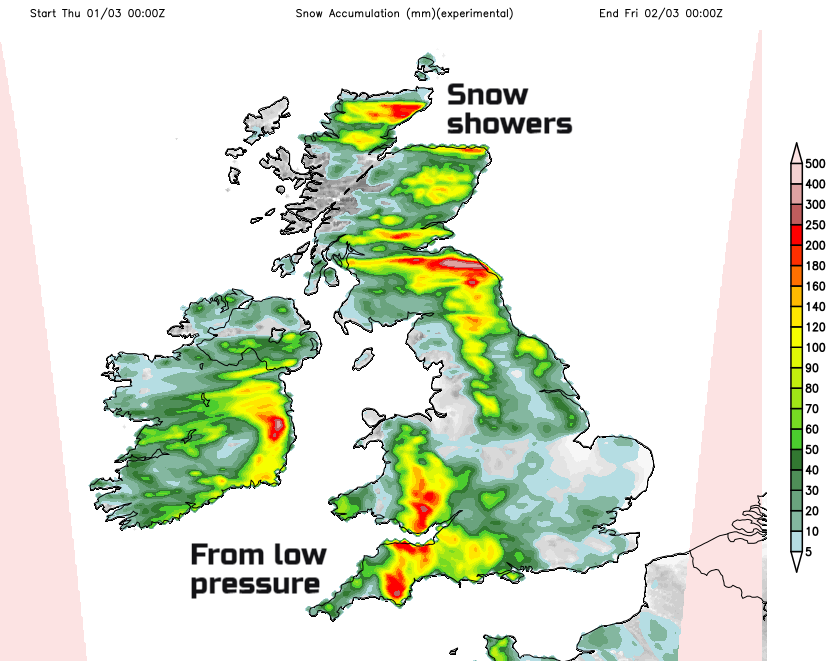 Around 10-20 cm is likely to fall quite widely, with the potential for up to 50 cm over parts of Dartmoor and Exmoor.
There could be severe gales and the lee gusts, to the west of high ground in this raging easterly, could be over 80mph for NW Wales today and then even more of an issue for Friday morning across western Wales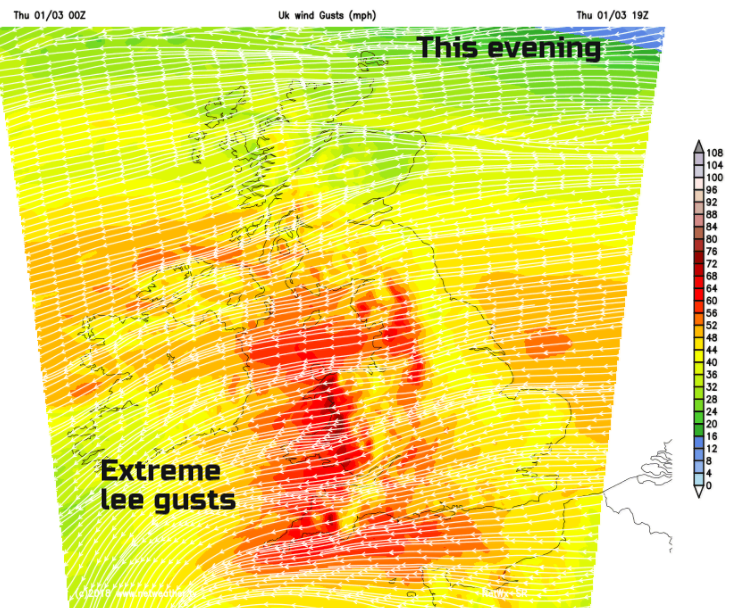 Although the snowfall could reach Hampshire, Isle of Wight (the Channel Islands have a snow warning too) the heavy snow from Storm Emma isn't expected to reach the SE of England today. Snow showers will continue to feed in as they have done.
The main frontal band bringing the heavy snow, pivots north then west, with the main snow event through Thursday afternoon and evening, then overnight. With the risk of freezing rain and dangerous icing, do not risk going out. Terrible winter conditions will then continue over the southern half of Ireland including Dublin into Friday morning, maybe still affecting parts of Wales too.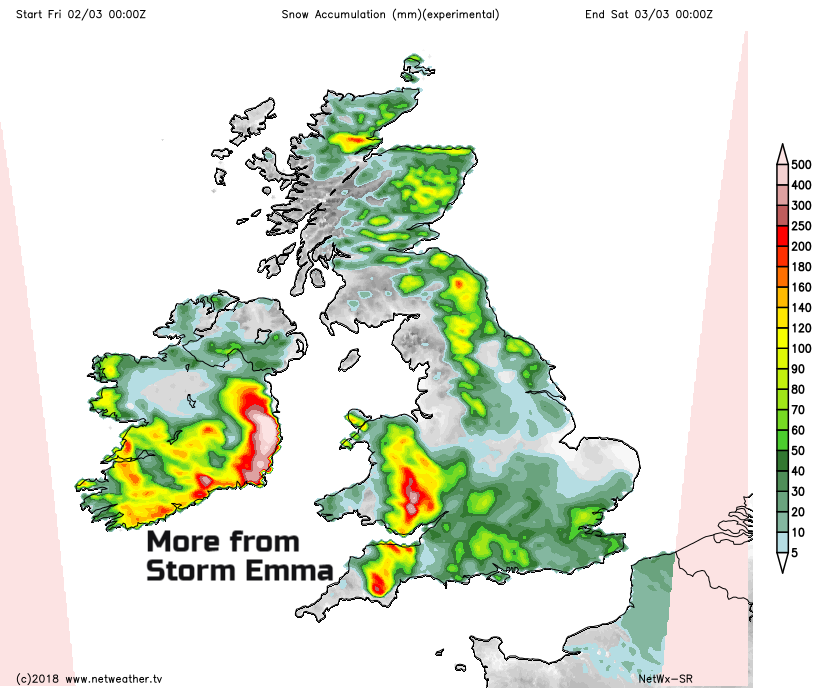 For Friday, we still have a feed of snow showers off the North Sea, but another frontal band should push up from the south, with lighter snow and sleet. Milder air will be trying to follow and so Friday could bring a further risk of freezing rain, which could wreak havoc if the icing occurs in the peak travelling times.
If you have a choice about your working or travel for today and tomorrow, do exercise caution. Looking at the chaos in other parts of the UK, is that journey worth it, unavoidable?
The weekend
Still bitterly cold in the north with snow showers blown well inland from the North Sea. Further south not as cold as it has been, but still not spring-like.