The trips are beginning with several flights leaving the UK this weekend, heading off to Lapland. Dreams of meeting Santa and seeing a lot of snow come with a hefty price tag so the recent news that there wasn't any snow in Lapland was not well received. Since this startling weather update, the snow cannons have been on max power, there have been real snow showers but the capital of Lapland Rovaniemi (known as the hometown of Santa Claus) has issued a blog No Snow – 10 Amazing Things to Do in Rovaniemi Without It. This image had the caption " Precious snow in the making"
It is still a bit early for trips to the Arctic circle, most will occur in the next two weeks. There are a few pictures showing snow now, not loads but some. Rovaniemi, Enontekiö, Kittilä, Ivalo and Kuusamo airports are estimated to have over 700 international Christmas charter flights. This is big business.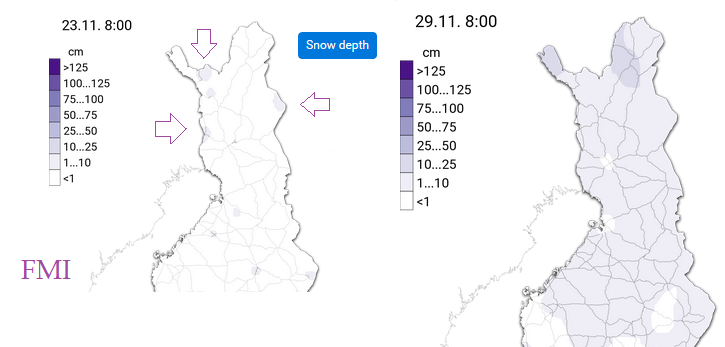 The snow depth charts from the Finnish Meteorological Institute show that there has been snow. cpmpared to the 23rd when there wasn't any. Nothing in the south still but that is okay as the resorts are further north in Lapland. In the far north of both arms of Finland, there has been 10-25cms of snow. Across much of Lapland 1-10cm, we'd be pleased with that here in the UK. More is obviously needed for all of the activities usually on offer. Much is being made of meeting the reindeer and huskies, or ice skating on lakes. There have been a few adjustments mentioned as the covering of snow isn't deep yet, such as quads rather than snowmobiles and bus transfers from airports.
The British press attention has been met with bemusement by the Finns, at the apparent rudeness, disbelief by some in the UK "not snow in Lapland don't be silly, Fake News". There you go, Cry Wolf press. The Independent scored a 'scoop' relocating the "Home of Santa Claus" outside of the Arctic Circle. Holiday company Thomas Cook had described Rovaniemi as "Far inside the Arctic Circle, where the snow is thick and sparkling" It is just outside the Arctic Circle, the snow claim remains.
The Lapland radar images over the past weeks have shown showers blowing in from the west but its all been quite scattered. It is not ideal but at least there is now a covering of snow, filled in with snow cannons. Only vague answers about the snow cover from tour companies.