This is unusual. By now there should be some snow in the far north. Some of the photos of Finnish town squares have been mocked in the Finnish press as they are further south and don't tend to have snow in November but around the Arctic Circle having no snow is bizarre.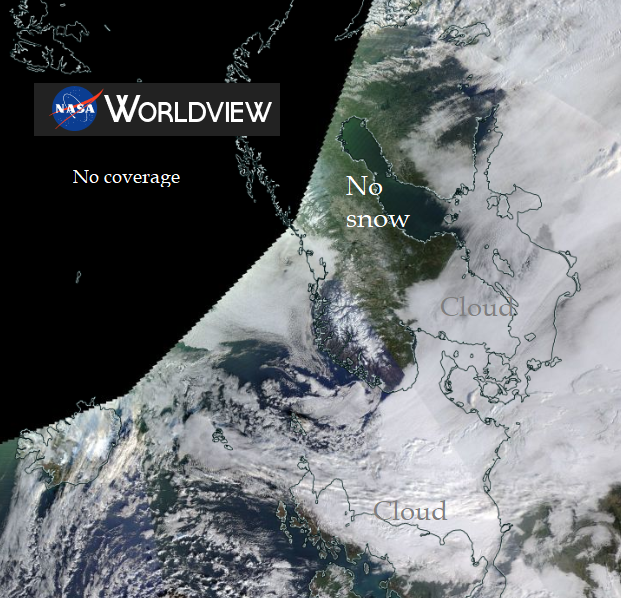 Finland's weather has been on a roller coaster this year. The month's highest temperature was 20.9°C, recorded on 14 October in Kruunupyy at Kokkola-Pietarsaari Airport, coastal west. This is a new warm weather record for October in Finland. The previous record, measured in 1985 in the capital Helsinki was exceeded by up to 1.5 degrees Celsius, way down in the south of Finland.
It's not just Santa seekers facing a potential upset,
Skiing
The FIS World Cup Ruka Nordic, which features, ski jumping, Nordic combined and cross country skiing has struggled to prepare for the weekend events. It marks the start of the season and usually attracts 20,000 visitors. A lot of hard work has been going on to try to continue. There are around 75 ski resorts across Finland with the peak season being in February.
Due to exceptionally warm weather in northern Finland, the RukaNordic has had to alter its events with shorter runs, unable to complete some tracks due to a lack of natural snow. The weather seems to be totally against them with strong headwinds on Friday interrupting the jumping.
"The recent season's gentle and watery weather has made the preparations for the games exceptionally challenging, but our organization has been working hard in front of the games and now finally the weather has turned to our side!" FIS Nordic combined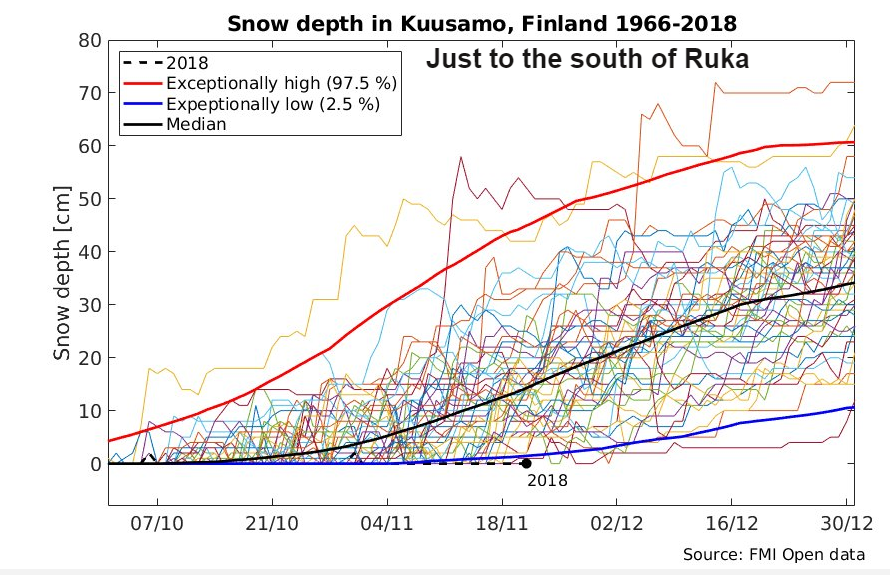 The various lines show each year and snow depths from October til December, and how unusual it is for this area to not have any snow by now. Time series starting from 1966
The ski competition organisers had to act, creating artificial snow for this weekend. The tour operators are now having to engage with worried or even ranty customers who want to know details about their costly trips. The forecast is not encouraging enough and recent UK media articles have only highlighted the problems further.
TUI Nov 22nd "We keep a close eye on the forecasts and continue to monitor the situation closely, but we also have a number of contingency plans in place in Lapland to ensure customers can still have the trip they are looking forward to. For example, many of the resorts we head to are able to make use of snow cannons as necessary. Unfortunately, as the temperature isn't predicted to be cold enough to allow for the completion of the Snow Village in Kittila for the first weekend of the season we have taken the difficult decision to cancel just the 1st and 2nd December day trips to that resort. We have directly contacted any affected customers with alternative options. We would like to reassure anyone heading to Kittila for three or four nights at the beginning of December or later, or to anyone due to visit any of our other Lapland resorts over this period or at a later point in the season, that we are confident we'll be able to offer them the full experience as planned."

Options have been cancellations and refunds of imminent trips. A wait and see policy from others as there still is a fortnight to go and the chance of snow arriving. The Lapin resorts are promoting other activities:
Sanna Kärkkäinen, Managing Director of Visit Rovaniemi acknowledges that the message has not been positive. "For a traditional British traveller, the Lapin trip is linked to snow. "Not having snow in November is a pity but not so unusual in Lapland, Finland. Weather statistics from very long time tell that snow will come to Rovaniemi and Lapland eventually. Here in Visit Rovaniemi, we've got hundreds of questions related to current snow situation. The answer is the same for you all: We cannot tell when permanent snow comes, because we don't know. It comes sooner or later, normally at the end of November, but some years we have had to wait until December. With or without snow, there's plenty to do in Rovaniemi."
A few hundred charter flights head from the UK to Finland in December, it is big money business for what should be a time of guaranteed snow, taking reindeer or husky rides, seeing Father Christmas and enjoying a winter wonderland. Resorts are now publicising Arctic nature, landscapes and wilderness, still meeting the reindeer and huskies and the chance of Aurora spotting, the Northern lights
Nordic travel specialist Transun has also cancelled its first two trips to a region around 250 kilometres north of Rovaniemi, offering holidaymakers alternative dates or refunds. This kind of thing is mentioned in their FAQs but that they would relocate. This year, at this stage there is nowhere with snow to relocate to.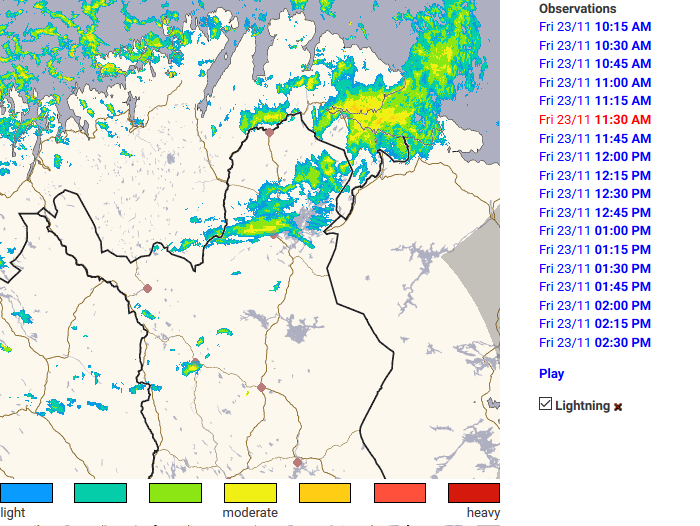 As shower pass through, there maybe a covering of white but there isn't the existing depth of snow, especially for building structures. Click image for current pic.
Forecast
It is turning colder Sunday and Monday which is good news for the snow cannons but there isn't any sign of heavy continuous snow over the next week. Like the uncertainty across the UK, waiting for the colder settled easterly flow to shift, Scandinavia sits under a high pressure for part of next week which means dry conditions. There are signs that a westerly Atlantic flow will manage to push across the UK bringing wet and windy weather and that may finally allow a low pressure to head towards Scandinavia later next week, bringing windy weather and precipitation. The southerly flow would be mild, but it might give some snow in the far north. A glimmer of hope.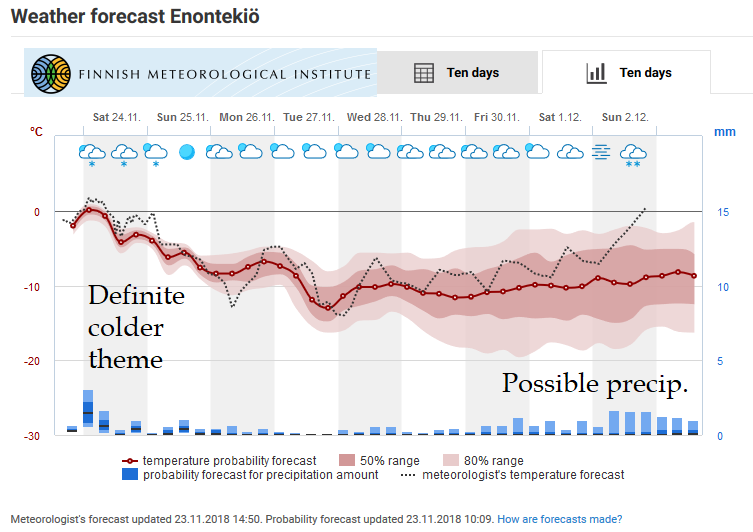 "From Transun FAQs- How much snow will there be?
Snow falls in Lapland between October and May and it is common to find thick snow cover in November and December. However, it is also possible that there may be a period of warmer weather, especially given the effects of global warming, which may cause the snow and ice to melt before the next snowfall."
Records
Or for there not to be any snow at all. This is an unusual year. "None of Finland's monthly cold weather records have been broken in the 21st century. Instead, the Finnish warm temperature records have already been broken six times. FMI
September was unusually rainy in most of the country including Northern Lapland. The first snow recorded fell on 25 September in Kilpisjärvi village in the region of Enontekio. The snow-depth that morning was 2 centimetres. Too early.
However, according to statistics issued by the Finnish Meteorological Institute, March was 2-5 degrees colder than average in many parts of the country. The greatest deviations in temperature were in eastern parts of Finland and in the north of Finnish Lapland. The last time that March was colder was in 2013. swings and roundabouts.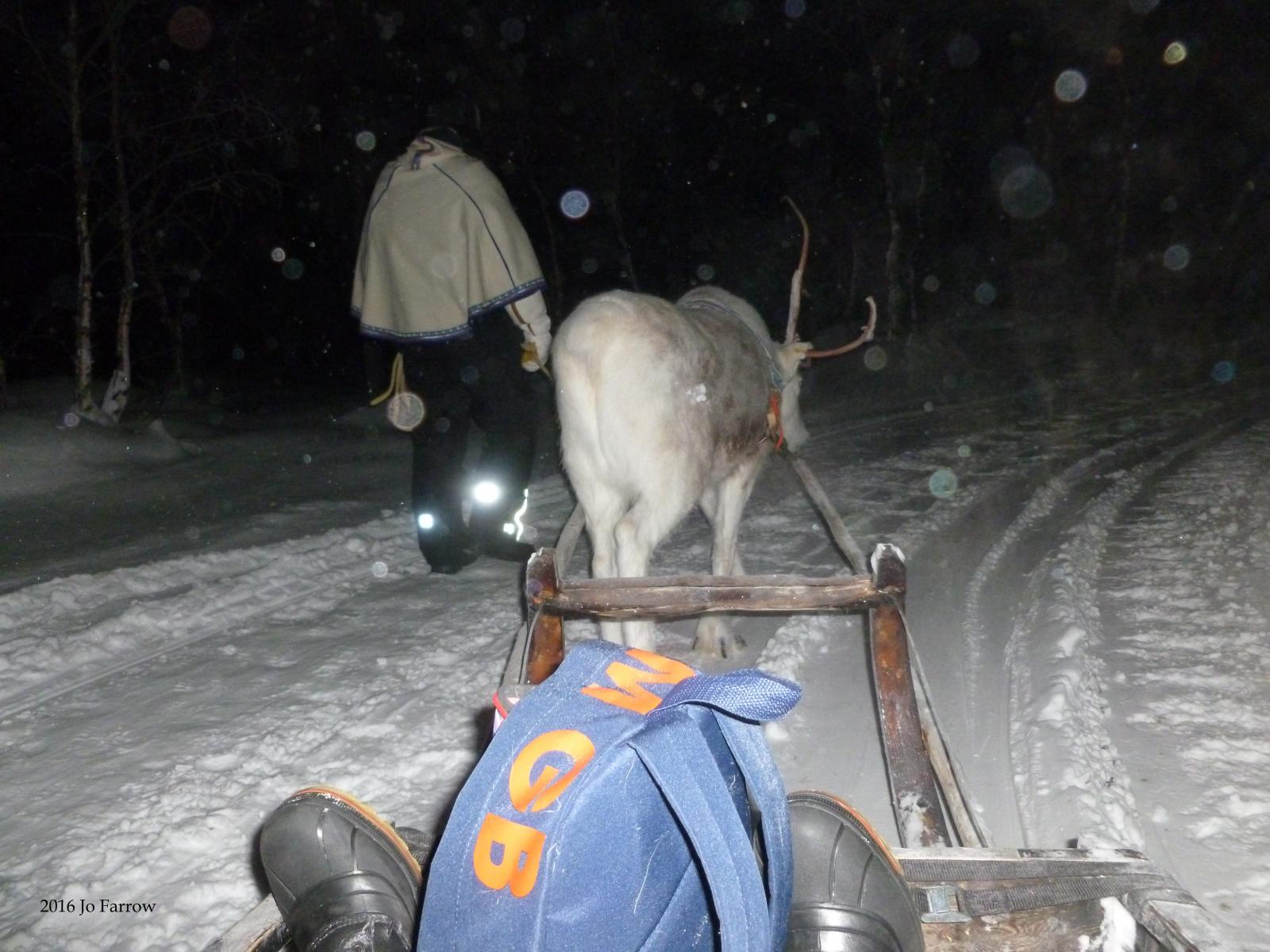 Kärkkäinen thinks it is good if the understanding of the impact of climate change on Arctic areas increases with the publicity of snow. "It's a good concern and the tourism industry has been well aware of it."
Finnish Meteorological Institute forecasts and observations including snow depths
Jo's trip to Lapland in snow and -28C
Lapland forecast for the ski resort Yllas