Glasgow saw 123mm , Derrylin and Cornahoule in Co Fermanagh had 117.8mm
203mm is 8" of rain. Usually in December Keswick would expect 173mm of rain, Glasgow 104mm, this weekend's rain has been phenomenal
WIND STRENGTHS
Capel Curig, N.Wales recorded a gust of 90mph at 1am on Sat, NE Scotland and Co.Down G78mph and S.Yorkshire G77mph. These sites all reaching severe gales for their mean speeds and even along the south coast of England, rather exposed, the Needles lighthouse saw Storm Force winds.
Most of the Scottish football matches were postponed due to waterlogged pitches or high winds. Part of a Cineworld cinema roof came loose in Glasgow on Saturday afternoon. In London, a man died when a gust of wind blew him into the side of a moving bus.
WHAT NEXT?
The severe weather has now cleared. Hawick has now cleared it's severe flood warning status. However, Cumbria keeps it's High then Medium risk of flooding as river levels stay high, there are still impacts to communities and roads closed. By Tuesday, the levels over N.England should have fallen to LOW. Environment Agency 3 day flood risk.
There is more rain in the forecast, perhaps another 25mm 1" for flood hit areas, which although in itself is not that much, it is totally unwelcome to the flood hit areas. There is also the possibility of further wet and windy weather Weds/Thurs. Although, not expected to be as severe as the weekend's events this next system will certainly need to be kept an eye on.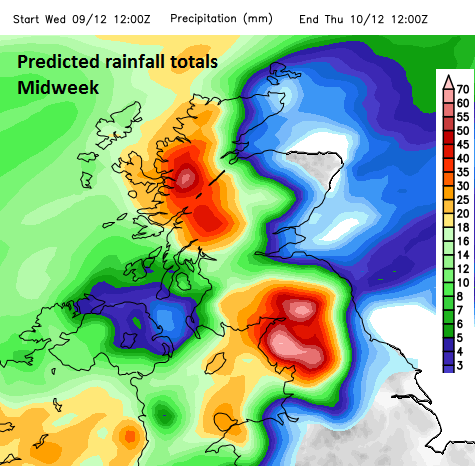 Photo shows the River Greta overtopping the Flood defenses, flooding the town of Keswick. River heights from the Environment Agency show 5.32m, the previous record was 4.66m.