The LA Fire Dept described "an extreme fire weather threat, meaning that conditions are as dangerous for fire growth and behaviour as we have seen in recent history."
The US National Weather Service (NWS) issue Red Flag Warnings, in conjunction with land management agencies, to alert about ongoing or imminent critical fire weather patterns. NWS issues a Red Flag Warning when fire conditions are ongoing or expected to occur shortly. Parking restrictions occur under these warnings to allow easier travel for the fire tenders and to prevent bottlenecks which have in the past caused panic and deaths in wildfire situations. A Red Flag Day is when the weather conditions are such that the potential for a fast-moving brush fire is extremely high. The conditions are defined as wind speeds 25 mph or more and humidity 15% or less. Over the past years, the maximum number of Red Flag days has been 12 for LA. The average of Red Flag days per year is 4 to 7.
This episode for the end of October 2019 is considered to be an extreme version; the existing fires, the strength of the winds and gusts with the force of the very dry air heading in.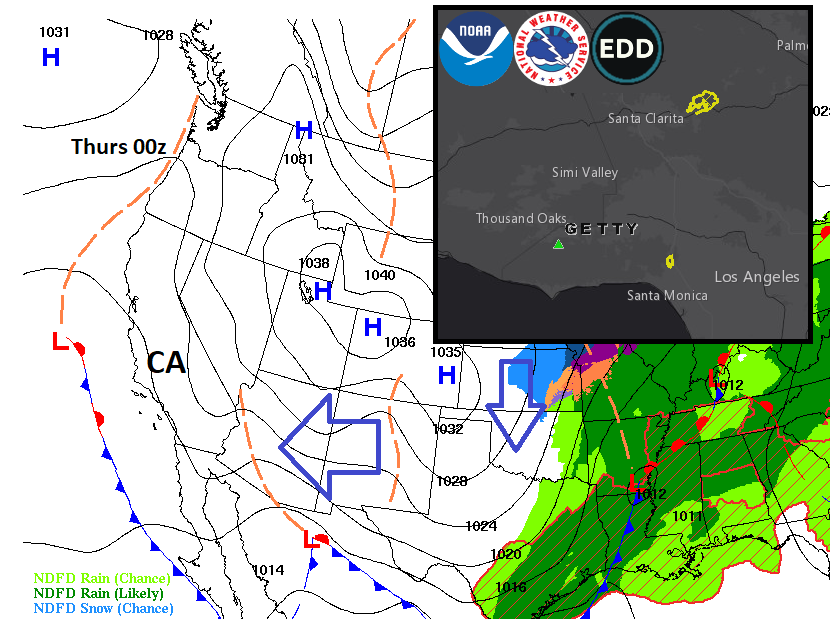 NWS DISCUSSION... A strong Santa Ana wind event is still on target to start quickly tonight and continue through Thursday, with one of the strongest pressure gradients ever and moderate upper level support. Wind will be strongest on Wednesday, when damaging wind gusts between 50 and 70 mph are expected over most of Los Angeles and Ventura Counties, with isolated gusts to around 80 mph likely. Although the air is cold, humidities will lower to the single digits nearly everywhere by Wednesday or Thursday, and down to 1 or 2 percent in the driest windiest locations. Overnight recoveries Wednesday night will be near zero over Los Angeles and Ventura Counties, and poor everywhere else. This all adds up to an extreme fire weather threat, with conditions as dangerous for fire growth and behaviour as we have seen in recent memory...
(Continued) Very dry conditions will persist through the week and could continue into Monday. The offshore flow will weaken quickly Thursday afternoon into the evening but could stay breezy in some mountain and foothill spots into Friday leading to the possibility of localized critical conditions. The cold airmass over the Great Basin and Rockies along with favourable upper level support will set the stage for a strong offshore wind event late tonight through Thursday. It is a cold Santa Ana wind event, not a warm one. Winds will become weak by Thursday night with warmer weather expected over the weekend. There is NO indication of another Santa Ana next week. No rain forecast for the next two weeks. NWS