What's behind it turning much colder to end February?
A Sudden Stratospheric Warming (SSW) took place early last week and, as widely predicted, is now having a big impact on the weather patterns across northern Europe. The SSW has led to a reversal of the zonal (westerly) winds in the stratosphere that drive the polar vortex 40km up over the north pole, causing the polar vortex to split. The wind reversal in the stratosphere has propagated downwards towards and into the troposphere over past week which will lead to a blocking area of high pressure to develop, initially over Scandinavia, which will pull very cold air over Siberia westwards into Europe including Britain next week, bringing temperatures struggling to get above 0C and snow showers.
Turning progressively colder in next few days, but very cold next week
It will gradually turn colder over the next few days and through the weekend, as high pressure begins to build over Scandinavia and allows an easterly flow to become established. With the easterly flow continuing and strengthening into early next week, it looks to turn very cold from the east by Monday and through much of next week, as severe cold currently over Siberia eventually feeds west across much of Europe and reaches the UK too. So daytime temperatures on Monday and Tuesday may struggle to get above freezing, even in the south, with some places staying at or below freezing, giving 'ice days'.
Upper ridge builds north towards Svalbard while surface high builds over Scandinavia - leading to a cold easterly
Maximum temperatures each day next week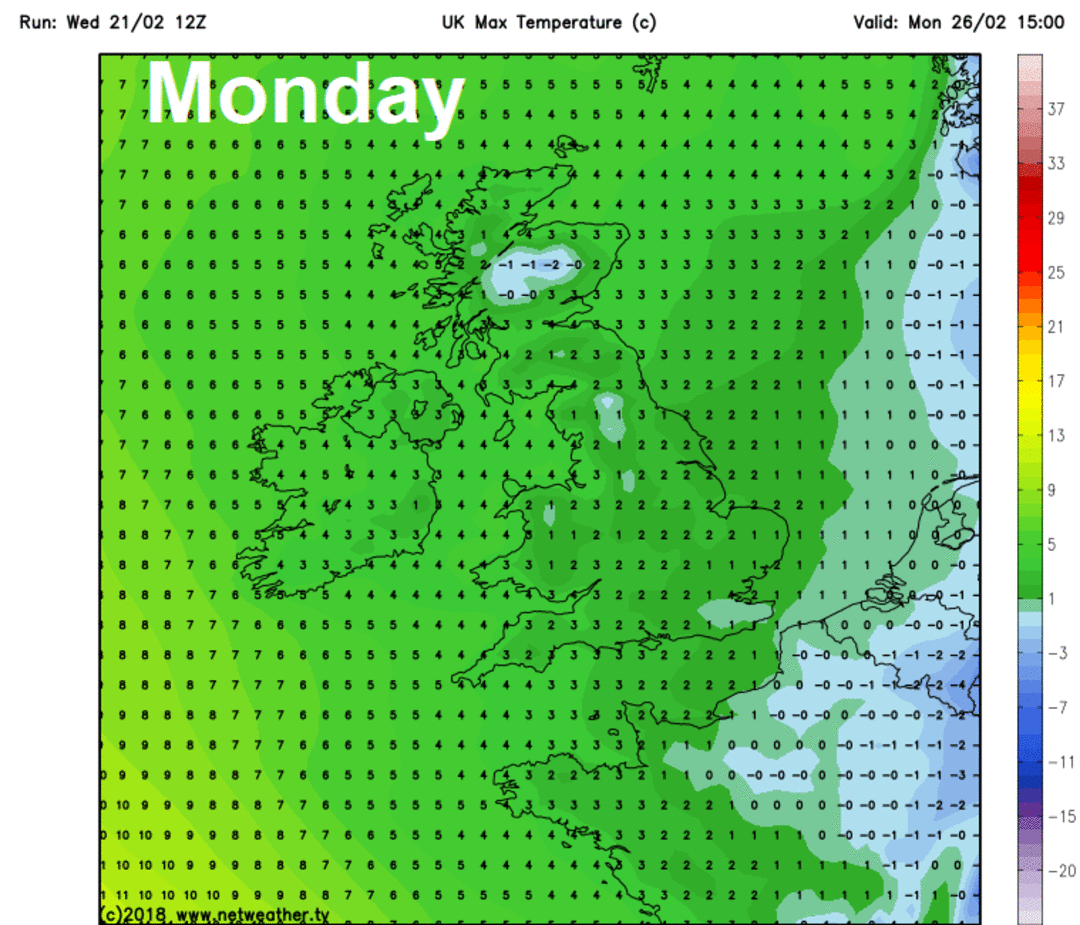 Increasing risk of snow showers next week
As well as the bitterly cold air from Siberia arriving from the east early next week, snow showers are expected to develop over the North Sea and affect eastern areas from Sunday night, with snow showers perhaps getting further inland as the week progresses. Although it's difficult to pinpoint exactly where this far off, there is potential for some disruptive snowfall in places, as the blocking high close to the northeast retreats a little and the upper flow becomes increasingly cyclonic from the east, which will aid to increase intensity and frequency of the snow showers.
Snow showers can be expected almost anywhere, though eastern areas will be most prone. The North Sea will generate most frequent snow showers, as the very cold but dry continental air passes over the relatively warm sea, picking up moisture and creating instability which, in turn, creates shower clouds. But also, the strengthening sun as we approach March will generate sufficient heating of a shallow layer of air near the ground to fuel diurnal snow showers inland too. The strong easterly flow over the North Sea will likely generate bands of snow showers moving inland across eastern areas, so some areas may see lines of frequent snow showers pass over while nearby misses them. Proximity to increasingly cyclonic upper pattern developing over the near continent through the week will mean that eastern and southeastern areas of England will perhaps be more prone to frequent and heavy snow showers. So, there is certainly scope for disruptive snow leading to travel disruption as we start the new working week.
Very dry continental air and low temperatures at the surface will mean little melt of snow
With very low dew points / very dry air of the bitterly cold easterly flow next week, snow melt is likely to be fairly minimal too, similar to March 2013. Though the very dry air may lead to reduction of snow cover through evaporation or sublimation to use the technical definition.
Low dew points / dry continental air next week