Forecast Details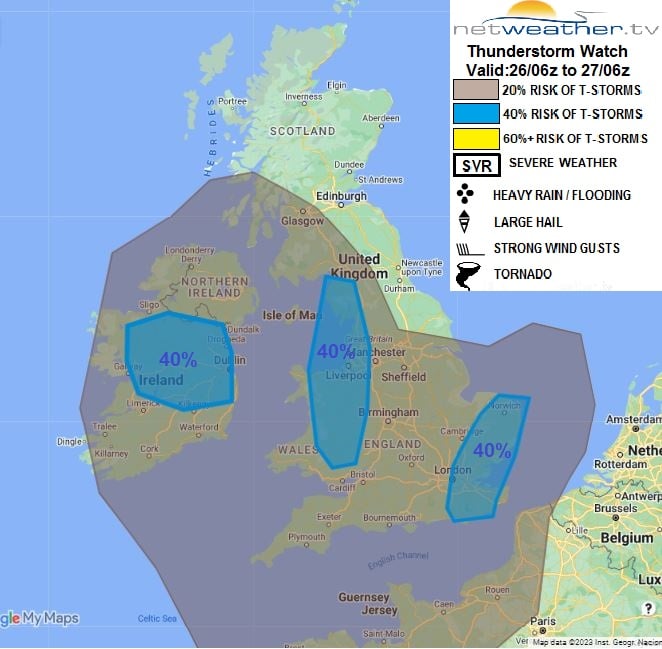 Longwave upper trough extends south over the N Atlantic from Greenland and Iceland to the west of UK and Ireland on Tuesday. A surface low will be slow-moving to the south of Iceland, a cold front will move eastward across Ireland and UK through the day, lying across W Scotland, Wales and SW England at noon then N Sea and Low Countries at midnight.
Ahead of the cold front, the nose of 14-16C theta-w plume will push in across SE England / E Anglia through the morning. An area of elevated instability looks to develop on the northern extent of the plume across S England and E Anglia during the morning, as a shortwave trough moving in from the Atlantic moves NE creating lift of the northern edge of the plume and steepening lapse rates. This will support the development of heavy showers and perhaps some elevated thunderstorms moving NE over these areas through the morning and into the early afternoon.
Cold front across the west of mainland Britain at noon before moving east across the UK through the afternoon will also produce some convection, thanks to forced ascent of warm moist conveyor ahead of front, with a risk of a few thunderstorms embedded in band of showery rain along front. Heavy showers and a few thunderstorms may also develop across Ireland, Irish Sea coastal areas and SW Scotland in post-frontal airmass characterised by colder upper air / steep lapse rates.