Forecast Details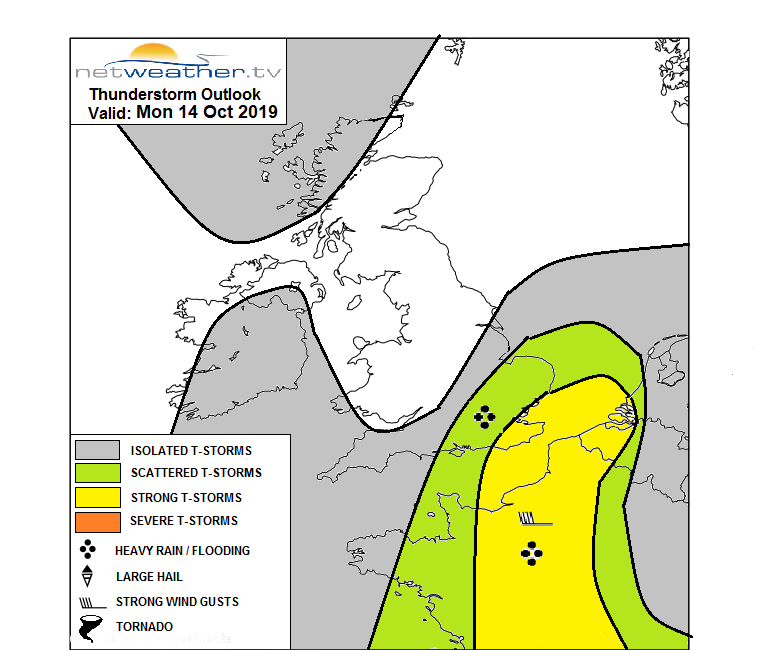 Upper trough moving east into the NE Atlantic will disrupt as arrives across the far W of Europe today. At the surface, a complex low pressure system will affect the far west of Europe, a low forming in a wave in a frontal boundary stretching NE from the bay of Biscay up to SE England will track NE from NW France to E England by midnight. A plume of warm and humid but unstable air across France ahead of frontal boundary will advect in across SE England for a time, supporting heavy thundery downpours to move NE here this afternoon and evening.
… CENTRAL S and SE ENGLAND, E MIDLANDS and E ANGLIA …
Surge of warm and humid air originating from the Mediterranean/Spain spreading north across France will become increasingly unstable through the day – as cold air aloft associated with sharpening upper trough moves in across Biscay/SW UK overruns this warm moist conveyor. Several 100 j/kg CAPE is forecast across western/central France this afternoon, as lapse rates steepen in response to cold air aloft overrunning warm/moist plume ahead of frontal boundary across far W and N of France. With severe thunderstorms possible across western and central France later.
Some of this instability is forecast to spread across SE England too this afternoon and evening. Upper trough moving in from the west will engage frontal boundary lying SW-NE across Bay of Biscay and up across the far N of France. A low forming a wave in the frontal boundary, across NW France this morning, will move NE across SE England this afternoon and early evening. This low, combined with approach of upper trough and increasingly strong jet streak pushing N ahead of upper trough, creating strong positive vorticity advection (PVA), will create increasingly strong ascent of warm moist plume moving N across English Channel and SE UK. This will support areas of deep convection to develop and move NE, bringing some locally intense downpours accompanied by thunder and lightning in places. Strong deep layer shear (40-50 knots) is forecast, so convection will likely organise into multicell segments, perhaps even an isolated supercell, capable of producing locally intense rainfall leading to flash flooding, given forecast high precipitable water (PWAT) values of 30-33mm across SE England. Isolated strong wind gusts are also possible with stronger cells – particularly across far SE of England.
… IRELAND & NW SCOTLAND …
Presence of upper trough/cold air aloft and low with associated occluded front moving across S Ireland creating lift will bring pulses of rain NE through the day, some of the rain heavy from embedded convection – which could produce isolated lightning. Across NW Scotland, cold air aloft of upper trough and warm SSTs will generate instability to support scattered heavy showers which may produce isolated lightning.