Forecast Details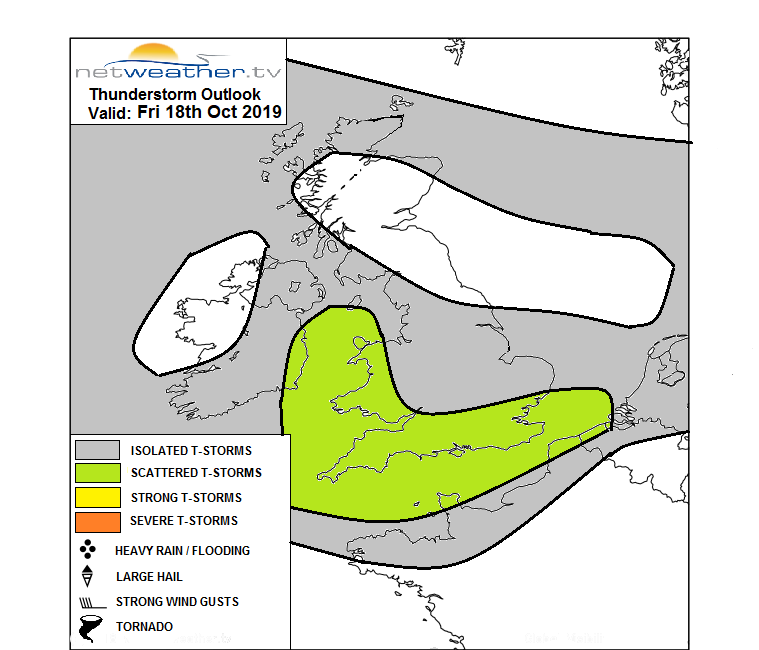 Centre of upper low and collocated surface low will drift east across Ireland on Friday, showers will circulate around this system across UK and Ireland, some showers heavy with a risk of hail and thunder locally – particularly across southern and western areas.
… ENGLAND, WALES, SW + NE SCOTLAND, N. IRELAND, REP. OF IRELAND …
Mid-level cold pool overspreading much of the British Isles in association with upper low (below -25C at 500mb) atop of warmer surface airmass warmed by seas which are still around 15-17C around southern Britain – will create steep lapse rates – yielding several 100 j/kg CAPE. Showers spreading NE across many parts ahead of low moving over Ireland today will be most frequent across southwestern areas, but will also organise into bands of showers along troughs in the low pressure circulation and move across other parts at times. Some weak thunderstorms producing occasional lightning and small hail locally are possible – particularly in association with troughs in the flow – where lift will be maximised. Storms most likely across southern and western areas where onshore flow of instability formed over warm seas will be greatest. Some localised flooding is possible where showers/storms merge into longer spells of rain.