Forecast Details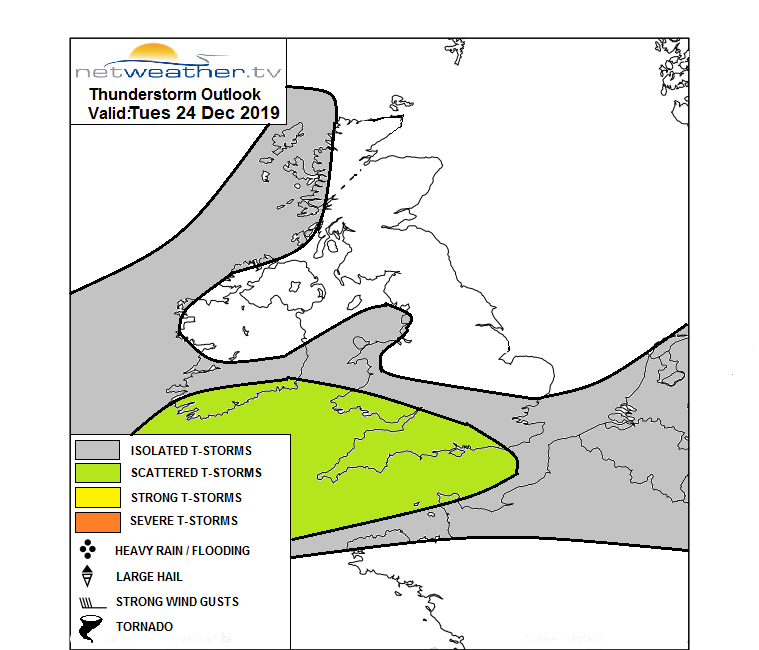 Tuesday will feature a cyclonic westerly flow across NW Europe between upper troughing to the north and upper ridge SW Europe / NW Africa. A strong westerly jet stream will be present across S England. Occluded front bringing cloud and rain will lie across S Ireland and central UK at 12z, slowly sinking south Tues PM, to the south an unstable airmass supporting showers and a few thunderstorms across S Wales and S England for a time.
… SW and far S of ENGLAND, S WALES …
South of frontal cloudiness and dynamic rainfall across central parts, a pocket of instability associated with a shortwave trough running east across Sern Britain during the day will steepen lapse rates and create forced ascent of moist maritime flow into increasingly dry and cold air aloft. This will support linear band(s) of heavy showers spreading east across above areas during the morning and early afternoon, organised by strong westerly jet aloft, which will create strong deep layer shear of 50-70 knots. With increasingly dry and cold air aloft streaming east, a few thunderstorm are possible amongst the showers pushing east - accompanied by hail, perhaps locally 1-2cm in diameter, along with isolated strong convective wind gusts of 50-60mph – particularly towards the SW. Locally, low-level shear maybe enhanced as winds back ahead of approaching trough or from topography which may allow stronger updrafts to rotate and form a brief tornado. Localised flooding may also occur in locations where bands of heavy showers train.