Forecast Details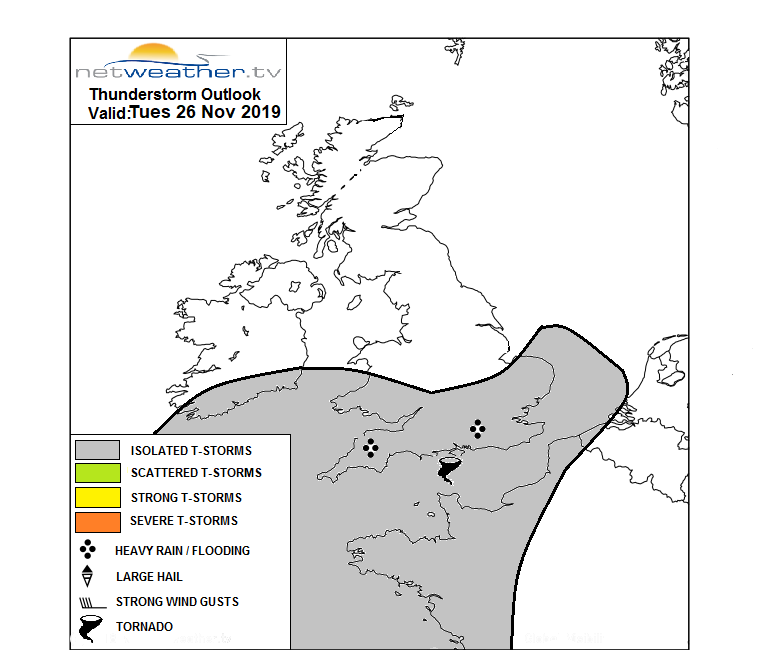 A fairly deep depression formed from the remnants of TS Sebastien will move in across southern Ireland today, frontal cloud and outbreaks of rain will spread N across the UK through the day ahead of this system, scattered heavy showers will follow across southern Britain, some of which will be heavy with thunder across southern counties.
… S WALES, S ENGLAND and E ANGLIA …
Colder and drier air in the mid-levels wrapping around the southern side of the low moving in across S Ireland will move in across southern Britain in the afternoon atop a moist surface southerly flow – which will generate increasing instability that will move onshore across the above areas. This increase in instability through the afternoon and evening will be accompanied by some heavy and squally showers, locally with hail and occasional thunder. The left exit of a strong jet streak pushing NE across the south will enhance forced ascent through this evening and create strong deep layer shear (40-60knts) – allowing convection to organise and become more intense. And with winds backing SSEly at the surface, increasing low-level shear, there is potential for one or two convective cells to form a mesocyclone that could produce an isolated tornado towards southern coasts – where airmass will be more buoyant warmed by SSTs. Locally intense rainfall may also lead to flash-flooding.