Forecast Details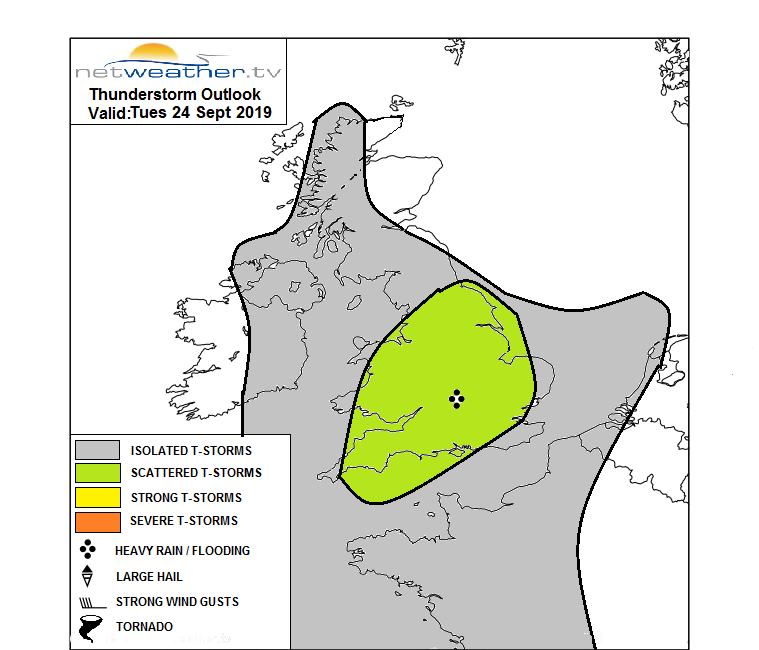 Upper vortex / shortwave trough moving east in broad cyclonic upper westerlies over the Atlantic and NW Europe will track across southern Britain on Tuesday. At the surface, a filling area of low pressure will cross Ireland during the afternoon and evening. Sets of fronts will cross the UK head of the low, a frontal wave will push NE across southern UK during the day, bringing convective rainfall with potential for embedded thunderstorms.
… ENGLAND, WALES, N. IRELAND, S & W SCOTLAND …
Marked vortex / shortwave trough, with dry air wrapping into the circulation, can be seen on Water Vapour imagery pushing east across Ireland and SW UK Monday evening. This upper disturbance will engage an occluding trailing cold front lying from SW UK to the NW Of Iberia, causing a frontal wave, which will move NE across S and E England on Tuesday morning, bringing a spell of heavy rainfall. Models indicate some deep convection, thanks to strong ascent of quite a warm moist conveyor along waving front and developing low in frontal wave along with enhanced mid-level instability / CAPE created by dry air intrusion and colder air aloft of shortwave trough overrunning this conveyor ahead of frontal boundary.
Some embedded thunderstorms are likely within area of heavy rain along waving frontal boundary spreading NE across England and Wales in the morning, before clearing the east early afternoon. As well as locally large rainfall totals in short space of time leading to flash-flooding or standing water and locally frequent lightning, strong updrafts and locally strong helicity suggests some storm cell rotation – which combined with low cloud bases in high surface humidity environment – could lead to an isolated tornado.
Surface breeze convergence across S and W Scotland along with N Ireland, along with some instability developing in sunny spells may allow heavy showers and a few thunderstorm to develop here too for a time.