Forecast Details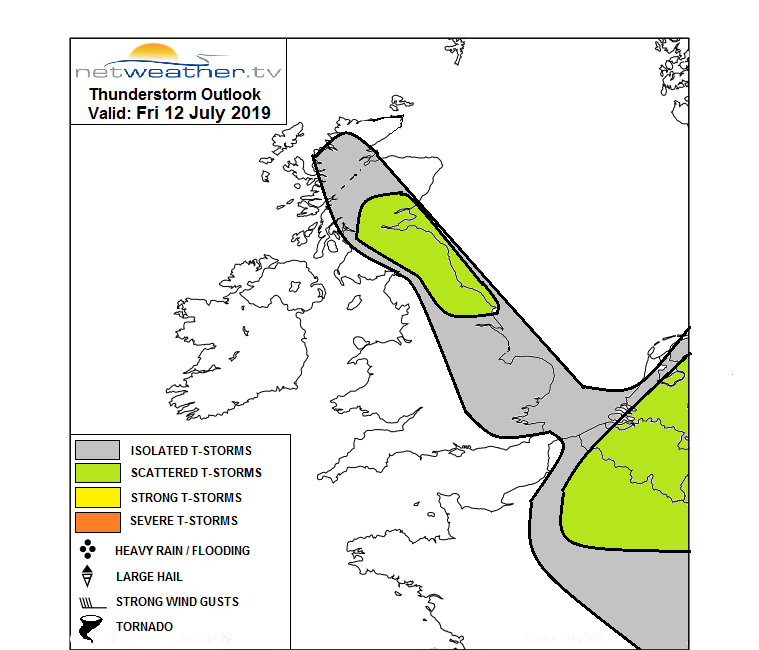 A cyclonic NWly flow covers the UK on the SW side of broad upper troughing covering much of northern and central Europe. Surface low over the North Sea will drift ESE across southern Denmark and northern Germany, NWly flow will be unstable across northern and eastern UK - with a risk of heavy showers and scattered thunderstorms developing this afternoon.
... N & E SCOTLAND, E ENGLAND ...
Fairly moist surface airmass with dew points of 14-15C combined with steeper lapse rates towards eastern UK thanks to cooler air aloft on edge of upper troughing to the E/NE will yield modest instability (300-600 j/kg CAPE) confined to the above areas this afternoon during peak heating. Surface breeze convergence between NW flow and onshore NEly flow off N Sea along with orgographic forcing will create lift to support development of scattered heavy showers and thunderstorms. Thunderstorms most likely across SE Scotland and NE England - where models suggest greatest instability this aftenoon. Risk of localised flooding with any storms.