Hurricane Irma now to batter Florida with catastrophic storm surge, wind and rain
Attention now turns to Florida, with Hurricane Irma, currently cat. 3 as of Saturday evening, moving north from the Cuban coast over the warm waters of the Florida Straits and likely intensifying. Irma is forecast to strengthen into a Category 4 hurricane when it makes landfall initially across the Florida Keys and then the southwest of the Florida peninsula on Sunday morning. Wind gusts over 140 mph in these areas can be expected during landfall, leading to a swath of catastrophic damage, including life-threatening wind, storm surge and flooding rainfall hazards.
The outer rain bands of Irma moved onshore in southeast Florida today, bringing squally wind gusts between 45 and 55 mph and heavy rain with thunder and lightning along with a risk of tornadoes too. Conditions will continue to deteriorate rapidly across southern Florida tonight, initially across the Florida Keys, and will turn life-threatening into Sunday. Rain and hurricane-force winds will intensify quickly.
Storm surge
The centre of Irma is expected to track north along the western side of the Florida Peninsula, with greatest storm surge, up to 10-15 feet, likely near or just east of Irma's eye, putting the Florida Keys and SW Florida Peninsula at greatest risk of inundation. However coastal flooding from a storm surge of 6-10 feet is likely along the Gulf coast of Florida as far north as Tampa, 3-6 feet as far north as the Florida Panhandle and all along the Atlantic coast on the eastern side of Florida.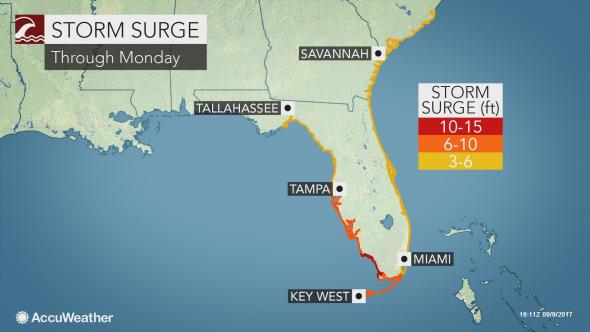 credit: Accuweather.
Damaging winds
Much of southwest Florida could see wind gusts between 120 to 160 mph, the rest of western Florida gusts of 80-120 mph, while eastern Florida, including Miami, spared the highest winds, but still potential here for 80-100mph winds – which will cause damage to property and power outages.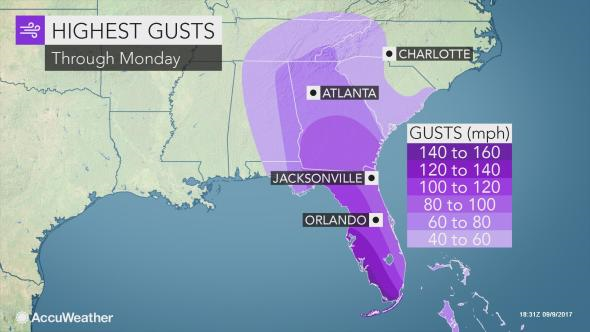 Credit: Accweather
Flooding rainfall
In addition, rainfall from Irma could average 10-15 inches across much of Florida, with locally higher amounts, which may lead to significant inland flooding issues.
Hurricane Jose actually stronger than Irma Saturday evening!
And if you thought nothing could approach Irma, Hurricane Jose further west and approaching the Leeward Islands is now a category four hurricane with sustained winds of 145 mph, stronger than Irma, which is currently a cat. 3 with sustained 125mph winds. Fortunately it looks like the worst of Jose will spare Barbuda, as it moves away from the northern Leeward Islands over next 12 hours.