The tabloids are already in a tizz. There are signs that a deep Atlantic low could, could, bring stormy weather to the UK on Sunday into early Monday. Today's model run shows stormy conditions for northern Scotland, windy elsewhere with more rain. The media excitement comes what is in the weather mix for this low, Hurricane Lee (an out at sea meanderer) and Hurricane Maria (destructive ex-Cat 5 wrecker of the Caribbean). We've seen this before, tropical leftovers, ex -Hurricanes which move over colder waters of the northern Atlantic and get caught up with developments heading towards NW Europe. Often these deep lows head towards Iceland, sometimes they clip NW UK and, at other times, we get a deep low pressure over the UK with the strongest winds further south.
The Great Storm of 1987, Michael Fish's favourite, was an area of low pressure which developed on its own in the Atlantic, it underwent explosive cyclogenesis and brought hurricane-force gusts across southern England. That's different to the sustained winds of a hurricane. And the UK doesn't get hurricanes.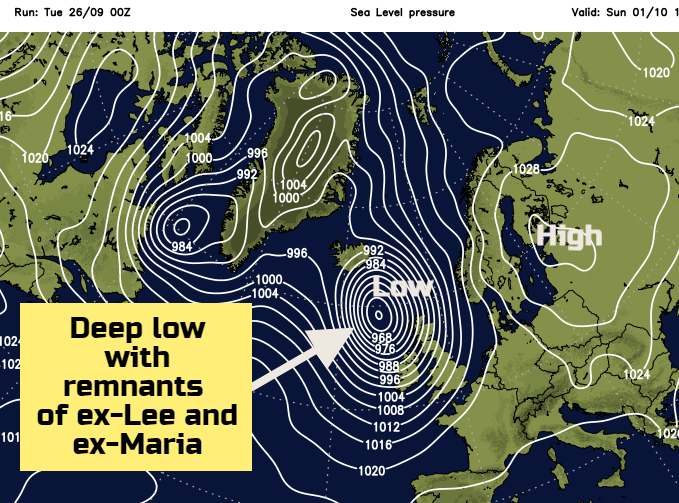 If this deep low pressure is going to have impacts on the UK and there are signs of stormy weather in the forecast charts for late Sunday, early Monday for parts of Scotland especially, then the UK Met Office or Met Eireann will issue an amber warning. We might get the next named storm, which would be Brian. However usually if an extra tropical systems heads our way it would be named ex-Maria or ex-Lee. We have a problem here as this is a mix and the remnants are confused. #Maree?
We'll let you know here at Netweather when it is named and if official page gets a date filled in for #StormBrian.