C: I've been following Netweather on Twitter for years, and started noticing that every May you guys went out to the USA and took amazing photos of storms. I didn't know that storm chasing tours were actually a THING until then. Finding that out was great!
What research have you done/what inspired you?
C: I've watched a LOT of Youtube videos that storm chasers have uploaded, and I follow several on Facebook/Twitter. I love seeing the results of their chases during storm season. I'm a member of the Cloud Appreciation Society and a moderator for the Cloud Spotter app, but in south London you never see anything good - even when there is interesting weather going on, the tall buildings get in the way. I frequently get inspired by the photos that people send it to the app from all over the world.
What are you hoping to see?
C: I want to see some truly jaw-dropping mammatus. I've seen it in watered down form in the skies over London after a storm, but the real, huge, other-worldly, udder type clouds that seem to be bearing down on you - I've only seen those in photos, and I'm desperate to see them in real life! Also some really good lightning. I love and am terrified by lightning in equal measure.
Are you worried or just excited?
C:I'm a bit of both. Actually, the prospect of getting up close and personal with extreme weather doesn't bother me, it's more that I don't really know what to expect from the tour, and I worry that everyone else will be SO much more in the know about the weather than me. But I'm there to learn! I'm excited about finally getting to see the sort of skies I have, until now, only seen on the Internet.
What have you packed for the trip?
C: Funny you should ask that because I'm in the middle of packing for the trip right now and I have no idea really what to put in my bag! Clothes for hot weather, clothes for when the storms roll in and the temperature drops, clothes for wet weather....sixteen cameras and - well, if there's room for anything else after the sixteen cameras have gone in, I'll be lucky!
What's your favourite kind of UK weather?
C: I love a summer thunderstorm. It's about as dramatic as it gets over here. I'm not such a fan of the muggy air that comes with it though.
Any other weather tales?
C: Last summer, my fiance and I did a charity trek up Snowdon, at night. The trek was in August, and every other weekend that month was gorgeous with hot sun and balmy nights. The one weekend we did the climb, the temperature dropped, the clouds rolled in and it didn't just rain, it POURED. The wind was so strong that there were weather warnings sent out for the whole area, and the climb nearly got called off. Near the top, as if the rain and wind weren't bad enough, it started hailing sideways, in our faces. We could barely see to put one foot in front of the other, and the path up the mountain was soon a rushing river. We made it up and down in one piece, with the help of our tour guide, but it was the scariest thing I've done in a long time, and we were completely soaked to the skin, despite thinking we were quite well prepared, with a lot of waterproof gear! I nearly got blown off the summit. It makes you appreciate how quickly the weather can cause your situation to get out of control and how careful you have to be where the elements are concerned. And that was just Wales. Nothing compared to the Plains in spring, I'm guessing.
What do you do when not storm chasing?
C: I work as a Paramedic, live in London with my fiance and my cat, and try to spot cool clouds out of the window. I also collect gin! When I get round to it, I write a blog about gin and travelling, which is not often these days - but I'm hoping that this trip will give me something to write about! http://rainbowroadtrip.com
"My timeline is full of the Netweather storm chasers updates from Dallas, I cannot wait to get out!!! " May 2017
Richard - Cookie
I see you've been out storm chasing before Richard.
R: Yes, this will be my 4th trip out storm chasing to the USA with number 5 booked for next year as you can see from that I love going out. My first trip was in 2011 then followed it up, after sadly seeing no tornadoes, with another trip out in 2012. We then saw 11 tornadoes, including 8 in one day! I went out again in 2014 and saw another 3 tornadoes.
So, it is now a regular thing?
R: With this being my 4th time I think it is safe to say that it is a regular thing. I wouldn't go with any other company as each trip has been very successful and its been great going out with such a great group of people. The Netweather staff are fantastic. Paul Sherman who leads the storm chases is fantastic at finding the tornadoes. He will always get you under the storms and makes you feel safe whilst having a great experience.
What are you hoping to see this time?
R: This time I am hoping to see a more photogenic tornado. The tornadoes I have seen so far have either been at night or rain wrapped and none of them have been particularly spectacular. I always love seeing big hailstones. I would like to visit some more states, I've been to 7 so far.
What have you packed for my trip?
R: Nothing as yet. Just the usual stuff for a holiday. Including camera and sun tan lotion. I don't spend too much money on cameras as there are normally fantastic photographers on tour. I tend to enjoy watching the events unfold rather than fiddling around with a camera.
What is your favourite kind of UK weather, have you seen any other extreme weather ?
R: I love variety in weather. The big winter storms with very strong winds in the Western Isles are great and we can see winds in excess of 100 mph. I have also seen very extreme thunderstorms in the France in 1998. In 2015, when in southern Britain for work training, I witnessed a bad thunderstorm when the storm stalled over Bournemouth.
What do you do when you are not Storm chasing?
R: I work for HM Coastguard and run a weather page on Facebook Western Isles Weather. I am also a member of the Netweather forum.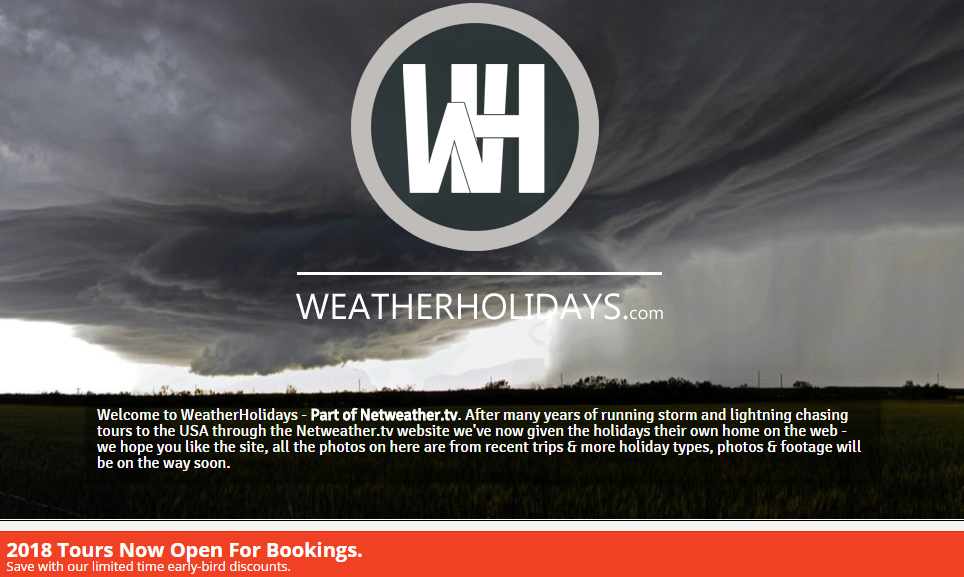 Live streaming and discussion about the conditions in the States for all 4 tours and throughout the season here.