Photo credits: Mike Upjohn
Chase Day 1 - Wednesday 10th May
Today had an Enhanced Risk of severe weather with 10% tornado risk over SW Oklahoma and a small part of NW Texas just around Childress where we stayed overnight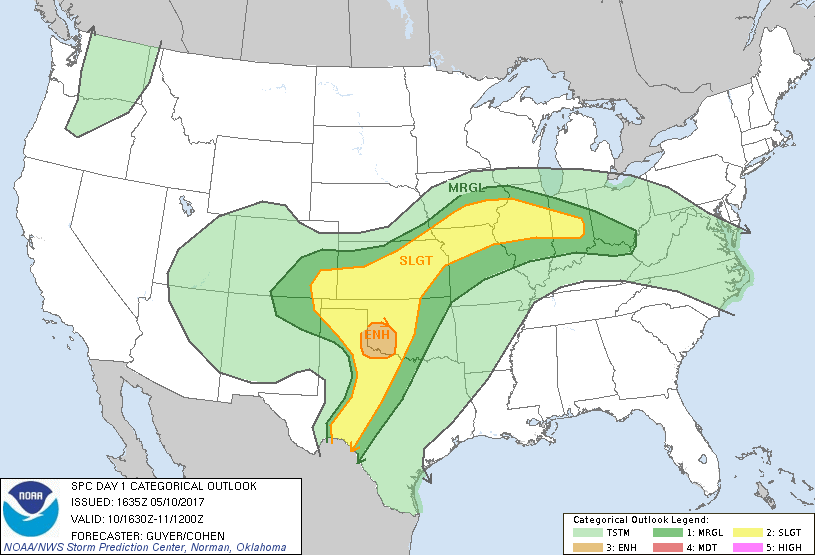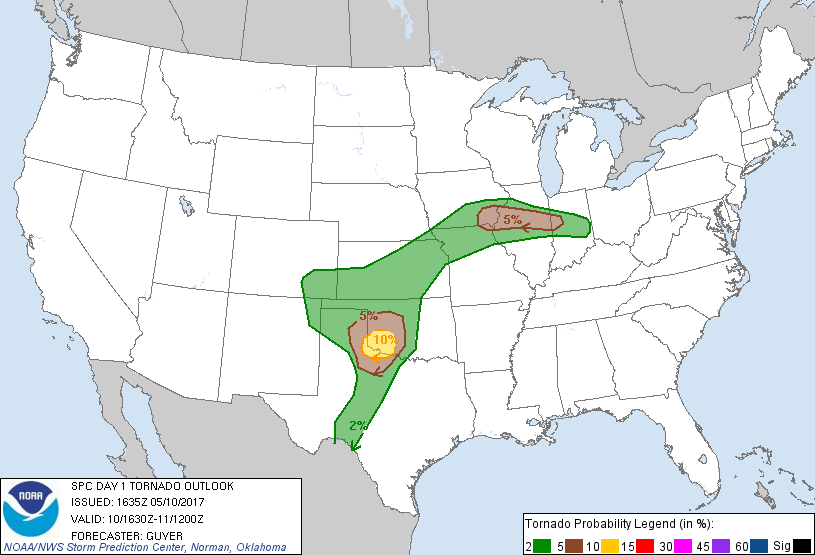 Left Childress, where we stayed overnight, after lunch and headed south to intercept a supercell coming off the Cap Rock Escarpment to the NW of Paducah. Followed it north for rest of the afternoon before shaking it off in southern Oklahoma then dropping back south in Texas near Chillicothe on Hwy 287 to watch a storm developing further south on 'tail-end charlie'. This had a solid updraft and signs of strong inflow and mesocyclone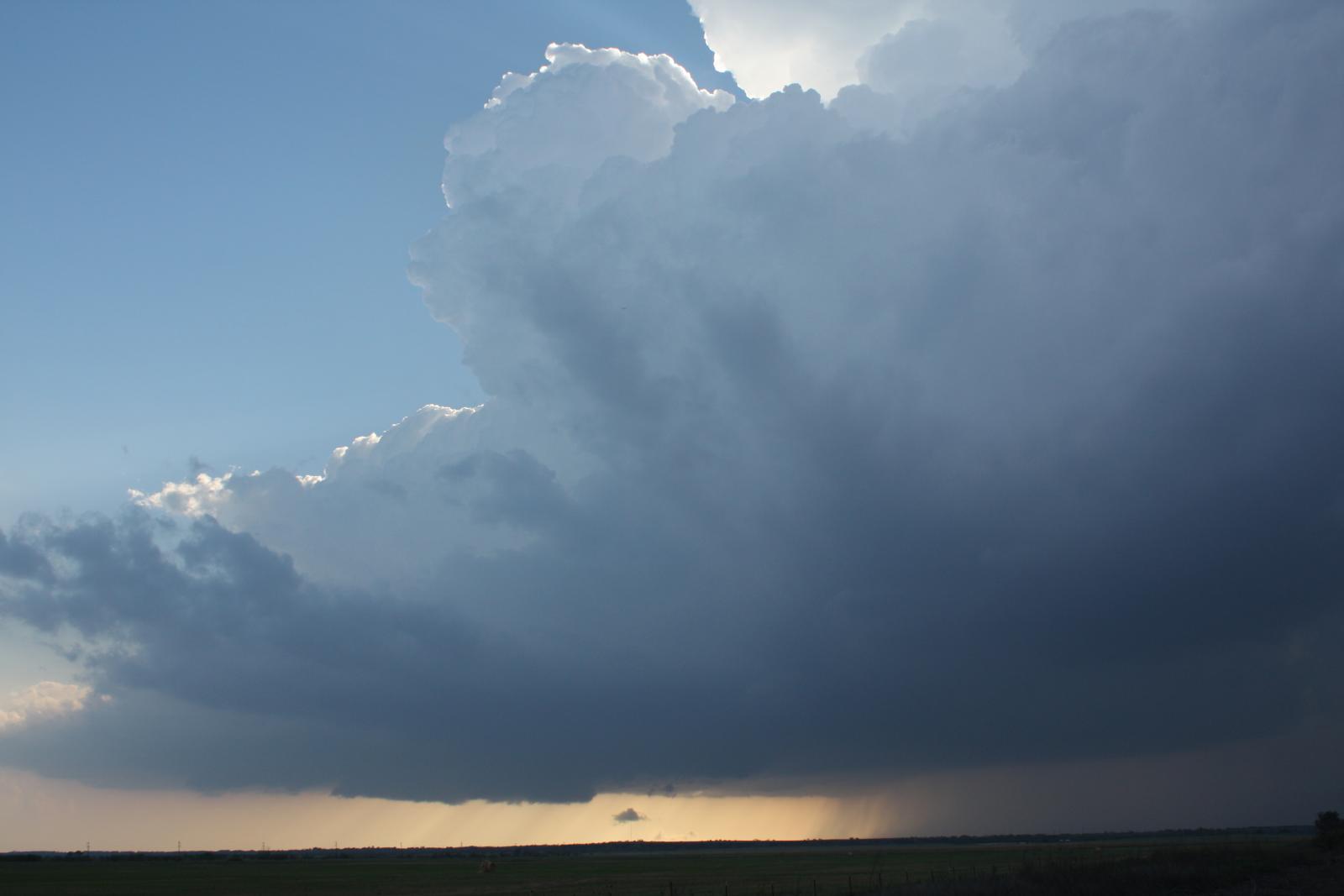 Followed it north into Oklahoma where we got cored by golf ball-sized hail as we hooped over the Red River. Ccame of the hail core then went back to storm under the hook on radar - where we intercepted a weak tornado crossing the road. Warning, video contains strong language.
These were the radar images of the storm when it dropped the tornado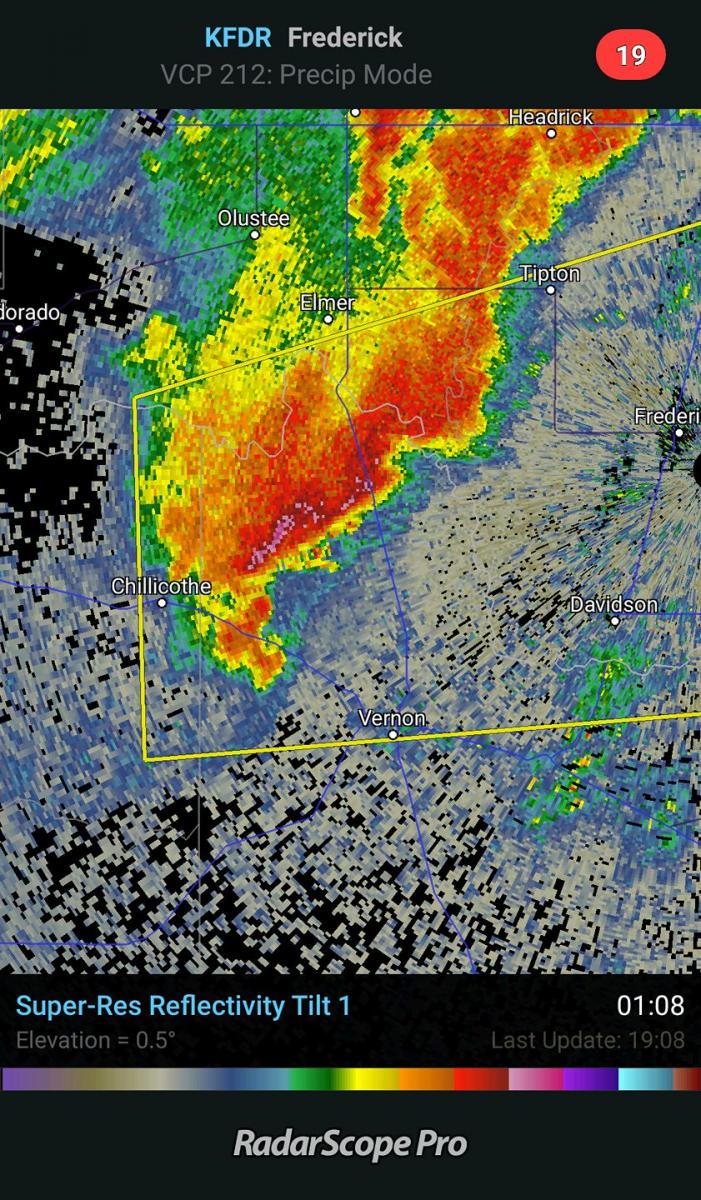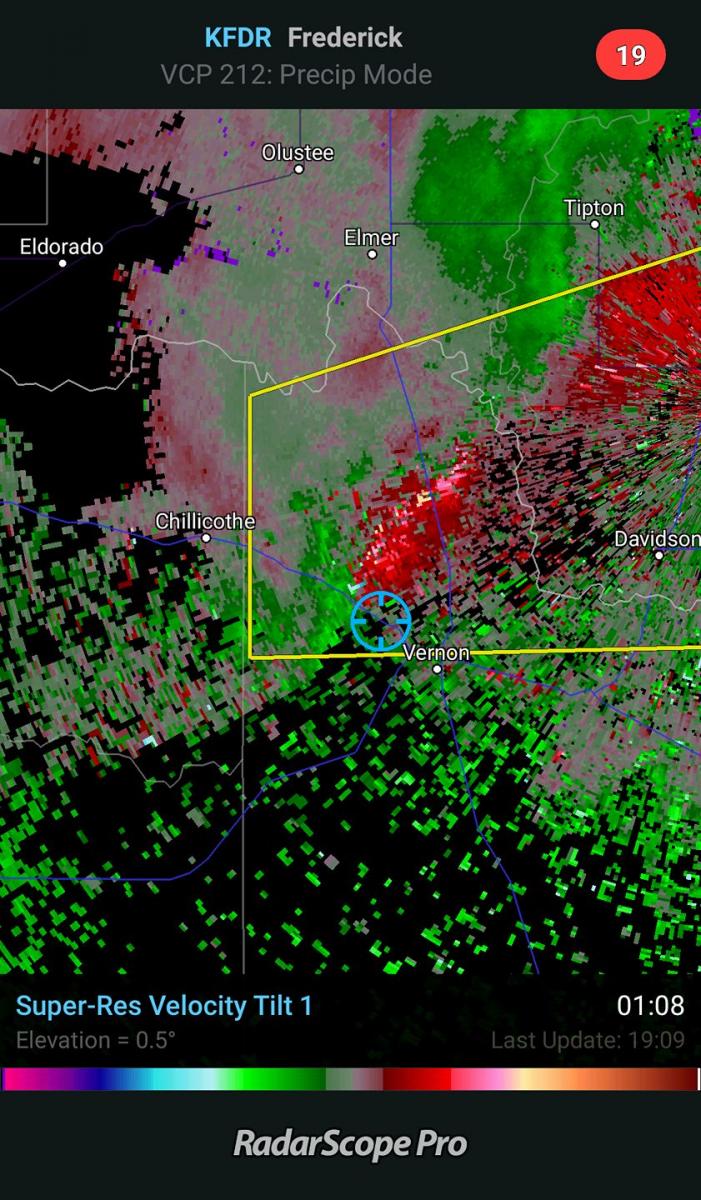 Driving through large hail in this storm above
Chase Day 2 - Thursday 11th May
Today had another enhanced risk with 5% tornado probability, this time over NE Oklahoma.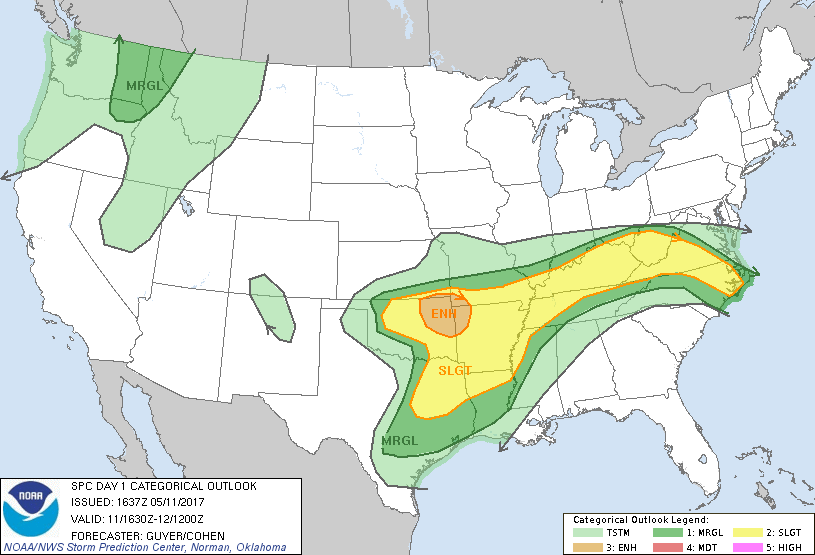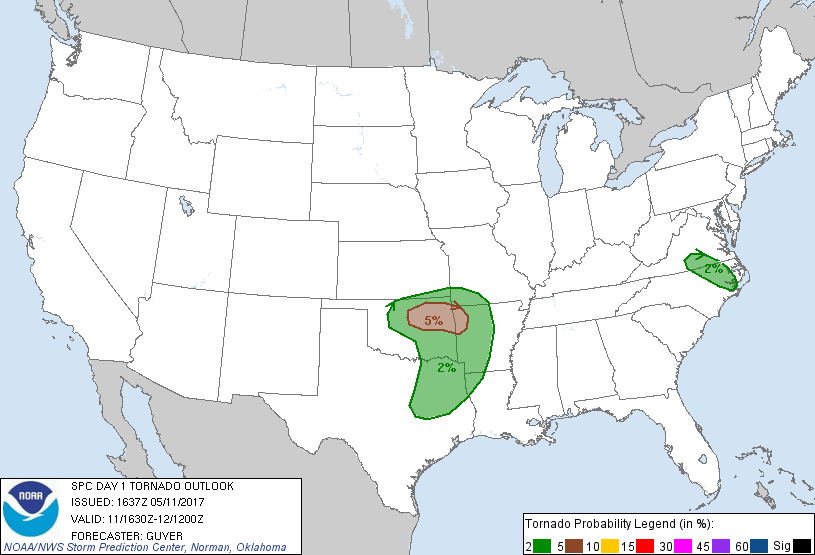 Started off from Witchita Falls, our overnight stay in NW Texas, headed northeast to Oklahoma City then just north of the city up the I-35 to stop for lunch. A severe-warned storm was already over Okarche to the west of our stop for lunch, so we then moved to intercept it to the west of Guthrie. We saw a small funnel briefly poke down then we followed the storm back east through Guthrie, but had to drive through the hail core, where we got pummelled by golf-ball sized hail as arrived at the interstate intersection just outside the town.
We then continued to follow the storm east stair stepping along roads east of I-35, having to go through the heavy rain and hail core to get ahead of it, buffeted by very strong outflow winds too.
Chase Day 3 - travel day to Amarillo, Texas and the Big Texan
Upper ridge building in today behind the system moving east bring recent days storms means no storms to chase on Friday, so travel Day to Amarillo in the Texas Panhandle - to position for possible storms on Sunday. We all went to the Big Texan restaurant, home of the 72oz steak, but no one was up for eating this steak, which you get free if you eat it along with a starter, sides and pudding in one hour on a stage in front of the whole restaurant.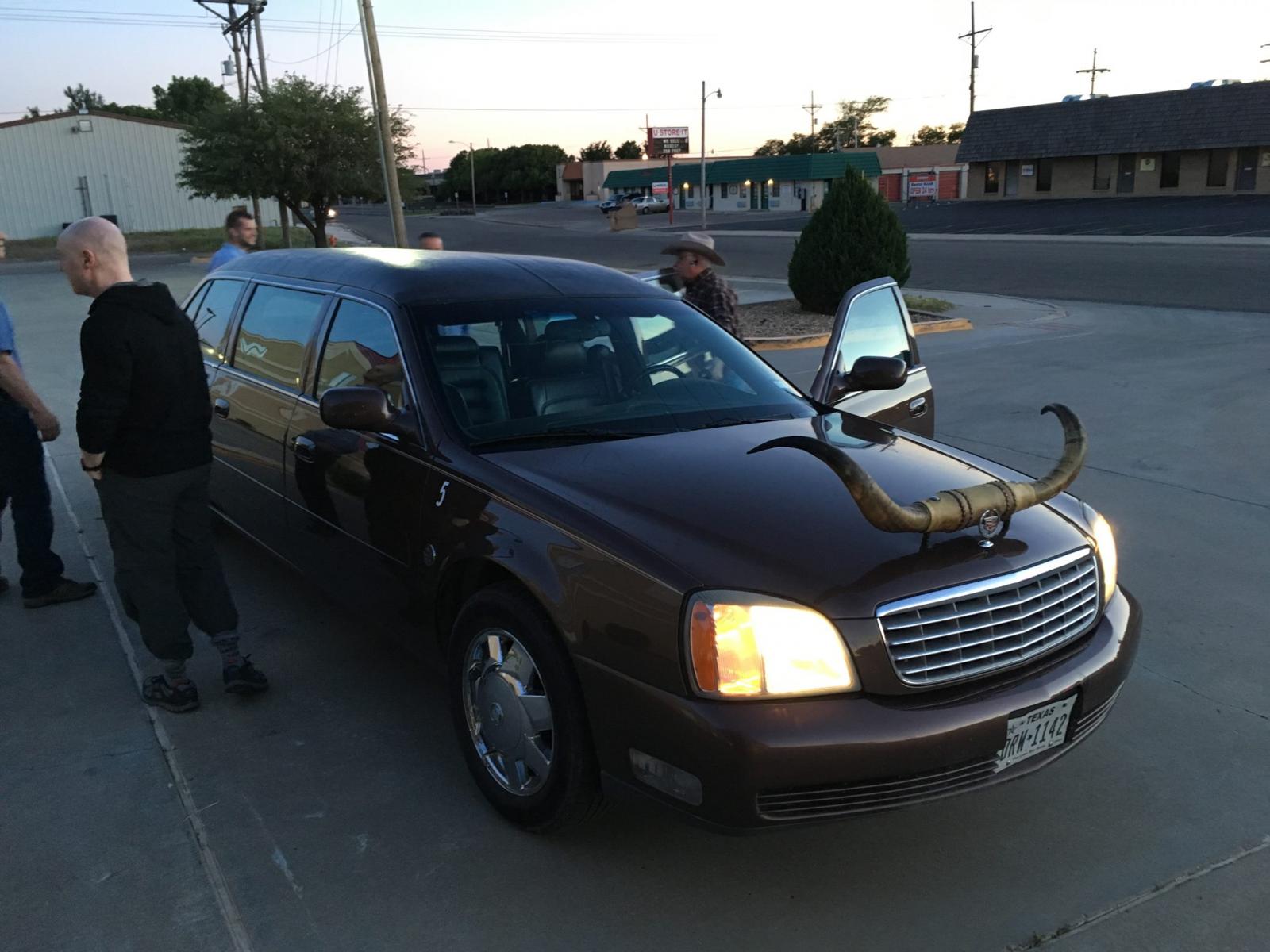 Limo from our hotel to the Big Texan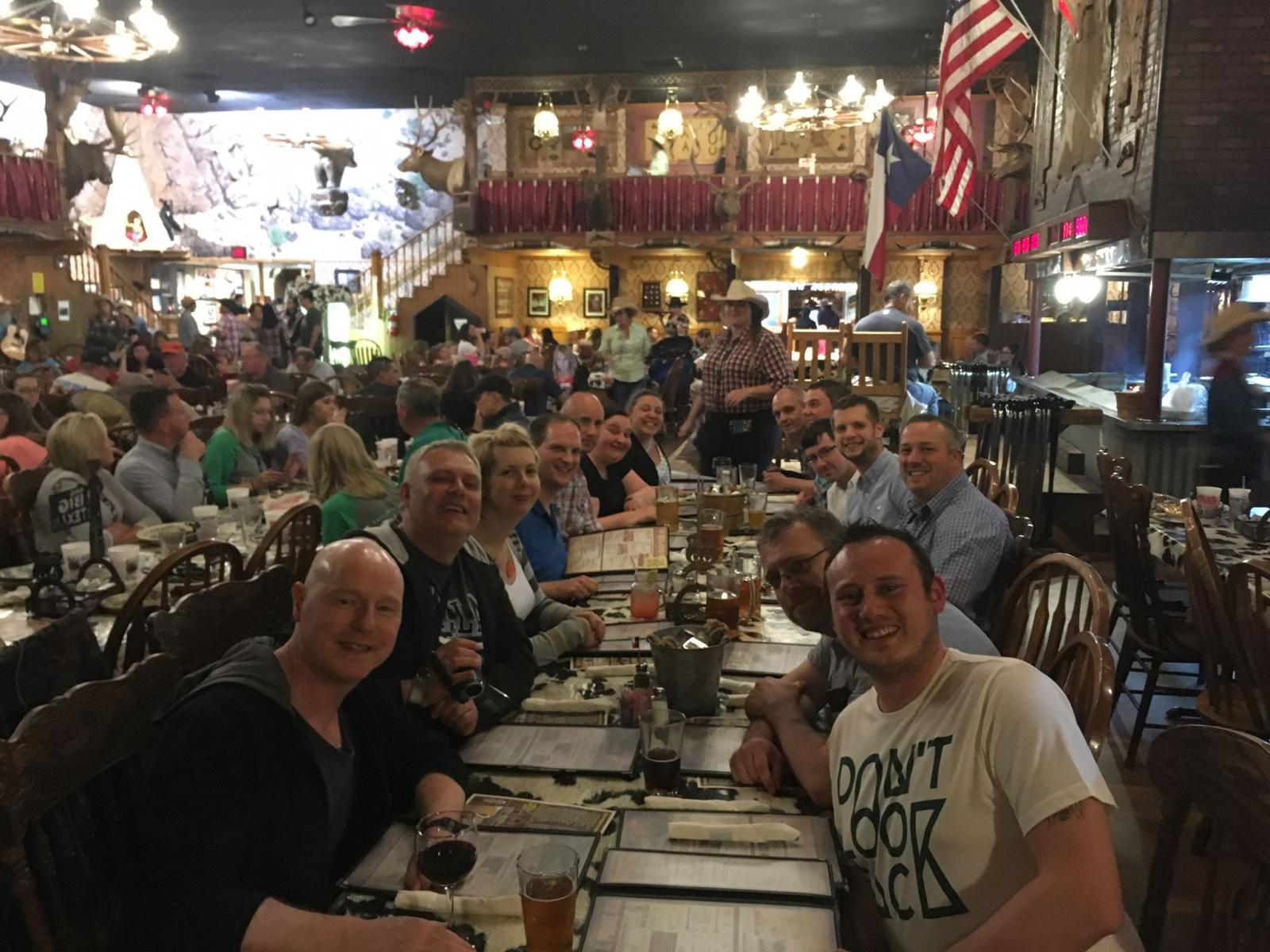 Chase Day 4 - No Storms, Visit to Paulo Duro Canyon, SE of Amarillo
Some days there are no storms in the Plains, so Saturday was a day of sight-seeing, and what better place to go than stunnng canyon in the Texas Panhandle. Storms return to the area Sunday.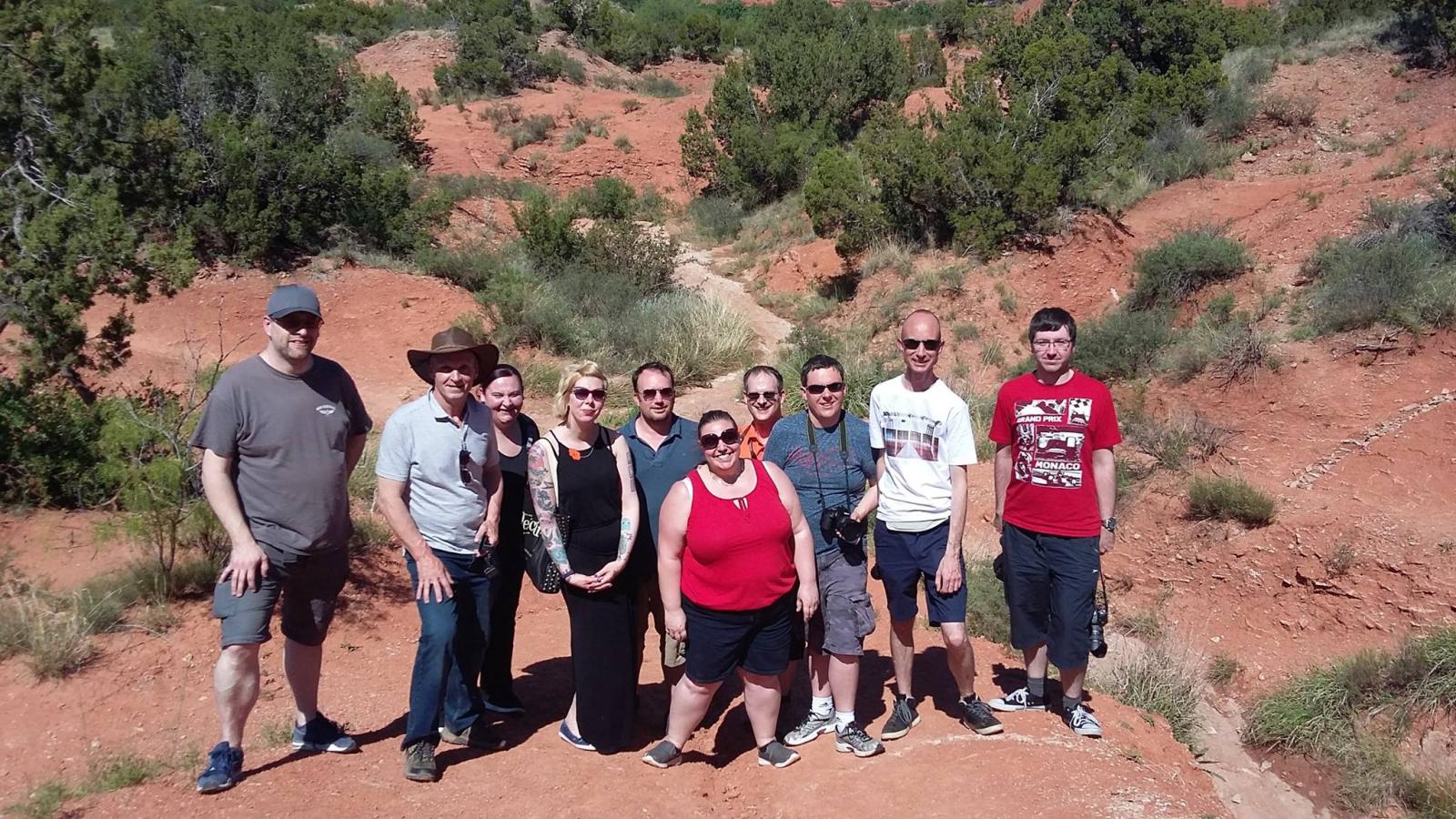 Photo credit: Mike Upjohn
Chase Day 5 - Sunday 14th May - Marginal Risk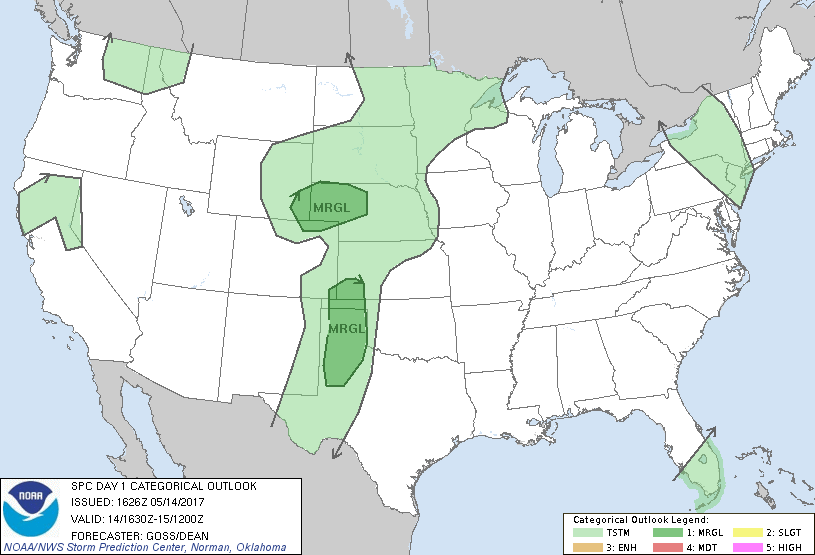 A marginal risk of severe weather today, played with some storms over the eastern Texas Panhandle, saw a bit of lightning and sat through a dusty outflow surge - where tour leader Paul Botten may have thought twice about getting out the car to have a cigarette - the outflow winds were gusting to 65 mph, which incidentally snapped a power pole down the road.
But what was most special about today was the amazing display of mammatus on the back of these storms that we following as the sun set.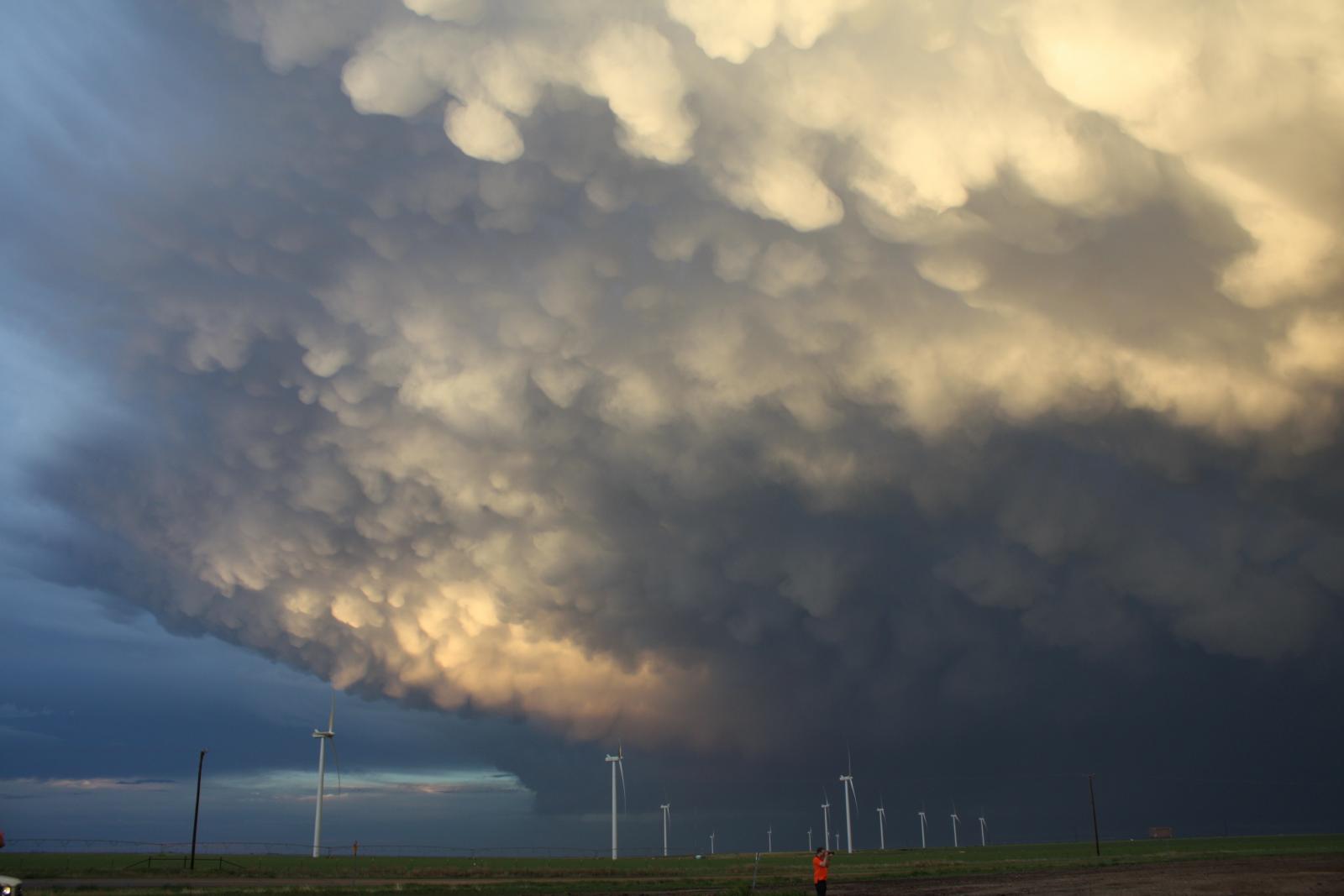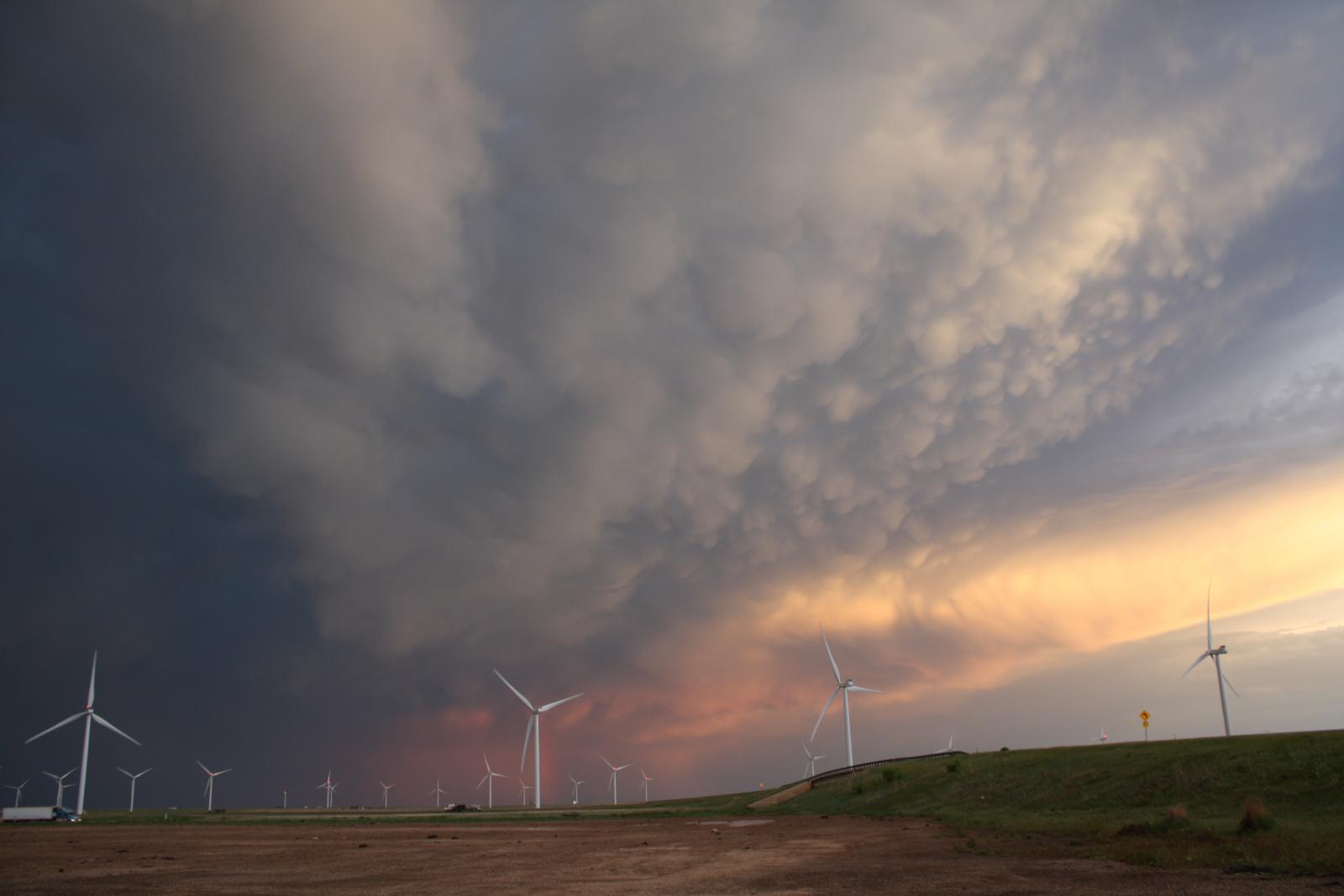 Chase Day 6 - Monday 15th May 2017 - SLIGHT RISK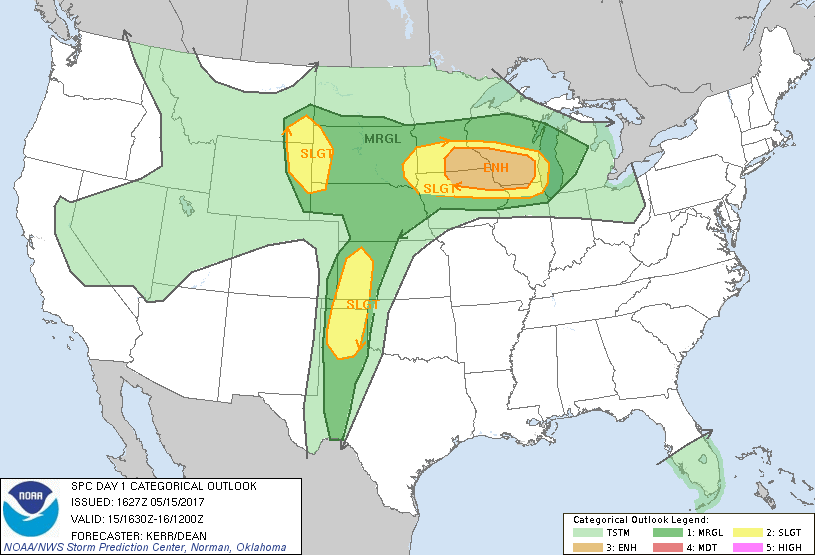 3rd night in Amarillo at the same Super 8 Hotel, don't think I've stayed in the same place for so long. Anyway, same area as Sunday really for storms developing along dryline moving east, though a higher risk of severe weather with more moisture/CAPE meaning some large hail likely as well as strong wind gusts.
First stop was the Cadillac Ranch just west of Amarillo, to take some photos.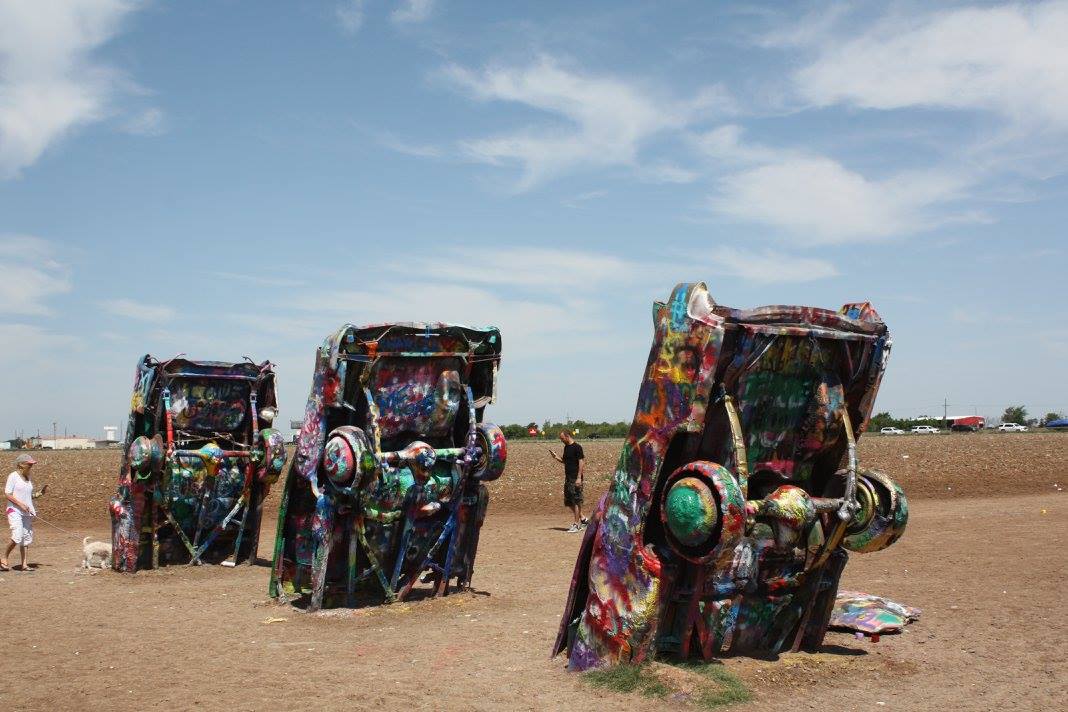 Then headed east to stop at Groom to east of Amarillo at the Cross of Jesus Christ Ministry to watch the cloud bubble up along the dryline to our west.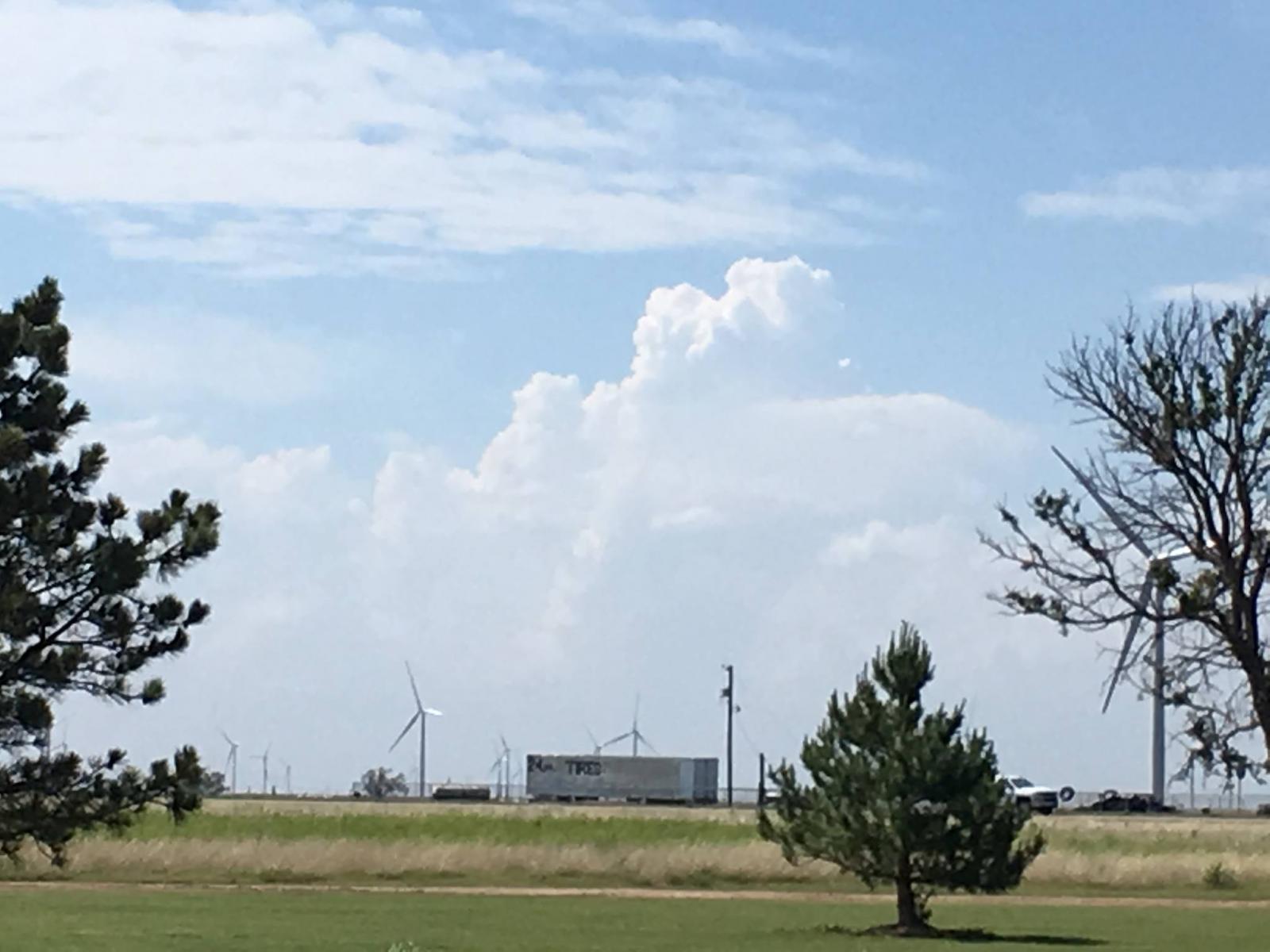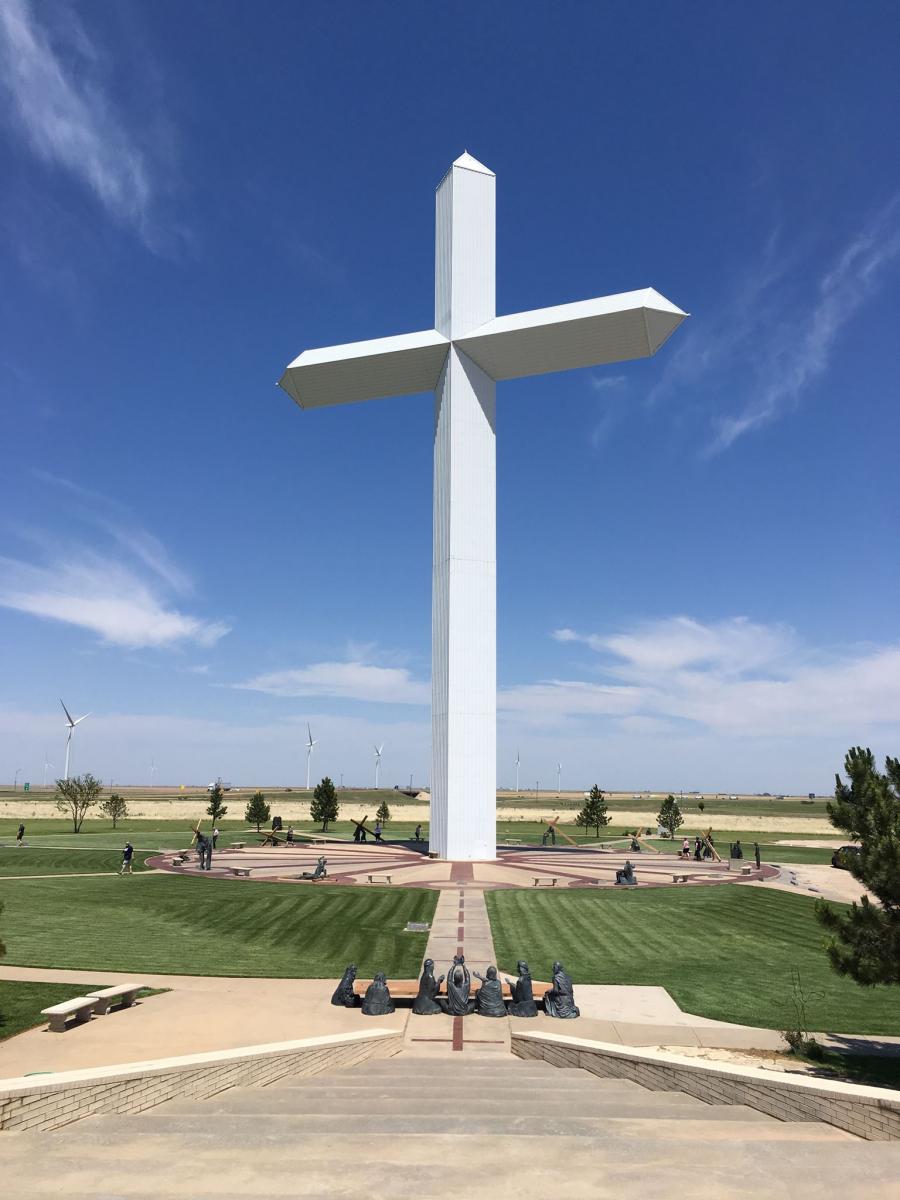 Eventually this convection broke the cap and severe-warned storms were developing early evening from Amarillo northwards and tracking NE. We intercepted a batch of supercells neat Stinnett in the eastern texas Panhandle NE of Amarillo, we saw all three types of supercell surround us: Classic, LP (Low Precipitation) and HP (High Precipitation). A classic-type supercell on the southern end of this mass of severe-warned storms had a rotating wall cloud for a time an dropped a funnel briefly. The lightning started cranking up too as the light was fading.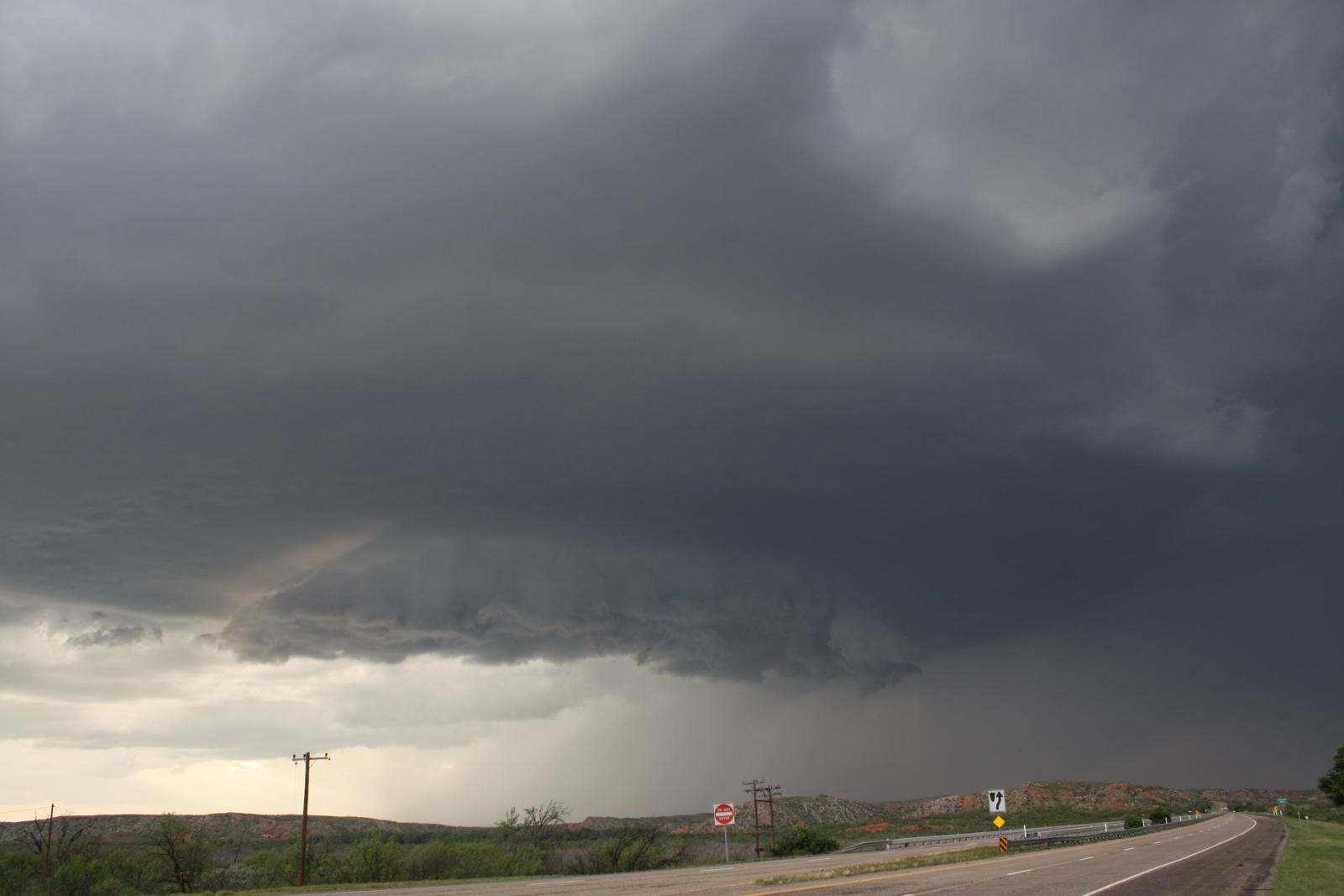 We found some large hail by the road side north of Stinnett.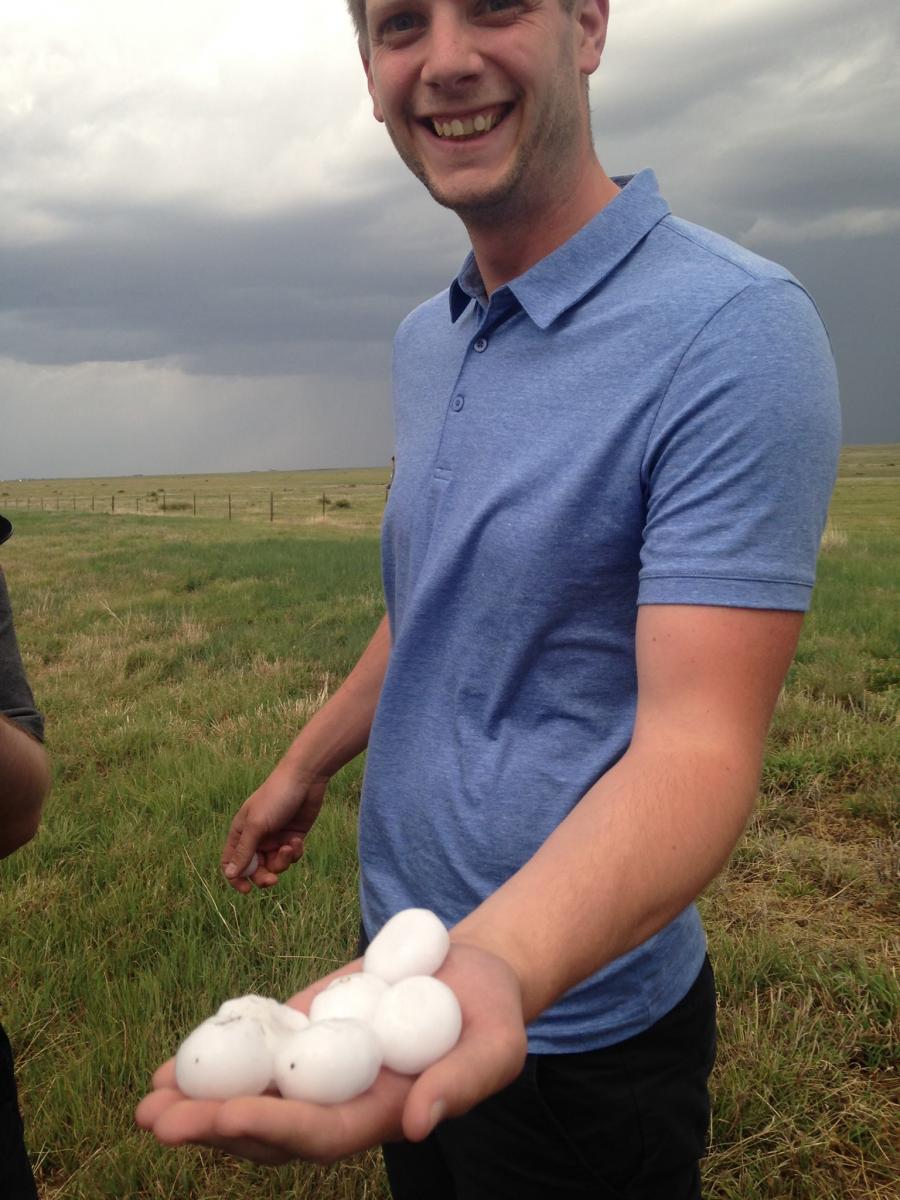 Finished the day with Pizza and overnight stay in Dumas, Texas.
Chase Day 7 - Tuesday 16th May - Moderate Risk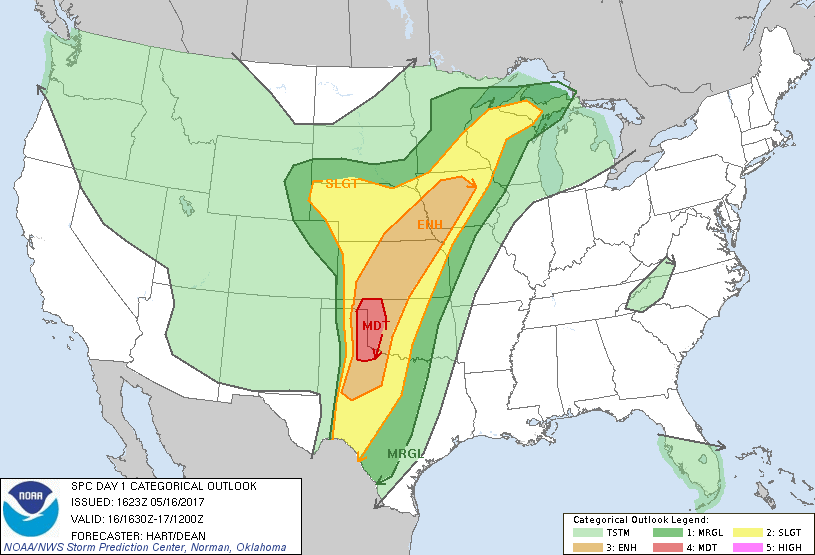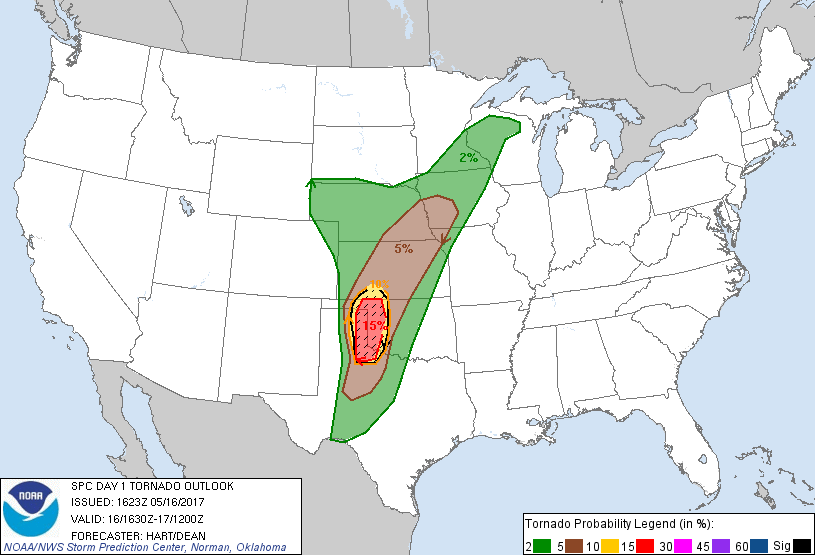 Today the SPC gave a Moderate Risk of severe weather, with a 15% tornado risk, over the eastern Texas Panhandle and western Oklahoma.
From our overnight stay in Dumas, we headed SE to Shamrock to grab some lunch and position for storms expected to develop along the dryline in the eastern Texas Panhandle. Sure enough, storms developed mid-afternoon to our west and we intercepted a supercell mesocyclone/ rotating wall cloud which then dropped a tornado near McLean, TX, although we saw it in the distance, wet dirt tracks held us back from getting closer to get good photos and video of it.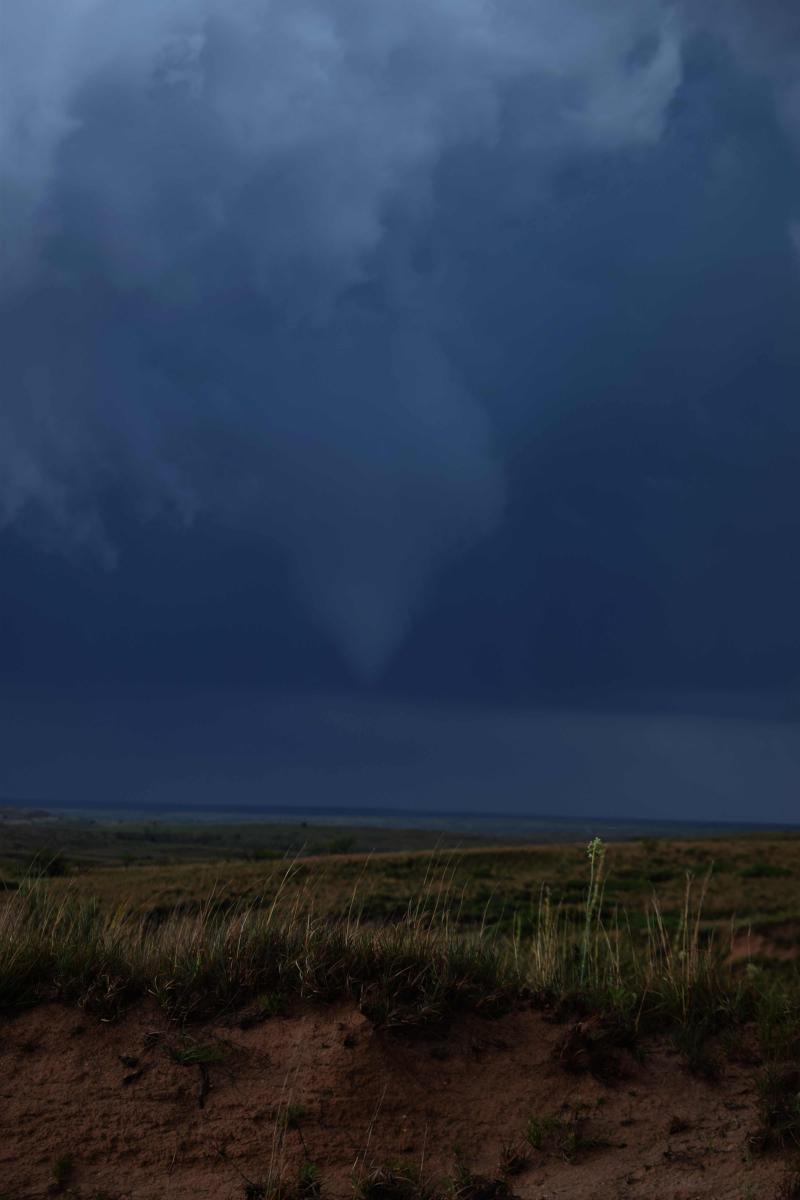 Photo credit: Mike Upjohn
We then blasted NE once off the dirt track to follow this supercell which then went on to drop a wedge tornado over Wheeler, TX.
We left this storm then dropped SE into western Oklahoma - where we intercepted another supercell near Erick, moving up from the SW. We had to core punch to storm on the I-40 east, pummelled by golf ball and a few soft ball size hail stones, cars and lorries were hiding under bridges, which made it treacherous. We came off the interstate near Elk City, OK and went south of town where came out the rain and hail and we were greeted by wedge tornado which we stopped just short of, though got hit by strong RFD briefly. Unfortunately, there were a few fatalities in Elk City from this tornado. So a close shave for us.
Followed this tornado warned supercell NE for a bit before deciding to leave it at Clinton, OK. Dropped south along the western side of another supercell moving up from the SW to watch the lightning which was ramping up as the light faded. Then blasted SE to our overnight stay in Lawton, south/central Oklahoma to stay overnight. Watched a squall line along the cold front roll through Lawton, which produced a good lightning show.
A hard and frustrating day, particularly not getting close to the McLean tornado, core puching 3 inch hail, and a close shave with a wedge tornado, but we saw 3 tornadoes and some amazing lightning.
Chase Day 8 - Wednesday 17th May - No storms - travel day
Travel day from Lawton to Woodward in Oklahoma to get in position for a big severe day on Thursday. Stopped at a nice Diner called Lucille's Roadhouse for lunch.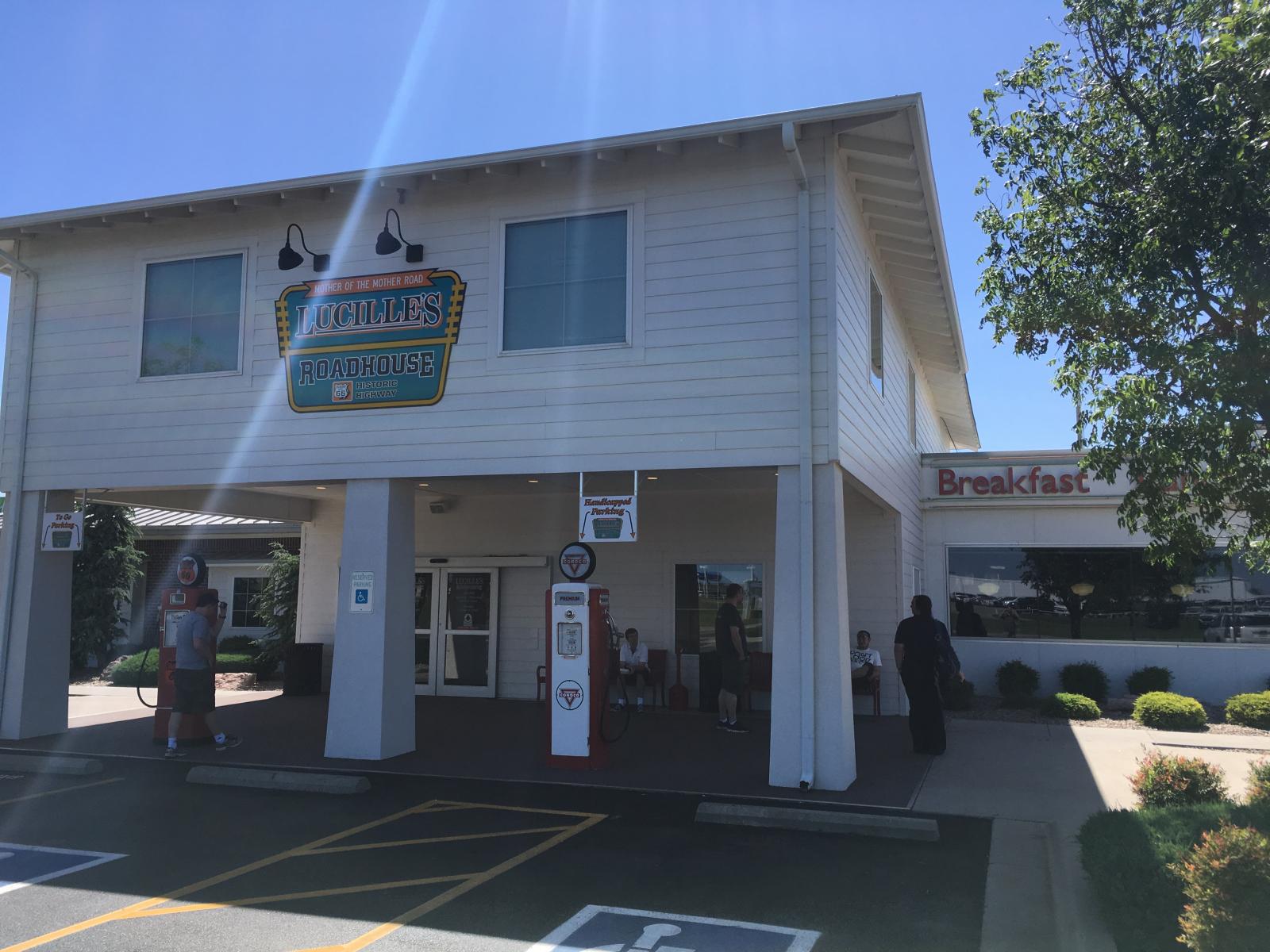 Chase Day 9 - Thursday 18th May - HIGH RISK NW Oklahoma and southern Kansas
Started the day in Woodward with a general chase target of NW to Northern Oklahoma and maybe SW & S Central Kansas.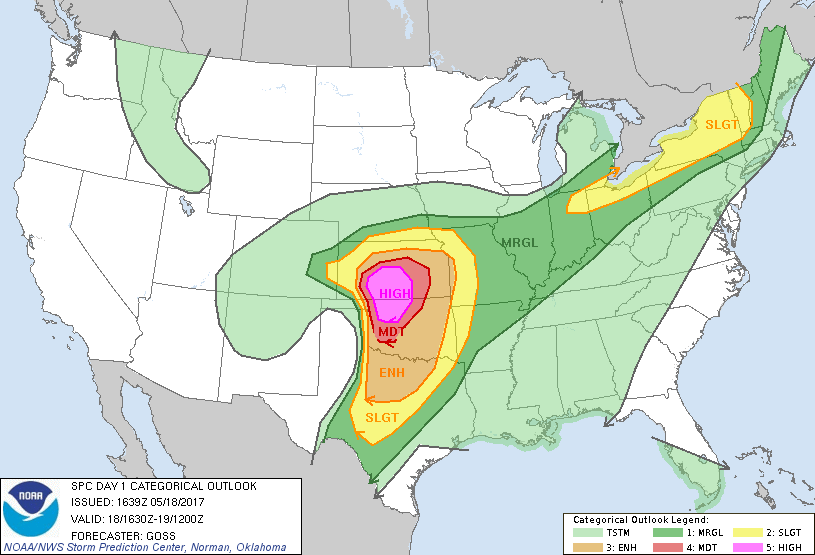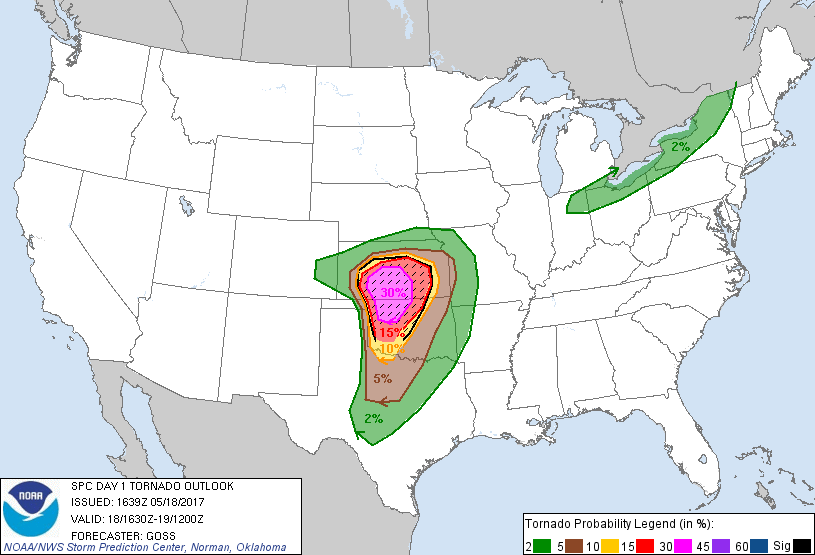 After sitting north of Woodward we punched through some torjado warned cores near Freedom to an isolated Supercell near Chester and punched east through the top of the storm which already had a large wedge to our south, after stopping and looking back the structure was jaw dropping on this spinning mesocyclone of the Supercell. A wedge was ongoing so we went back to Boise Junction and watched a small tornado skip across the road in front of us and then watched the main Wedge Touch down again over open fields between Boise Junction and Waynoka. Fortunately the tornado lifted as it the meso went over the town of Waynoka. Followed the storm through Waynoka and Alva before leaving the storm when it went HP. We then dropped down to the 2 Dryline Storms moving east and were treated to incredible Supercell structure before sunset. Ended the day in Enid and celebrated 2 more Oklahoma Tornadoes that did not impact anyone today. 8 for the trip with 1 day left.
For amazing photos and videos of the tornadoes, structure and lightning, see the thread below on the Netweather forum: