Welcome To Whistler
Ranked alongside the finest alpine resorts in the world, Whistler Blackcomb is a dream destination, not just for avid outdoorsy people but for those who love fine dining and 5-star hotels. Located roughly 2.5 hours North of Vancouver, Whistler was the joint host of the 2010 Winter Olympics and its world-class reputation is known internationally.
Whether you are planning a short day trip from Vancouver, or you plan to spend two weeks in a chalet, our guide to Whistler will help you plan your time in this winter wonderland.
Whistler's history - From First Nations' villages to a modern skiing paradise
The area around Whistler has been home to the Coast Salish First Nations people for thousands of years, in particular, the Squamish and Lil'wat Nations. If you want to learn more about the history of this dynamic and modern culture, the award-winning Squamish Lil'wat Cultural Centre is a 'must visit' experience during your time in Whistler.
By 1900, the area was home to hunters, trappers and prospectors – in fact, they christened the mountain "Whistler" because of the high-pitched shrieks of the region's abundant Western hoary marmots. Throughout the next half-century, small lodges and fishing camps began to attract intrepid travellers, and by 1969 the gravel logging road from Vancouver was paved.
An increase in visitors led to the construction of the ever-quaint Whistler Village in 1978, and by 1992 Snow Country Magazine votes Whistler the "Number One Ski Resort in North America." After winning the bid to host the 2010 Winter Olympics (along with Vancouver), Whistler has become a truly world-class resort. It is home to many Olympic legacy venues, such as the Whistler Olympic Plaza, the Sliding Centre, Whistler Olympic Park, and the PEAK 2 PEAK Gondola:
Arriving in Whistler – Getting there and away
The easiest way to get to Whistler is to arrive via Vancouver, BC. This stunning maritime city is a tourist destination in its own right, attracting millions of visitors each year. Many people elect to stay a few nights in the city to experience its legendary Chinatown, beautiful Stanley Park and historic Gastown neighbourhood.
The closest international airport to Whistler is Vancouver International Airport (YVR). It will take you approximately 2 to 2.5 hours to drive to Whistler, along the magnificent Highway 99. This scenic road is also known as the Sea to Sky Highway, and it will route you through Squamish, BC. Look out for the monolithic plateau called 'The Chief' – it is possible to hike up to its summit.
Once you land at YVR, you have a few different options for getting to Whistler.

Photo credit: Tourism Whistler/Mike Crane
Skiing and snowboarding
Whistler can boast 38.5 feet of average annual snowfall, a statistic that places this resort at the head of the pack. Reliable skiing and snowboarding conditions are one of the factors that make Whistler an international destination for outdoor recreation. If you are looking to improve your deep snow technique and enjoy a powder experience, Whistler is your best option.

Credit: Tourism Whistler/Mike Crane
Whistler Blackcomb is home to over 8100 acres of resort quality terrain, and the backcountry skiing opportunities are second to none. Whistler is home to a huge array of terrain options, from long pistes and open powder bowls to tree riding, glacier skiing and freestyle options. The main ski areas of Whistler and Blackcomb are connected by the world record setting Peak2Peak Gondola.
The two mountains boast over 200 runs, 37 lifts, 12 alpine bowls and three glaciers. The different runs are approximately 18% beginner ski area, 55 percent intermediate (blues) and 27 percent expert (blacks), including some even more challenging 'double blacks'. Looking for something more adventurous? There are also main tours and itineraries that can take you through the off-piste areas and backcountry.
Both Whistler and Blackcomb offer skiing/ snowboarding lessons and clinics, a beginners terrain park and runs of all levels. At the base of Blackcomb, you will find the World Cup Halfpipe, considered by many to be the best in North America.

Photo credit: Brian Finestone
Equipment rental is widely available around the resort at varying prices and quality levels.
A spectacular array of things to see and do
While the skiing and snowboarding options in Whistler are sure to captivate most people, there are countless things to do off of the slopes. Whether you are keen to relax in a world class spa or trek across the mountain in a pair of snowshoes, Whistler has something for everyone.

Photo credit: Chad Chomlack/Tourism Whistler
Where to stay
The resort area is divided into four main areas – Whistler Village, Upper Village, Village North and Whistler Creekside. Many guests elect to stay in the first two, and so while we focus on the Main and Upper Village, there are lovely and affordable options elsewhere as well. Here are our favourite Central and Upper Village options.
The Village
If you want to be right in the heart of the action, you probably want to be situated in the main Village. Known for bars, clubs, shopping and restaurants, this is the place to stay if you'd like to be able to stumble home after a night on the town. While the accommodation options in this pedestrian-only area include spacious rooms and decent amenities, many come with a suitably hefty price tag.

Credit: Tourism Whistler/Justa Jeskova
In addition to the hotels listed below, there are many serviced apartments available in Whistler Village; these units include kitchens and are perfect for families that want to self-cater during their stay.
Upper Village
While the central Village puts you right into the heart of the action, the Upper Village is all about luxury and high-end properties. Set away from the buzzy chaos of the centre, the Upper Village is close to the Blackcomb fast lift (but further from the Whistler lifts). If you are looking for five-star luxury during your stay, consider the following hotels.

Photo credit: John Sutton/Four Seasons Resort
Of course, if these hotel options do not seem appropriate, there are countless Air BnB and VRBO (Vacation Rental By Owner) options available in the Whistler area, perfect for large groups and families.
Dining in Whistler – World-class cuisine from around the globe
While you could be forgiven for thinking that food takes second stage to the majestic natural setting, you would be wrong. Whistler is home to some of Canada's finest restaurants, as well as dining options at every budget level. No matter what you are craving, the culinary scene in Whistler will deliver.
Whistler can boast over 90 places to eat, and there are delicious options available at every budget level. Whether you want to munch on crepes, sushi or authentic tacos, there is something for everyone. While many of the more casual restaurants and pubs in the area have walk-in availability, for the ones listed below, it is best to book in advance.
Sushi Village
British Columbia has a long history of sushi excellence, and the options in Whistler will not disappoint. Sushi Village is undoubtedly the best of the bunch, a trendy yet authentic restaurant that serves achingly fresh local and imported fish. Their sashimi platters are legendary, and their box sushi puts them at the forefront of the Whistler culinary scene. Don't neglect to try a sake bomb or Sake Margarita – these dangerous but delicious cocktails do not disappoint.
Bearfoot Bistro
Looking for a restaurant that will truly wow you and your guests? The award-winning Bearfoot Bistro is run by husband and wife team; the founder Andre Saint Jacques along with Executive Chef Melissa Craig, and they will rock your world. The five-course taster menu is a Whistler institution, while the wine cellar is the largest east of Montreal, home to over 20,000 interesting bottles. Want to acquire a new skill? Consider asking Andre to show you how to sabre a bottle of champagne. Purchase the champers, and the lesson is free! Home to the -32 C Ketel One Ice Room, pop in for a legendary vodka tasting.

Photo credit: Tourism Whistler/Mike Crane
Mexican Corner
A slightly more casual option is the ever-popular Mexican Corner. Regularly lauded as one of the most authentic Mexican eateries in the province, this amazing restaurant offers diners an inventive array of delicious dishes at affordable prices. Don't miss the taco platter or the delicious mango margaritas.
Rim Rock Café
If you are interested in trying local Pacific Northwest cuisine elevated to gourmet standards, the Rim Rock Café should be your number one destination. Opened in 1987, the Rim Rock Café is known for its innovative approach to local fish, game and seafood. A high emphasis is placed on seasonal ingredients and timeless preparation traditions, resulting in a uniquely British Columbian experience.
Trattoria di Umberto
If you are craving an Italian meal while in the Whistler, you will be well served by a visit to Trattoria di Umberto. They specialise in classic Tuscan classics with a modern BC twist, adding a welcome Asian fusion element to certain dishes. Indulge in crab risotto, flash-seared tuna with a soya sesame vinaigrette, mushroom stuffed pheasant and many other locally inspired dishes. Pair these dishes with their intuitive wine list, and you have a night to remember.
Araxi
One of the most respected restaurants in Whistler has to be Araxi, a dining establishment that simply oozes sophistication and originality. Their après oyster bar deal (buck a shuck!) draws a crowd every day, but those in the know stay for a dinner menu that includes roasted duck with sesame and rosemary and parmesan polenta.
Apres – A time honoured tradition
Once you step off of the ski hill, you will likely find yourself feeling hungry and thirsty. The 'apres ski' drinks tradition has been honed into a craft in Whistler, and countless bars, restaurants and pubs vie for your business when you leave the slopes. Here are our favourite places to enjoy an après drink (or two or three).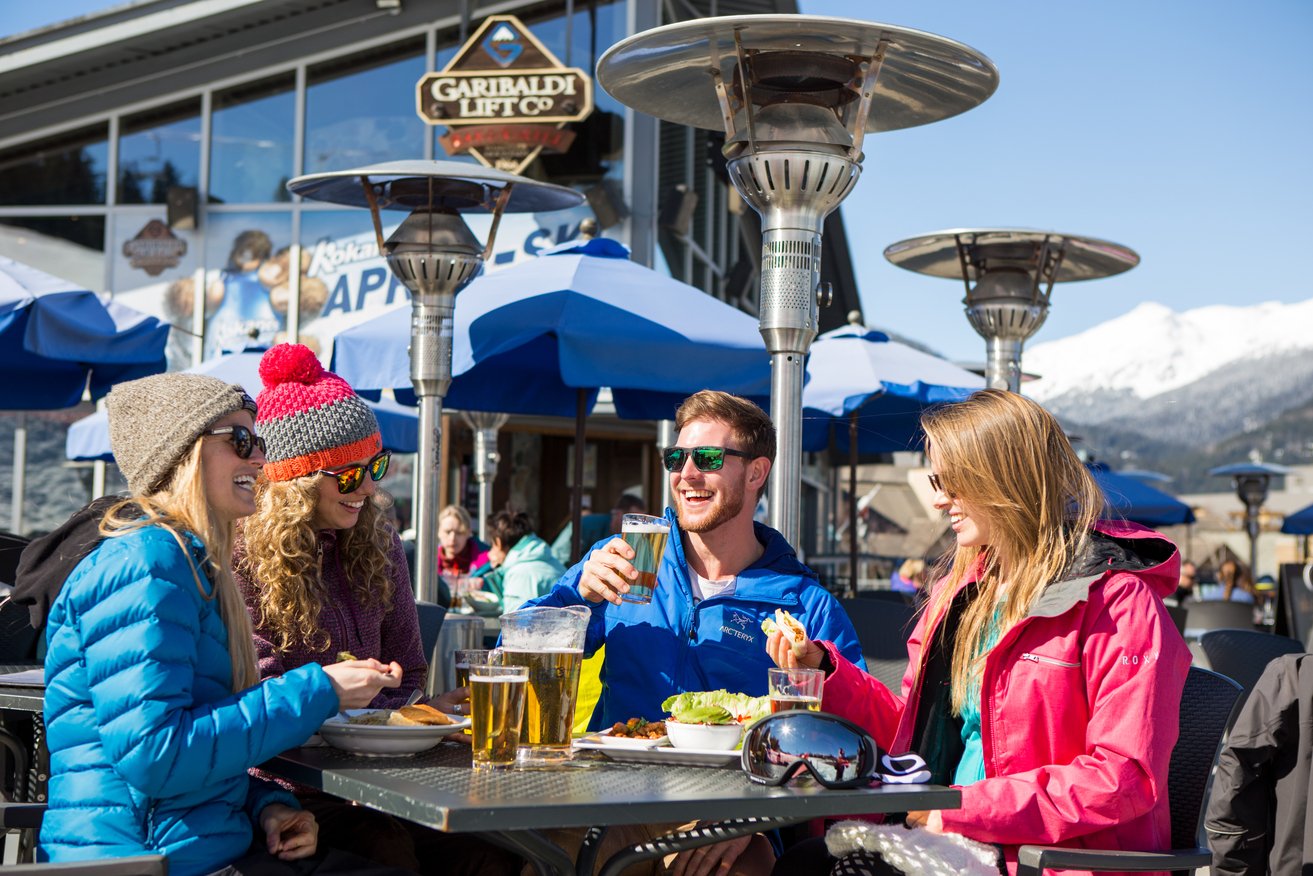 Photo credit: Matt Walker
Remember, British Columbia liquor laws are different from what you may be used to. You must be 19 to drink alcohol, and all local nightclubs are very strict about checking ID. Many pubs allow kids during the après hours, but after the dinner service, many pubs and bars revert to an adults only policy.
Conclusion
No matter whether you are hoping for a relaxing holiday filled with spa treatments and fine dining, or you are keen for a sports adventure of a lifetime, Whistler fits the bill. This is one of those rare holiday destinations that can truly satisfy a wide variety of desires, meaning that your family will be satisfied and happy to start planning their next visit!
Top photo credit: David McColm