Quite a few spots in England and Wales have seen over 12 days with no rain. Mumbles Head near Swansea, in Wales, has gone 19 days without rain (no rain since the 9th May), St Athan, not far away, 17 days. Looking at the latest model output – much of southern Britain looks to see little or no rainfall for the next 10 day too, especially across the south. So we could see 20+ days with no rain in places. It's not unusual for such a long period with no rain, in July last year, much of SE England went 23 days without any rain.
Days of <0.2mm rain in UK and Ireland, data courtesy of Starlings Roost Weather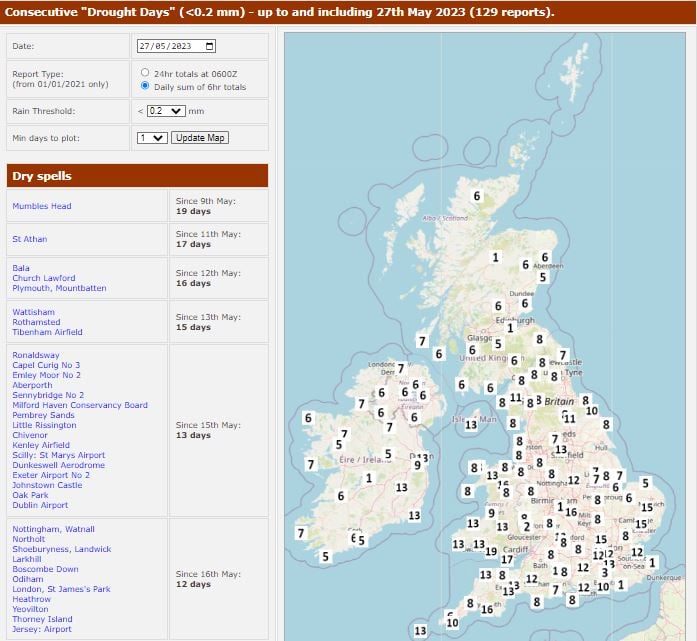 High pressure has been in charge since mid-month, with little or no rain across England and Wales, though Scotland and N. Ireland have seen a little rain at times from weakening Atlantic fronts, but not much. It was a wet first half to month though for England, so rainfall still stands at 82% of the monthly average.
So where has the rain gone?
The usual weather patterns over Europe have been reversed since mid-month. Normally low pressure is often over or close to northwest Europe and high pressure over southern Europe, but recently high pressure has been over NW Europe and low pressure straddling much of southern Europe and the western and central Mediterranean.
Heavy rains wreaked havoc in the northern Italian region of Emilia-Romagna earlier in the month following rains that began early in May and continued through to mid-month, leading to deaths of at least 13 people, forcing the evacuation of thousands of people and forcing the organisers of F1 to cancel the grand prix at Imola.
Since then, the focus of heavy rains and storms has shifted west to Iberia. Torrential rains have swept over the coastal southeast of Spain following a long drought, The rains began on May 22, 2023, leading to rivers to overtop their banks and roads were cut off. Water entered homes and seriously damaged crops while more than 40 municipalities in Alicante and Murcia closed schools.
In Molina de Segura in southeast Spain, social media footage showed a boy being flipped out of his buggy as his mother tried to push him across a flooded street. They were both fortunately pulled to safety by a bystander.
In the same town, more footage showed a red car being swept down a street after a man tried to drive across the rising flood.
Aielo de Malferit municipality in Valencia province broke its single-day rainfall record on May 24, 2023. Some locations in the Valencia region saw more rain in a few days than they had in the previous six months combined, national weather agency AEMET said.
Large parts of Spain as well as northern Italy have experienced drought conditions following a dry winter and preceding dry 2022 until the heavy rains arrived this month. The hard and dry ground created by the drought has meant heavy rainfall has been unable to soak into the ground but has, instead, kept on the surface and created large volumes of run-off leading to flooding.
With upper troughing and surface low pressure extending east from the Atlantic across Iberia and much of the Mediterranean , further heavy showers and thunderstorms look likely for parts of Iberia everyday this coming week, especially northern Portugal, northern, central and eastern areas of Spain. So, there could be more issues with flash-flooding. Portugal's Algarve and the popular Costas of Spain, such as Costa del Sol, Costa Bianca, Costa Dorada and Costa Brava could stay dry though, with showers and storms mostly developing away from coasts inland. Southern France, parts of Italy, Corsica, Sardinia, Sicily, the Balkans and even northern Tunisia could also be prone to daily showers and storms developing too.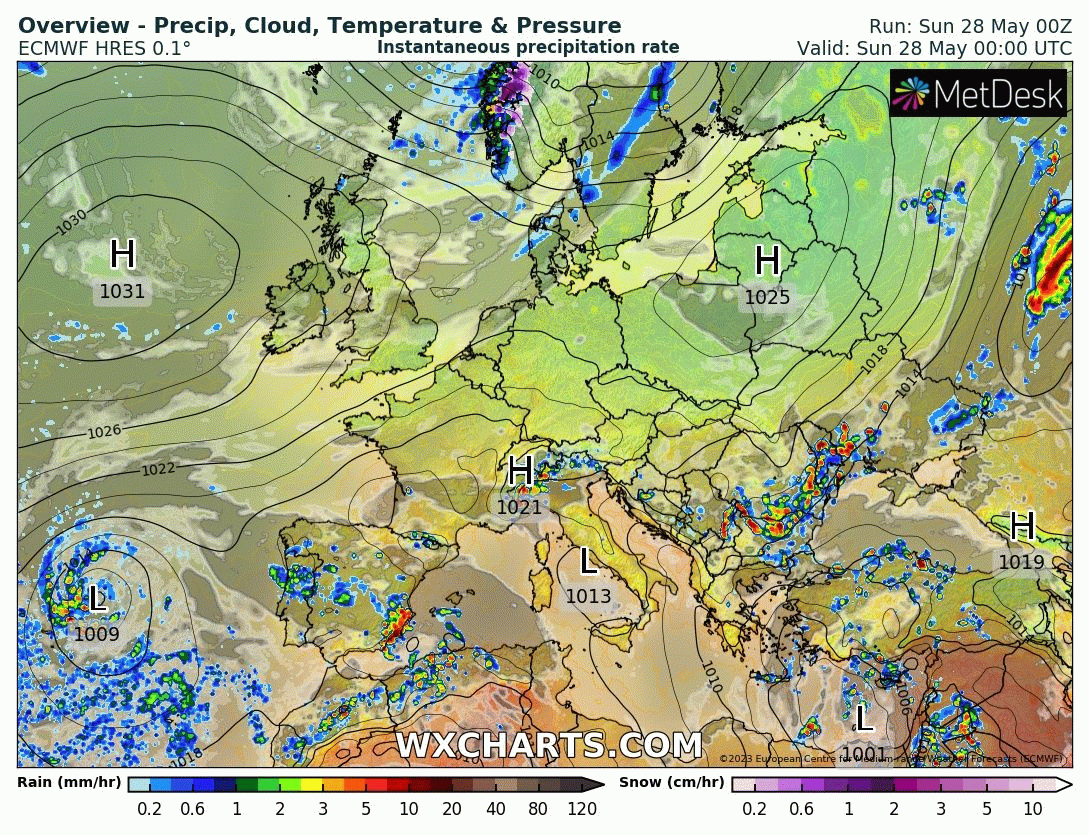 Europe rainfall accumulation by end of next weekend
Meanwhile, the UK and Ireland looks remain under the influence of a strong upper level blocking high for the next 10 days looking a most model runs this morning, so very little or no rain likely for most. Plenty of sunshine though, good for solar energy to produce electricity, yesterday solar power was producing the greatest percentage of Britain's electricity demand, followed by wind power. Though during peak demand in the evening this won't be met by solar.
There is no concrete signal yet of a breakdown of the fine and settled weather, both ECWMF and GFS ensemble guidance suggest high pressure holding on out to day 10 (7th June), thereafter high pressure may retreat west or northwest to allow pressure to fall, but it's a long way off, so no certainty for now. Enjoy and make the most of the sunny and dry weather while you can! It may make up for it in June some time with more unsettled conditions.