What gets named and when always presents a little uncertainty in itself. Any of the three Met Services can name a storm. It is based on a combination of the impact that the weather may have and the likelihood those impacts will occur. A storm will be named when it has the potential to cause an amber or red warning. So, it could be an early heads up without any of these or just a yellow warning so far.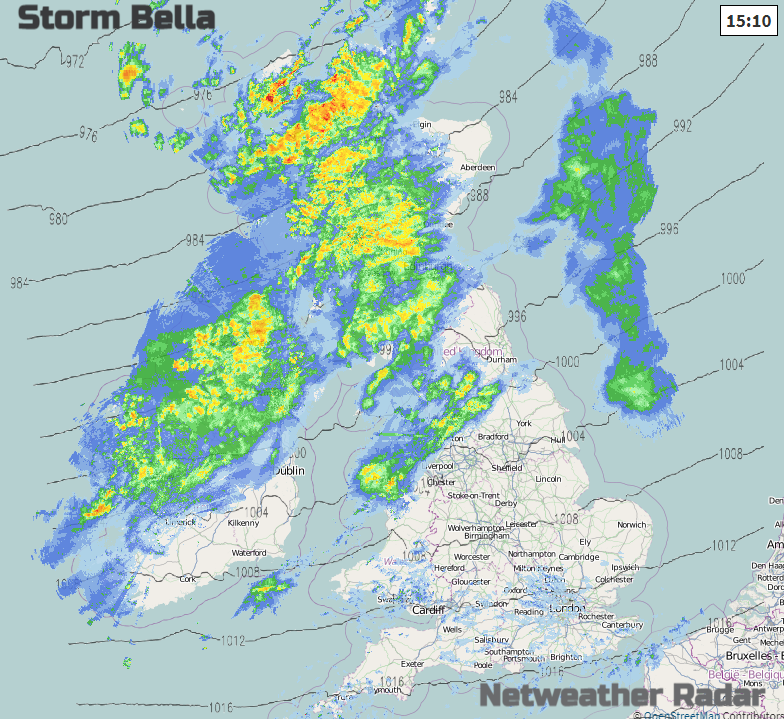 Storm Bella - a powerful low pressure late December 2020 with very strong winds and heavy, persistent rain.
The basis of a 'Storm' relates to impacts from the wind. Impacts from rain and also snow could be considered. There would need to be concerns about significant disruption. The start of the season is meteorological Autumn and when usually the Atlantic begins to fling deeper low pressures towards western Europe.
Met Eireann has set criteria for their yellow, orange and red warnings. The UK Met Office use an impact-based warning system that doesn't link to set wind strengths or rainfall amounts but looks at the time of day, local happenings and climatological norms. The Environment Agencies also add in their data and flood forecasts. KNMI also use the three colour codes and last season named Darcy for a snowstorm with a code red throughout the Netherlands.
Where do the names come from?
Arwen is a name of Welsh origin and a character from Tolkien's Lord of the Rings -Lady of Rivendell. Irish names include Barra, Méabh, Pól and Seán. Corrie after Corrie van Dijk was the first female meteorologist at KNMI in 1964. Eunice, Herman and Tineke from KNMI after key Dutch contributors and scientists. And jointly Franklin with the UK Met Office in memory of Frank(lin) Kroonenberg who passed away in 2021. Kroonenberg has worked at the KNMI for over forty years and was a weather presenter. He contributed to the creation of MeteoAlarm, the international weather warning platform, and storm naming.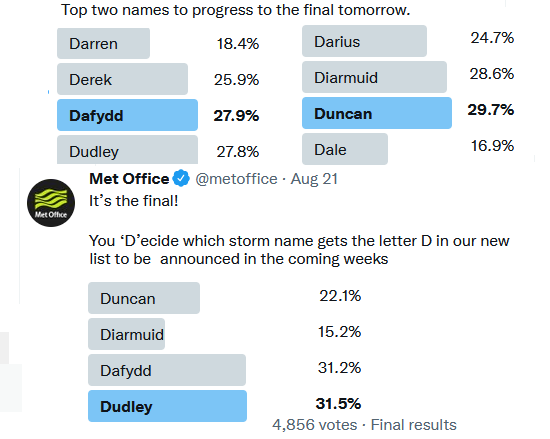 It seems a shame that some of these storm names will never see the light of day as there is an insistence on starting a new list each September rather than using a continual circular listing as seen for the Central Pacific hurricane names. This year there was an almost 'game show feeling' to the Met Office choices.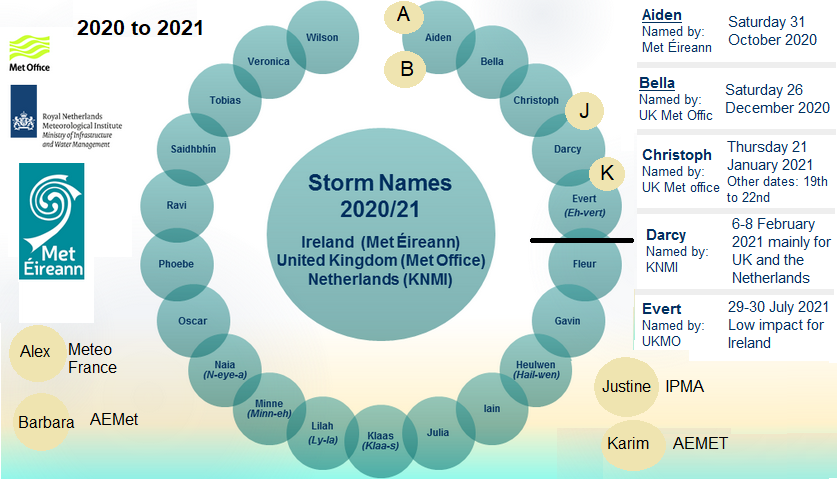 Why is this storm name not on the list?
After the fanfare and announcements of the new list, often a different Storm name appears first. This happened in 2020 when late October Aiden only appeared after Storm Alex and Storm Barbara. By the end of winter, Storm Justine and Storm Karim had indirectly affected the UK weather. The Western Group are not the only storm namers in Europe. There is the Southwestern group of AEMET (Spain) IPMA (Portugal), Meteo France and RMI (Belgium). They occasionally get in first with naming an Atlantic low pressure especially IPMA if one affects the Azores, well out at sea. There is also the Northern naming group of Scandinavian countries which wouldn't usually affect the UK. Sometimes if a low pressure undergoes explosive cyclogenesis just off the east coast of Britain or over the North Sea, that low can be named by Denmark or Norway. There is also a central Mediterranean group (ARSO METEO Slovenia, DHMZ Croatia, YXMP North Macedonia, the Airport Weather Office Malta International and IHMS Montenegro) and According to KMNI, a south-eastern group for the Balkans. Germany is doing their own thing as a commercial project.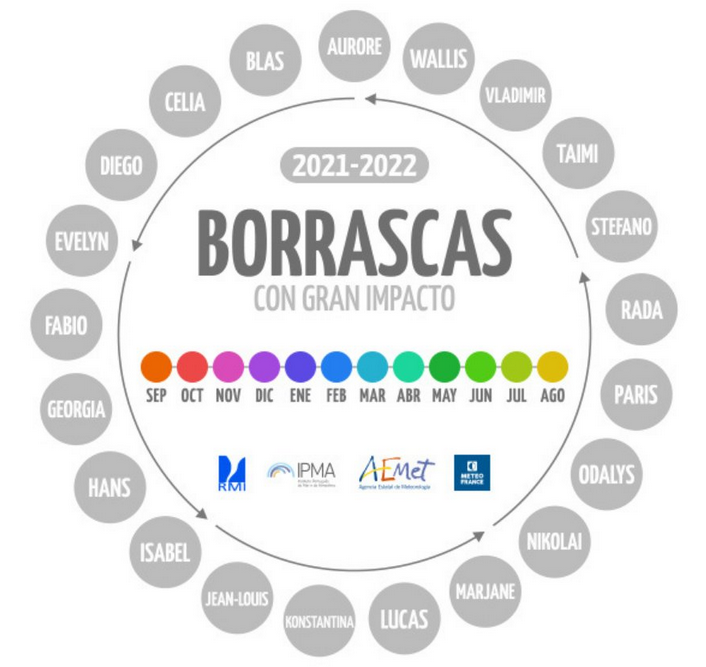 Once a low pressure is named, it keeps that name. Also, we can have ex- hurricanes reaching our shores. Ophelia and Lorenzo are recent examples. These also keep their existing names; ex-hurricane Lorenzo became known as Storm Lorenzo. The Atlantic hurricane season doesn't end officially until the end of November.
Last season the first storm was around Halloween and the last storm, just in summer with Storm Evert affecting holidaymakers and campers in SW Britain in June. We'll see when the first name storm appears this season. The Scandinavian high pressure looks rather dominant into October 2021.
Further discussion and chat on the #NameourStorms project