Is it down to climate change?
Several indicators in the latest UK state of the climate report show that the UK's climate is becoming wetter. UK's climate projections show warmer, wetter winters and hotter, drier summers are expected with increasingly more extreme rainfall records toward the end of the century. "Summers may tend to become drier overall but when it does rain it will fall in heavier bursts, which has implications for flash flooding"
"We can't make any definitive statements specifically about the attribution of this particular event on October 3," said Dr Mark McCarthy head of the Met Office National Climate Information Centre
"There's a general expectation that under our warming climate, we would expect to see increases in some types of extreme rainfall and rainfall events and we're expecting to have wetter winters overall, we could expect increases in these types of extremes." Climate seasons only define summer and winter.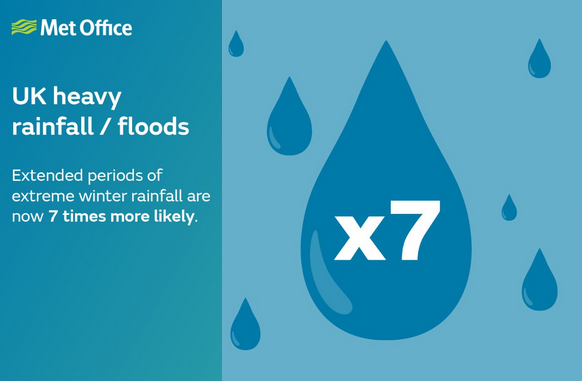 Records extend back to 1891 and the existing record was from August 1986. The third wettest UK wide day was February 15th, 2020 which turned out to be the wettest February on record and the fifth wettest UK month.
So why 1891? There are decades of weather data, for some sites centuries such as Kew Gardens. What is needed is quality, comparable data. There will be more rain gauges in place now than in 1986, particularly in areas of high rainfall such as Cumbria. A grid is used to structure the data, called The HadUK-Grid dataset, and this starts from 1891. There is more, older data but it needs to be digitised like so many weather records. So we have the wettest day, UK wide in over 100 years.
It's not just been about rainfall
This year has seen the sunniest Spring on record, the extreme heat at the very end of July resulting in the 3rd hottest UK day on record on 31st July 2020 with 37.8C (100F) and as the heatwave continued into August the 9th hottest day on record too. Globally and in Europe, September 2020 was the warmest September on record, with well above average temperatures in many regions. Warmer air can hold more moisture, and so the likelihood of more significant rain events.