First issued 31st May 2020 Updated 2nd June
It has been the sunniest UK spring since records began in 1929. The UK Met Office issued the data which covers March, April and May, early as the record had already fallen. It is unusual to see over 500 hours of sunshine in the three months, only nine UK springs have managed that. The previous record was 555.3 hours in 1948 and yet by 27th May 2020, 573 hours of sunshine had been recorded. The full month figures now show that the UK saw 626 hours of sunshine after 265.5 hours in May. It has been the sunniest spring in England, Wales, Northern Ireland and Scotland as well.
Not only was this the sunniest May on record for the UK (and for England and Wales), it was the sunniest calendar month on record, just beating June 1957 with its 265 hours (but only 30 days). With high pressure staying over or nearby to the UK for weeks on end, as the country was in lockdown for the COVID-19 pandemic, there were seemingly endless clear blue skies and this huge amount of sunshine.
"The most remarkable aspect is just how much some of the May and Spring records for these climate statistics have been exceeded. Exceeding the UK sunshine record is one thing, but exceeding by over 70 hours is truly exceptional. The sunshine figures for spring would even be extremely unusual for summer and only three summers would beat Spring 2020 for sunshine hours." Dr Mark McCarthy, Met Office
Only NW Scotland has managed to see more rain than average as weather fronts brushed past whilst high pressure kept steady weather over the rest of the UK.
This follows the sunniest April on record for the UK and England, Scotland and Northern Ireland saw their sunniest Aprils, Not only has it been very sunny and warm but unsurprisingly also very dry. It hs been the fifth driest spring for the UK overall with some counties in NE England and eastern Scotland recording their driest spring since 1862. This follows a dry winter for NE Britain, which bucked the wet trend seen elsewhere.
For the month of May, it has been the driest May in England and the second driest May in Wales with only 17% of the average rainfall.
The lack of rain is beginning to cause concerns. Only the wet winter, including the wettest February on record, have eased the issue so far for some parts of the UK.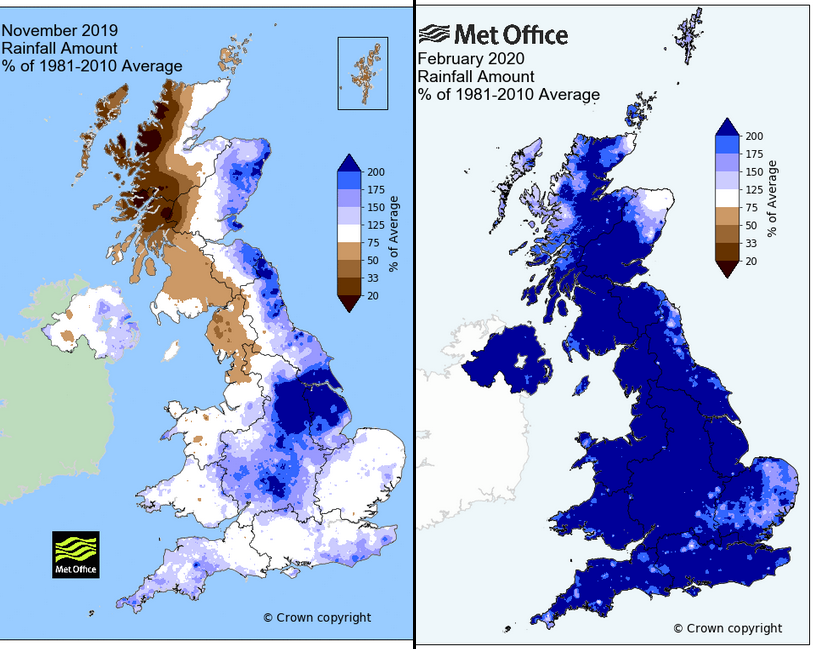 Last November and in February the amount of rain caused widespread flooding. As fields became waterlogged that brought difficulties to farmers; getting crops in the ground as forage and bedding were damaged or washed away by floodwaters.
Now with the ongoing lack of rain, the very dry spring has left many livestock farmers with less grass growth. Forage Aid is advising farmers "to start thinking about what actions they can take to protect their futures if another drought takes hold. To build a drought resilience plan to manage a future drought period" All of this will affect supply and then prices in the supermarket, wheat farmers have commented yield will be lower.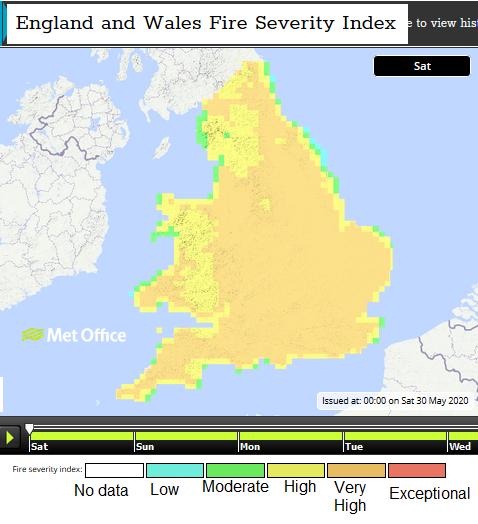 The Met Office Fire Severity Index (FSI) is a service forecast used in England and Wales. Many areas are now at very high level and at exceptional can be an indicator for restrictions to be introduced to minimise accidental fires on land that is deemed vulnerable. It uses wind speed, temperature time of year and rainfall. As lockdown eases the very dry ground and vegetation has an added risk of more people out and about. The lack of rain and brisk winds have led fire teams to reiterate their advice on social media this weekend. Not to use disposable BBQs, or have outdoor fires and be careful when disposing of cigarettes and glass.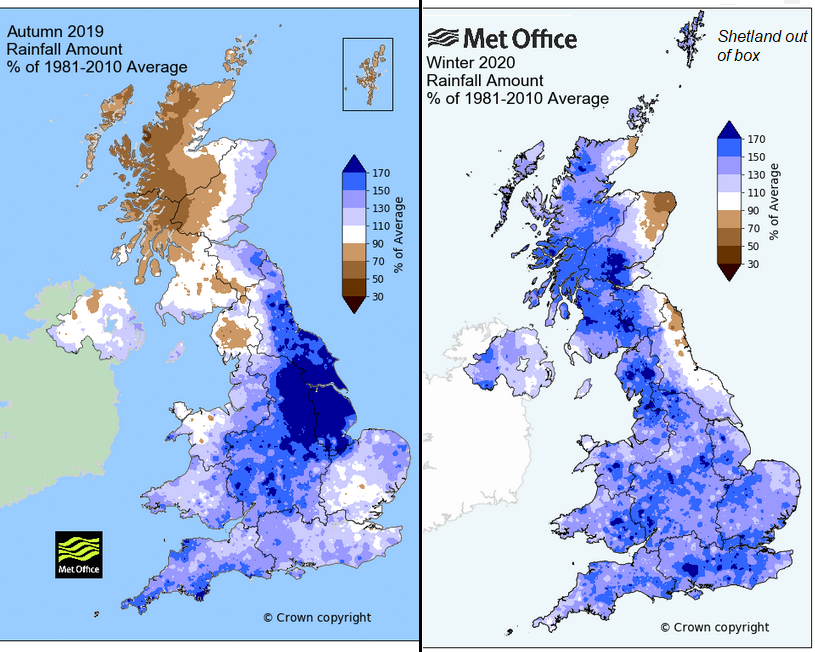 Not everywhere had a wet winter and so good groundwater levels in the bank. Winter 2020 (Dec, Jan, Feb) was overall very wet for the UK but NE Britain was drier than average. Parts of Scotland haven't seen much rain at all and SEPA, the Scottish Environment Agency's weekly water scarcity report states
"The North-East is now at Moderate Scarcity and the Tweed remains at Moderate Scarcity. The majority of Eastern Scotland remains in Alert including the Moray area." SEPA "It will take a significant amount of rainfall before the risk of drought improves. Public water supplies are operating normally. "
In England, the weekly Environment Agency report til Tues 26th May says "It has been very dry across much of England this week. River flows have decreased at the majority of sites we report on, and were classed as exceptionally low for the time of year at a sixth of sites". Groundwater levels are generally okay, falling but near average, away from northern England where there are more concerns.
The water boards are re-advertising their water conservation measures. No one should be wasting water at any time and reducing our water usage, improving efficiency is being highlighted in ongoing water strategies and campaigns. Long dry, warm spells bring that to our attention but when it follows such a wet winter or even flooding that can be harder to accept.
"thanks to the wet weather over winter we are currently in the lucky position that there is no water shortage, but that we are joining forces with all water companies across the UK to ask people to use water wisely during lockdown, so that demand can be met at all times." Southern Water
With weeks of lockdown, huge numbers of people have been at home, washing their hands more, more household washing and cleaning and with the lack of rain more evening watering of gardens and now paddling pools.
" Demand for water from households has jumped recently – in some cases it's 25% above normal for this time of year, and there have been unusual peaks in usage in the evening. The rise is down to a combination of more people staying at home and the hot weather." WaterUK
So although you might be enjoying the fine, warm and sunny weather once more the lack of rain and chain of effects is worth pondering. One month or season we have record-breaking wet weather with devastating flooding then next baked earth, ongoing sunshine and people can't remember when it last rained.
On a lighter note, apparently the UK strawberries have been loving this weather, so even without Wimbledon this year and the usual weather tensions that brings, there might be a temporary glut of soft fruits in June.