As temperatures records continue to fall around the world, the idea that the UK could reach 40C seems more of a 'when' than an 'if'.
What was unusual about the 31st July was that there was little build-up with the temperatures. Usually the heat increases over a few days, with some sultry nights, the concrete in the city buildings holds onto that warmth and a top temperature is worked up to. This one just appeared suddenly, although Surrey and Lincolnshire did record 3 hot days in a row.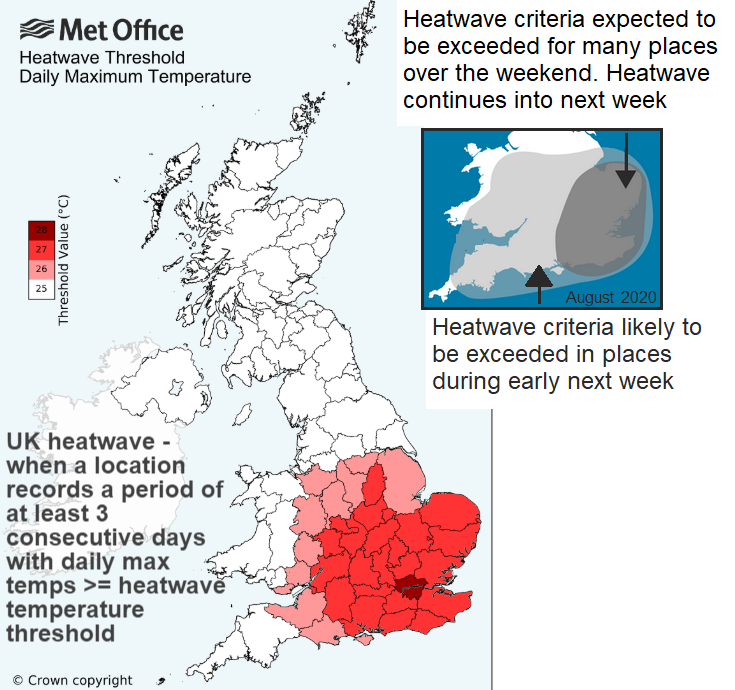 A week later August 2020 produced another hot spell but a longer one. Official heatwave conditions for more of England and Wales, particularly SE and eastern England. "Temperatures reaching or passing a location based threshold for three days or more."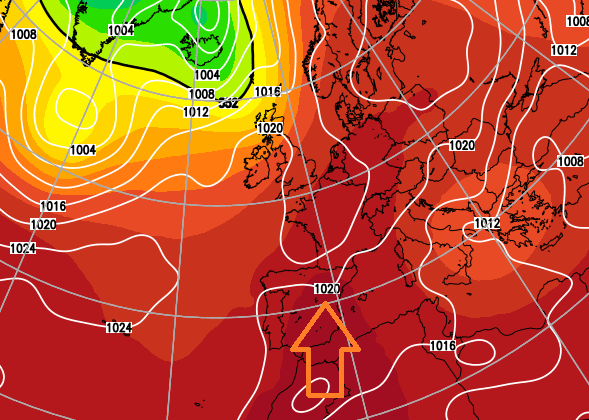 On Friday 7th August, London Heathrow and Kew Gardens reached 36.4C (97.5F) becoming the 9th hottest day on record for the UK. Medium level cloud just reached Greater London later in the afternoon stopping any further rise. Overnight, the highest minimum air temperature was 22.3C at Landon Bay in Kent. So, it didn't get any"cooler" than 22C during the night, how was sleeping in that? The record for the highest minimum temperature is 23.9C on 3rd August 1990 in Brighton. These are UK "Tropical Nights". The term describes days when the temperature does not fall under 20.0° C during the night-time. It doesn't happen that often and is localised but the UK Met Office began tracking them in 2018 as extra data for climate research.
Public Health England issued a Heat-Heath warning which requires social and healthcare services to target specific actions at high-risk groups. This was proper summer heat.
Advice in hot weather - Look out for others, especially older people, young children and babies and those with underlying health conditions. Close curtains on rooms that face the sun to keep indoor spaces cooler and remember it may be cooler outdoors than indoors. Drink plenty of fluids and avoid excess alcohol, dress appropriately for the weather and slow down when it is hot.
Hot weather can be welcomed and enjoyed by many people but for others, it can be overwhelming or cause extra stress to pre-existing health conditions. Air pollution episodes can also occur in hot weather with ozone levels rising in strong sunshine heightening risk for people with heart and lung conditions. Pollen levels can be high and the relentless heat with perhaps lack of sleep can affect people's mood. However, for others, the warmth and sunshine generate a feeling of wellbeing and happiness with more opportunities to be outdoors. Here in the UK, the extreme heat doesn't tend to last for too long, often ending with a thundery breakdown. Thunderstorms are forecast for the start of next week as the heat continues in the south.