Tenerife Island Guide
Tenerife is the stunning main attraction in the Canary Islands archipelago, which you'll find perched just off the coast of Morocco, with year-round hot weather to match. The island attracts over 10 million visitors a year, a third of which are Brits that come in search of white sandy beaches and all-night clubbing along the island's famously parched southern resorts. Those hoping for something a little less raucous should look beyond the usual tourist spots to find an island that's full of exceptional diversity, encompassing everything from tropical-forest walks and volcanic peaks, to modern museums, quaint colonial villages and so many miles of lush walkable countryside.
Of Tenerife's southern resorts, the most famous is undoubtedly Playa de las Americas. The purpose-built resort is a haven of heavenly white sand beaches and decadent party spots that see thousands of arrivals every day through the summer months. Admittedly, most of what's on offer here revolves around beaches, cocktail bars, nightclubs and restaurants, but that is, of course exactly why people travel here. If you're in search of something a little more laid back, then try the Costa Adeje, which rather wonderfully manages to blend family-themed activities such as hiking through the Barranco del Inferno gorge and day trips to the Las Águilas Jungle Park with subtle hints of the south's nightlife-themed decadence. Those stopping here should expect less of an emphasis on clubs and parties and a just a touch more fine dining and high-end shopping experiences.
If you feel like partying elsewhere, then once a year on the north of the island, you'll find a lively Carnaval celebration that takes over the island's capital Santa Cruz de Tenerife for three weeks in February and is second only to the Rio Carnival. In fact, if you decide to stay on, then you'll find that the capital makes a great base for exploring Tenerife's northeast and is an exciting destination in its own right. Filled with a beautiful collection of expressive, brightly painted buildings, cobbled lanes lined with eclectic shops and tapas bars, fantastic museums, world-class restaurants and bars - which lend a certain cosmopolitan edge to the city. As does a fabulous waterside Auditorium built in the shape of a huge white wave.
Walkers should consider travelling a little further inland where you'll hike through idyllic pine forests that soon blend in to the stunning Teide National Park, which is home to Spain's largest mountain, the 3718m tall Mount Teide. Afterwards, take to the northern coastline to discover its many delightful colonial towns and villages like La Orotava, which is criss-crossed with cobblestone streets that lead to lively piazzas, Castilian mansions, colourful Renaissance houses and the occasional belfry reaching from the nave of a refurbished baroque church and out into a skyline of quaint red-tiled rooftops. On the northeastern side of the island, you'll find one of Tenerife's most rustic villages, Garachico, which has retained an authentic Canarian identity and resisted development. Leaving rocky volcanic coves and thickly forested slopes around a perfectly serene village that is still often almost entirely bereft of tourists and a delight to explore the year-round.
Beaches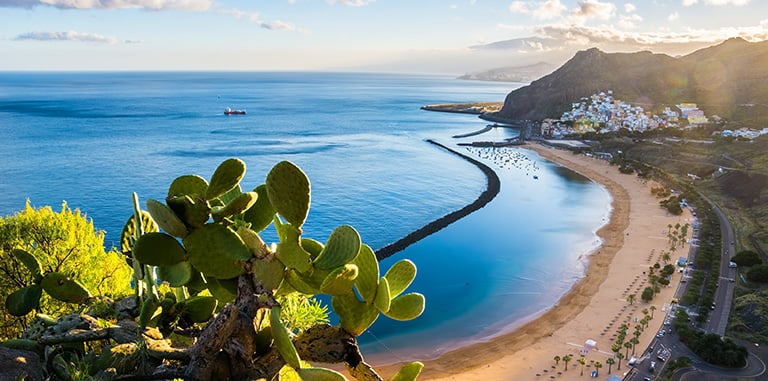 Tenerife boasts hundreds of beaches and bays, the best of which are scattered across each side of the island. The secluded Los Gigantes on the west is home to an almost entirely untouched stretch of sand which is flanked by impressive practically vertical cliff faces, while La Caleta towards the south offers an idyllic beach experience with inviting amenities and a few good seafood restaurants to indulge in when the sun becomes too much. A favourite though is the Playa Jardin on the north of the island, which has an exotic collection of palm trees, cacti, rocky caves and waterfalls that line a picturesque sandy beach with inspiring vistas of the Atlantic Ocean and the towers of the nearby city.