However, after turning generally milder and more unsettled later this week, through the weekend and into early next week various weather models have been indicating over several runs now that it will turn much colder by or on General Election Day. Thursday 12th December, next week.
The upper flow / jet stream looks like buckling or becoming amplified upstream across North America into early next week (meridional flow the technical term) – thanks to a deep trough over eastern N America and upper ridge across the west. This buckling in the flow looks to translate eastwards across the North Atlantic through next week after a fairly flat / zonal upper flow / jet stream dominates across the Atlantic and into Europe to start the week.
The models suggest buckling of the jet stream over the North Atlantic to the west of Britain by Thursday, which helps a ridge of high pressure to build north to our west while forcing low pressure to deepen close to the east over the North Sea by Thursday. This in turn forces a cold northerly flow sourced from deep in the arctic way to the north to push down across the UK on General Election Day.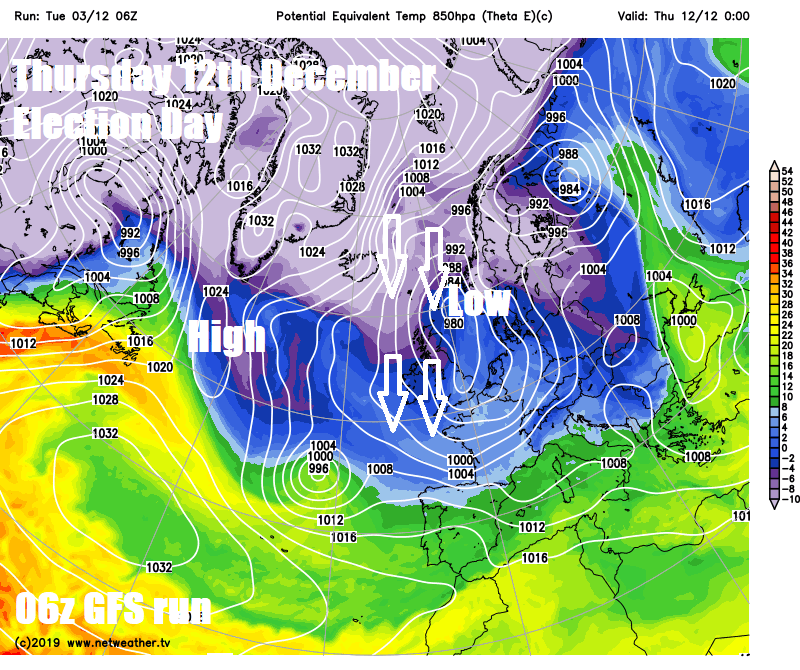 How far south this cold air gets is uncertain this far off, this colder arctic air is likely to be cold enough (with dew points low enough) to bring snow too, but again – where snow will fall is not worth contemplating this far off. Suffice to say that the models are indicating low temperatures and snow across parts of the UK on Thursday next week.
Warning; take these precipitation charts, snow in pink, with a pinch of salt!
So, worth keeping a close eye on forecasts in the run up to Election Day next week. It could turn rather cold for the big day and there may even be some snow around. But at 9 days away, the forecast may change a fair bit by then and for many it may up wet and windy instead, but unlikely to be very mild.