A weak ridge across the country will move away only slowly, before a typical November mix of mist and murk spreads from the West later in the week, bringing some rain. So central and eastern areas, in particular, will at least have a couple more dry days to allow the floods to recede further in those areas still affected.
It's an icy start this morning with a widespread frost away from Northern Ireland and the far West. We also have patchy fog dense and freezing especially over Cheshire, Merseyside and around Glasgow, with temperatures falling close to -10C at Braemar overnight. The fog will clear to leave some sunshine mostly in eastern areas, but there'll be plates of cloud drifting about, with the fog only lifting into very low cloud in some areas making it misty and gloomy. It'll be dry though in just a gentle southerly breeze but rather cold especially in the East, with top temperatures only 4 to 7C.
It's a different story in the far West however, where a South or South Easterly wind will freshen. This'll bring cloud and eventually some rain to Northern Ireland through the day, with the far West of Wales, Cornwall and the Isles of Scilly also seeing a few showers. It'll be milder here though with temperatures reaching 8 to 11C.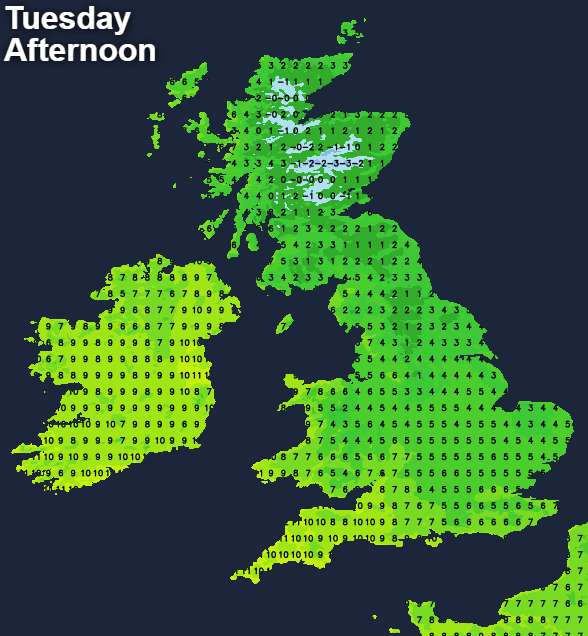 The far West remains mostly cloudy after dark, and it'll be misty in places, with a moderate or fresh South Easterly wind continuing to bring showers to the far West, these perhaps spreading to the Western Isles and the parts of Dumfries overnight. Apart from the odd light shower, it remains dry elsewhere in lighter breezes. It'll turn misty with some patchy fog, but with variable amounts of cloud, both fog and frost shouldn't be as widespread. Lowest temperatures -2 to +2C in central and eastern areas, but in the milder West, the thermometer won't fall below 5 to 8C.