That is a shower. Try putting all of that into one weather symbol.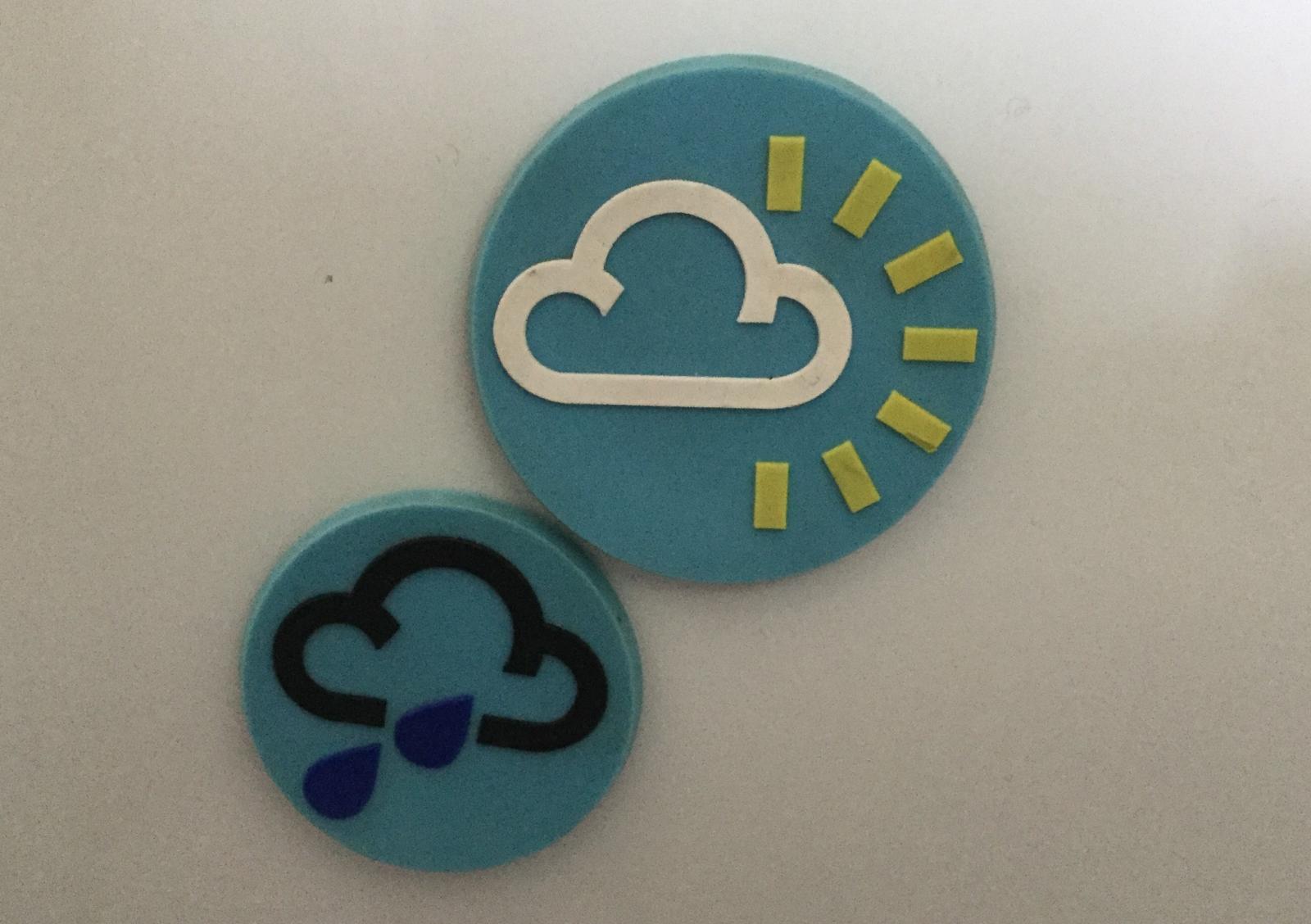 What happens is that two symbols are combined. The rain and the bright or sunny spell. So you end up with a half sun, dark cloud and drop of rain. I think my one of those is down the back of the fridge. The shower symbol is saying the weather will be mixed. However, that's not all. It isn't that you will definitely get a shower because it might be a mile down the road. It shows that there is a risk of showers in your area.
A computer creates the forecast model by having lots of squares, a grid across the UK and depending on the resolution of the model (how small the squares are) you then get detail for your location, in your county or town, your square. It isn't yet detailed enough for your backyard or actual wedding location. Even if you do put in your postcode to an app.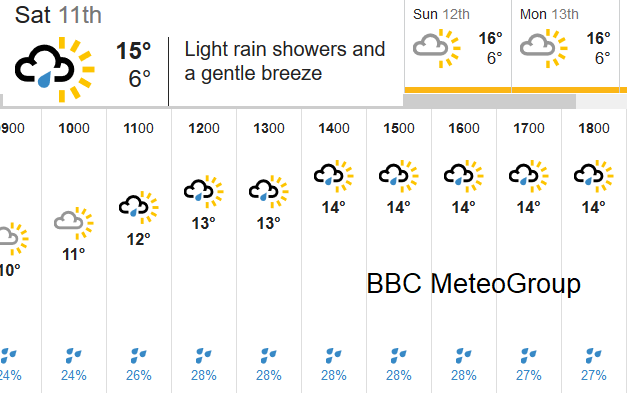 This is the BBC output, it looks quite ominous and does get interpreted as rain all day but that isn't the case. It shows there is a chance of showers for much of the day. But looking at the row below with the blue raindrops, the percentage chance of rain is quite low. The chance of a shower is about 1 in 4. It's a bit hard to apply the % to showers especially if its 50%. However applying categories of very likely, evens and not very likely can work. So 25% equals the chance of a shower but don't worry too much.
The BBC app and broadcasts no longer use Met Office data so if you are like a friend of mine who would just swap to a different weather app if she didn't like the forecast, know that the Met Office have their own output now.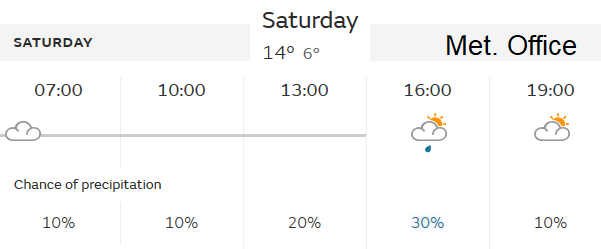 This is much more upbeat, showing cloudy but dry weather, with a higher risk of a shower mid-afternoon, the time of maximum heating in the day and so when most showers do occur.. However, at 1pm there is still a 20% chance of a shower, the Met Office is sticking to 10% divisions. It could still rain, but it's not that likely so they have put the dry symbol. Which do you prefer?
That's why swapping about like my random friend isn't ideal, you aren't getting a better forecast. Sticking with a provider that you trust and are familiar with becomes quite helpful. You should begin to understand their emphasis but will still have to decide if they get the weather right or not.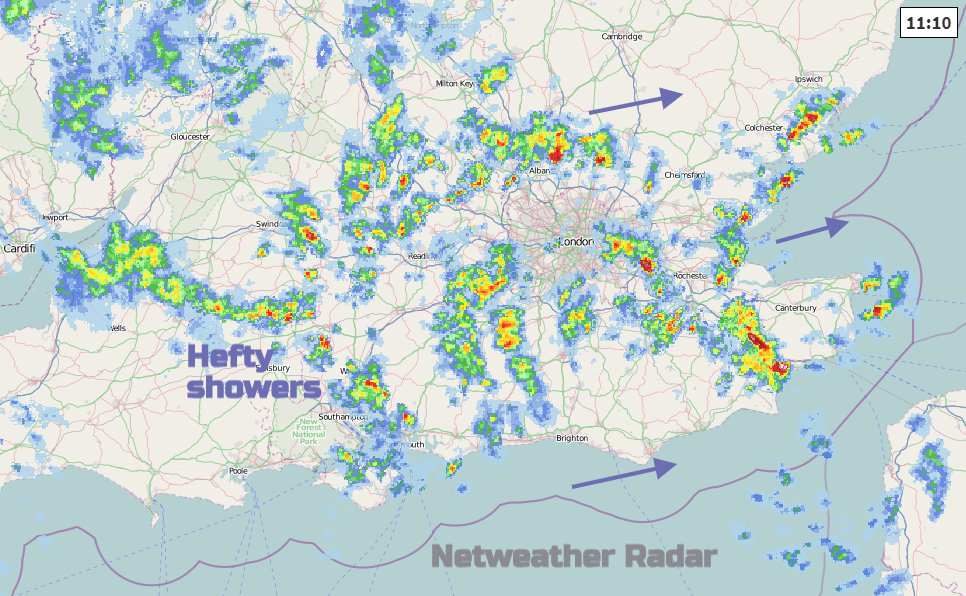 This is the Netweather Radar output, real time, actual observed rainfall, not a forecast. You can view it on our website to see if there are any showers about as you leave the hairdressers or head to the venue. There is also an app on Android Netweather Radar. What it shows is the speckled, scattered nature of the showers, in this example across SE England. There are gaps in between, the air lifts up in the showers and descends around them. Animating the display allows you to see which direction they are moving.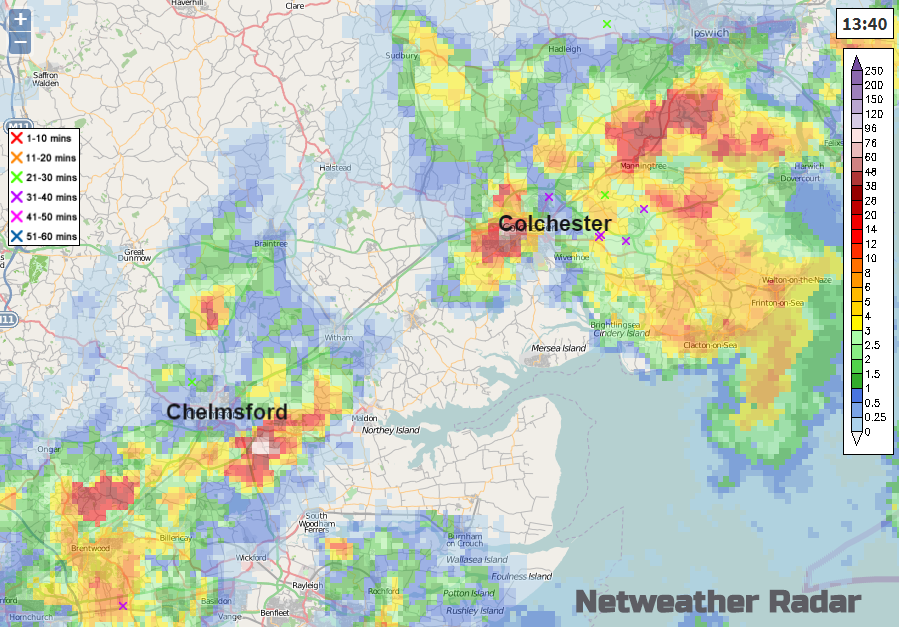 With extra heating, energy and lift the shower clouds can grow into Cumulonimbus clouds, giving heavier downpours, hail, thunder and lightning. They are still showers. In winter you get snow rather than rain, the symbols are created from the same combination.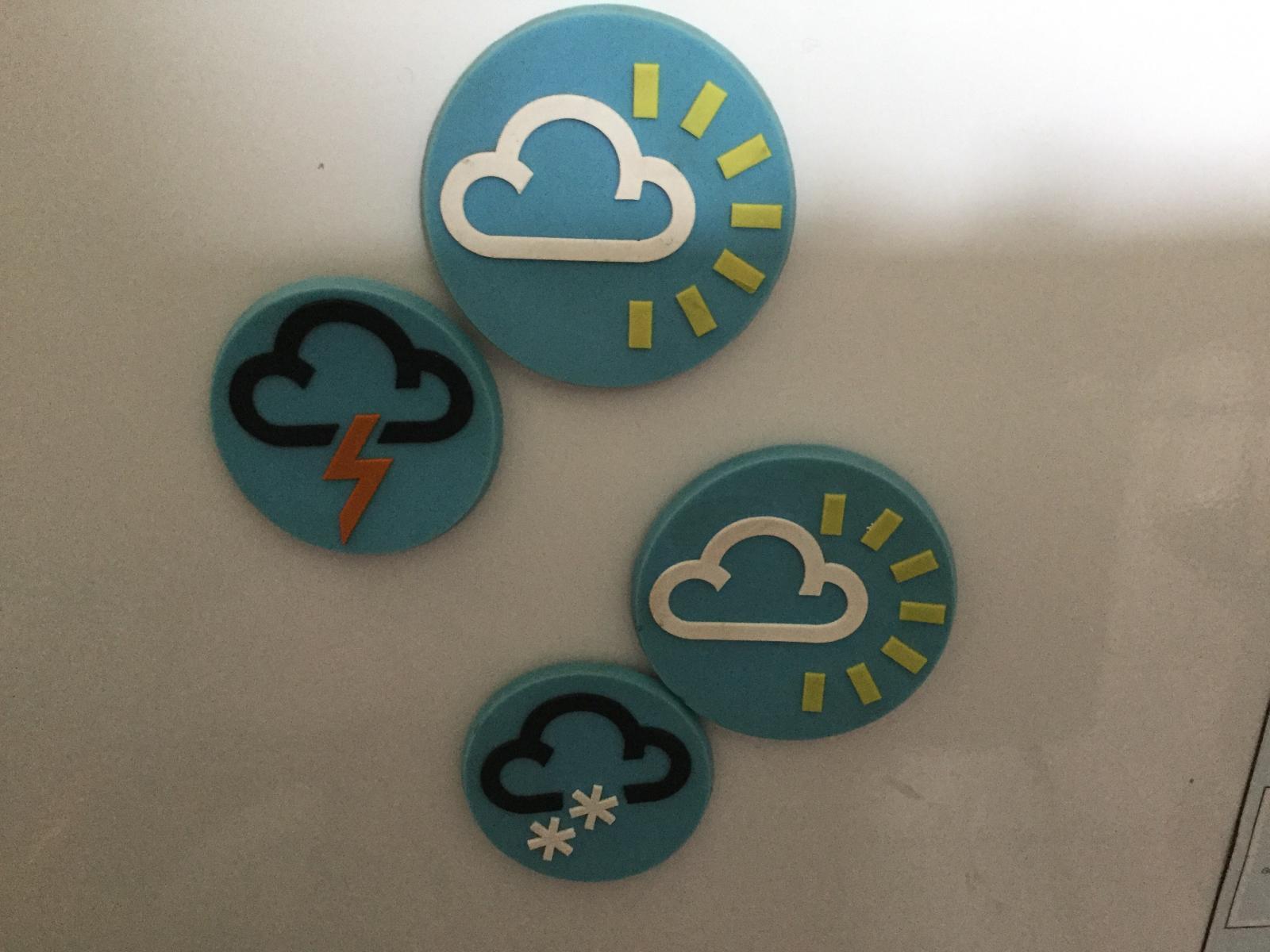 But we won't linger on those.
If the forecast shows rain symbol after rain symbol, so no sunshine in the background, then it is more likely to be a band of frontal rain moving through. A band of rain could bring several hours of wet weather but then generally (not always) it clears, the skies brighten and the main rain is gone.
Sometimes there will be so many showers that the model just puts out rain symbols as it's more likely to rain than not, and the cloud cover fills in, you may hear " showery outbreaks of rain" or "showers merging to longer spells of rain". The rain may stop and start but it will be with more ominous cloudy skies and less respite.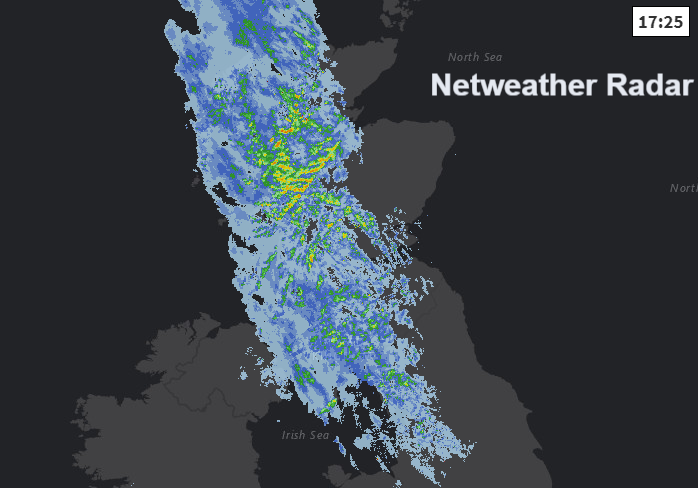 This example from the Netweather radar shows a frontal band of rain moving across the UK. Anywhere in its path is likely to get wet, unless the front is fading, breaks up over some high ground or your in-laws to-be claim there is a micro-climate. Each radar image still needs some interpretation but it gives a good starting picture. If you have a run of shower symbols, each hour or in every 3-hour slot, it could be that you get a shower, then nothing, then a shower. Or no showers, or plenty of showers. Use the percentages, as it could reassure you. If you have a run of rain symbols and high percentages, it is likely to rain for quite a while. There is nothing you can do.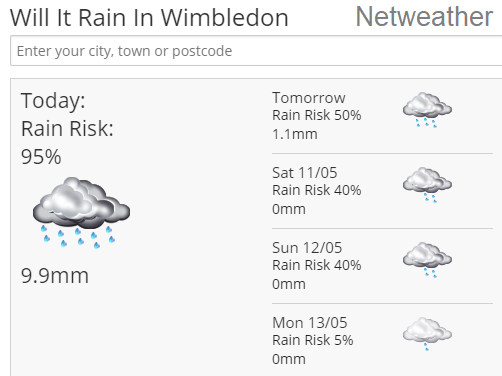 Other things to look at: the temperature along with the wind and humidity. 18C can feel pleasantly warm in light winds, but still a bit fresh, even nippy in a brisk north wind off the sea. Anyone who's holidayed/previously married in the tropics will know high humidity makes a huge difference to how you feel and where your makeup ends up. The Netweather forecast includes the air temperature ( temperature in the shade at a height of 1.25m above ground, the official temperature) and a feels like temperature which takes into account the wind and humidity.
Will it rain? 10 day forecast Will it rain in 3 months time? - we don't know. Have a super day, whatever the weather.