Christmas to New Year Period
After Christmas Day and towards New Year, model guidance begins to diverge over where high pressure building over the UK early next week will position thereafter. If the high stays over southern UK or drifts back south, it is likely to be mild with the flow from the west or southwest, dry in the south but the north at risk of cloud and rain as Atlantic fronts pass through. If the high drifts north over the UK and stays centred nearby, it will likely be chilly by day mostly due to light winds and clear skies overnight allowing frost to develop and little wind and weak sunshine in the day keeping temperatures suppressed.
GFS ensembles mean suggest pressure rising and staying fairly high, more so towards the south, Christmas to New Year Period.
London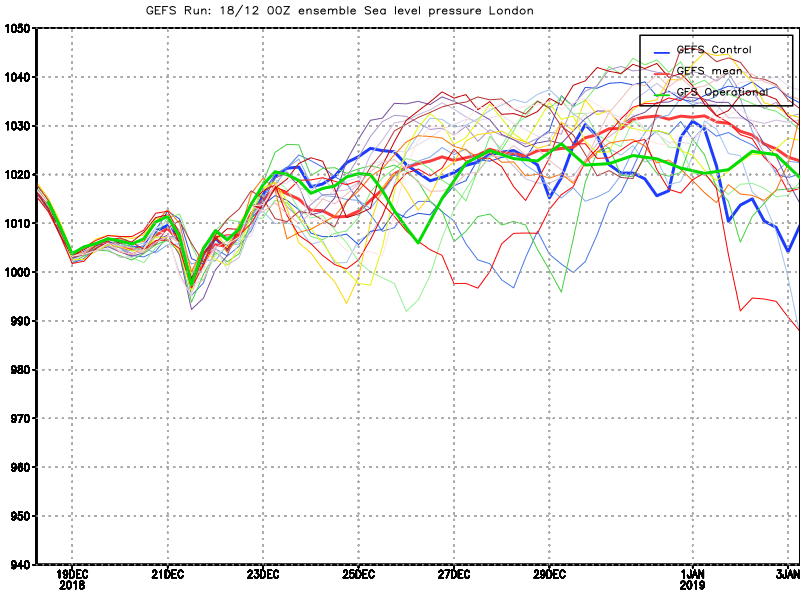 Aberdeen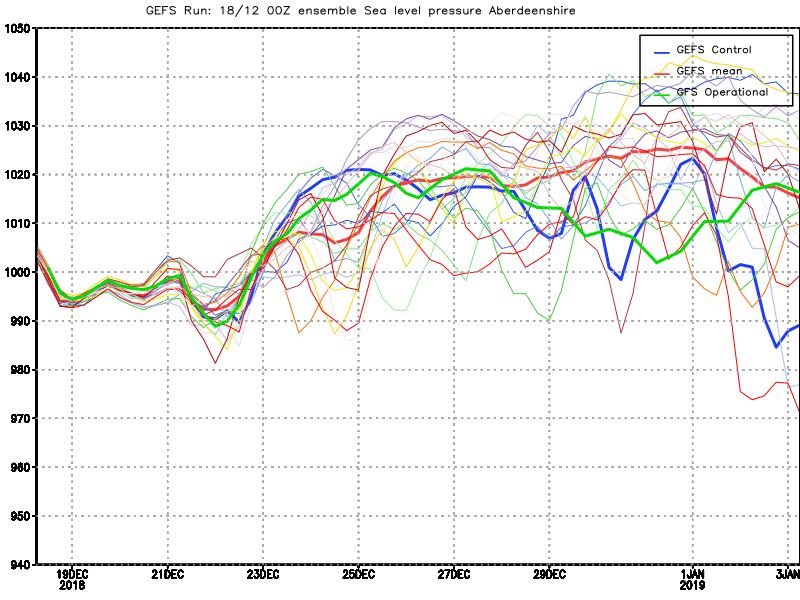 Recent model operational runs have toyed with both these scenarios but also the latest GFS operational run (06z) shows high pressure drifting NE then E through the middle of next week, which would allow a chilly continental flow for a brief time across the south and east. Generally, the ensemble guidance Christmas Day to New Year's Day period suggest a rise in pressure across all parts of the UK next week, highest pressure towards the south compared to the north comparing London and Aberdeen GEFS sea-level pressure mean. Generally speaking pressure will likely remain higher in the south than the north until New Year, but it does look like for many, that it will be a quieter and more settled period of weather compared to this week, with high pressure close by, so it for many it should be dry, perhaps more likely chilly and bright by day rather than mild with risk of overnight frost. Frontal systems may affect Scotland and N. Ireland at times though, but becoming increasingly confined to the north and east of these areas.
Early January
Looking further ahead into January and for a while weather forecasters have been keeping an eye on goings-on high up in the stratosphere, because longer range modelling since earlier in the month has been indicating polar stratospheric zonal/westerly winds to decrease and even turn easterly, which in tandem allows stratospheric temperatures to rise and possibly lead to a Sudden Stratospheric Warming (SSW). Strong zonal/westerly polar stratospheric winds are indicative of an intensely cold polar stratospheric vortex which tends to keep deep cold in the atmosphere bottled up at high latitudes while driving a strong jet stream across the North Atlantic and northern Europe. However, when these zonal winds weaken and even turn easterly, the polar stratosphere can suddenly warm as the polar vortex gets displaced or even splits into two. This leading to a SSW, where temperatures can rise by as much as 50C in the polar stratosphere. This is what GFS and its ensembles have been increasingly indicating over the last few weeks, while some other longer range models such as ECWMF/EPS have been coming on board too.
GFS/GEFS continues showing zonal wind reversal later this month and into early January - which can lead to a Sudden Stratospheric Warming and then lead to greater chance of cold and wintry weather for the UK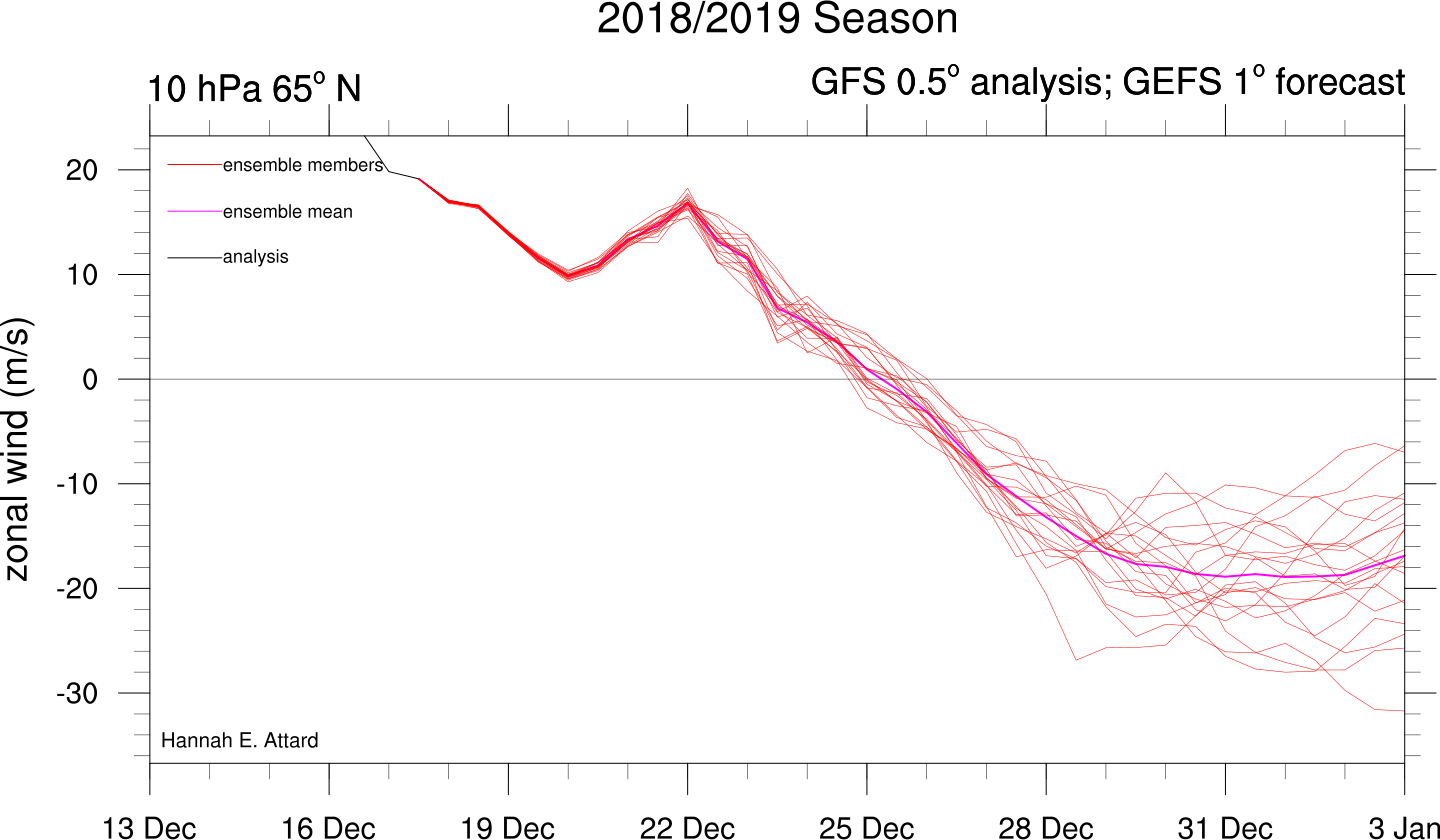 If a SSW does occur, then this opens up the greater possibility of high latitude blocking to the north or northwest of Europe or over northeast Europe – which would lead to very cold arctic air outbreaks affecting northern Europe, including the UK.