The tropical Atlantic and tropical Pacific will be very busy this week, with preparations underway as Hurricane Florence threatens the Carolinas later this week, while Tropical Storm Issac threatens the Leeward Islands of the eastern Caribbean later this week. Hurricane Helene stays out over the eastern Atlantic as it swings north this week towards the Azores by the weekend and last but not least over the central Pacific Tropical Storm Olivia draws closer towards the Hawaiian Islands, threatening flooding.
Hurricane Florence will be the biggest threat out of all these tropical systems, currently a major category 4 Hurricane with sustained winds of 140 mph, moving west-northwest towards southeasten U.S.A., with landfall expected along the Carolinas sometime on Thursday.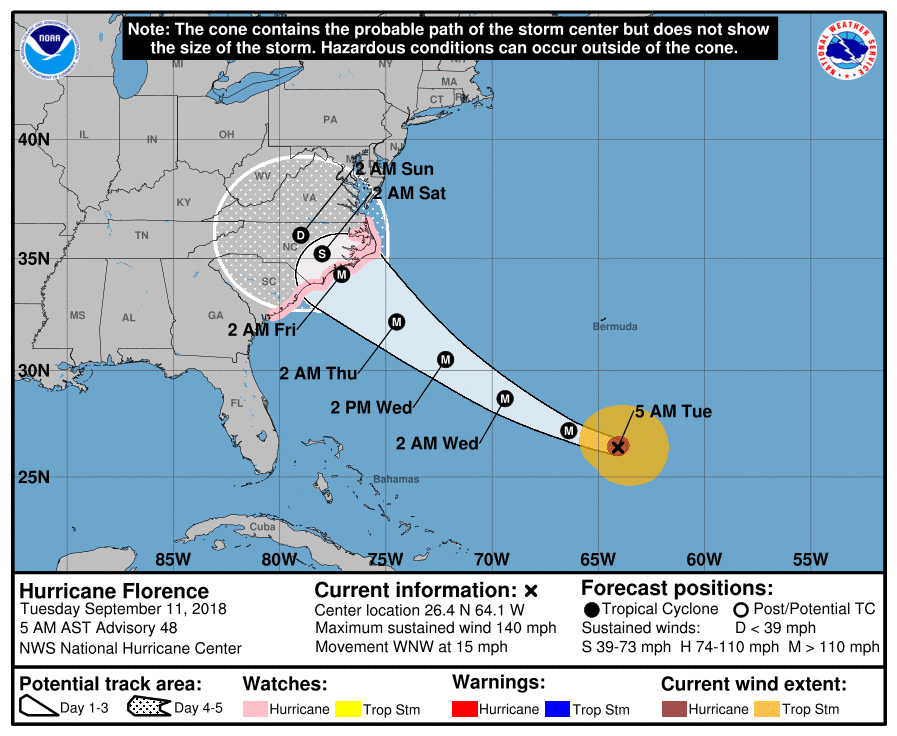 Currently Florence has a well-defined eye and symmetrical structure, indicating further strengthening likely, which will be aided by low wind shear and warmer waters between where it is now and the coast of the Carolinas compared to where it has been, with little to weaken Florence, other than eye-wall replacement as it approaches land. Forecasts indicated potential for strengthening towards category five hurricane over the next 48 hours, though increasing southwesterly shear over SE U.S.A make cause a little weakening before landfall.
The track of Florence is unusual in that its track has been farther north over the Atlantic than any other hurricane to hit the Carolinas, making forecasting it's track, speed and impacts vs historic storm impacts all the more challenging. Most hurricanes in the past moving into the Carolinas have moved north from Florida.
Major Hurricane Florence entering stage right and barreling towards the Carolinas:
The exact track of Florence is still changing though, latest 00z ECMWF ensemble guidance points to a southward shift for landfall along South Carolina coast rather than North Carolina coast as per previous guidance. Tropical disturbance 95L over the northwest Caribbean influence on the strength of the ridge over southeastern U.S. may also be leading to uncertainty over Florence's track as she makes landfall. Perhaps why the latest ECMWF guidance may be adjusting.
Despite the uncertainty in track and strength still, wherever Florence makes landfall along the Carolinas, it may potentially be the most destructive hurricane to hit the Carolinas in decades. Here are the current key messages from the U.S. National Hurricane Center:
Current thinking from forecasters is that Florence may make landfall along the Carolinas as a category 3 or even 4 storm on Thursday, which on the Saffir-Simpson Hurricane Wind Scale means sustained winds of 111-129mph if cat 3 or 130-156 mph if cat. 4, with higher gusts - which is capable of devastating to catastrophic damage from damaging winds, flooding and coastal storm surge. The other concern is Florence will slow down or even stall along or inland of the coast, which will potentially lead to a life-threatening flooding situation.
I will update this blog for the rest of the week and into the weekend as Florence rolls towards then impacts southeast U.S.A, meanwhile, here are some links to follow the latest on Florence