The past few days have seen some unusually warm weather for April across southern and eastern Britain, with yesterday's top temperature of 29.1C recorded in St James' Park in London the highest UK April temperature recorded since 16th April 1949, when 29.4C was recorded. Today the temperature has reached 26C in London and a few other spots in the southeast. Very welcome after what has seemed like a very long and extended winter and, of course the media has been quick to jump on to this, hailing it a 'min-heatwave' in some papers and the usual comparing with usually warmer climes, with 'warmer than Ibiza or Greece'. However, we are not technically in a UK-wide, or even England-wide heatwave.
Yesterday's highs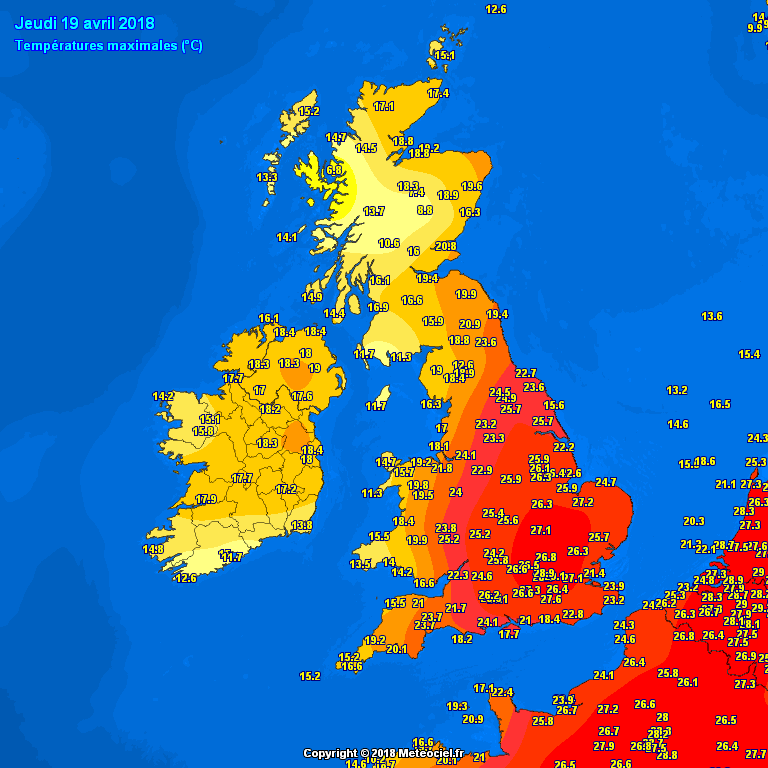 This afternoon's highs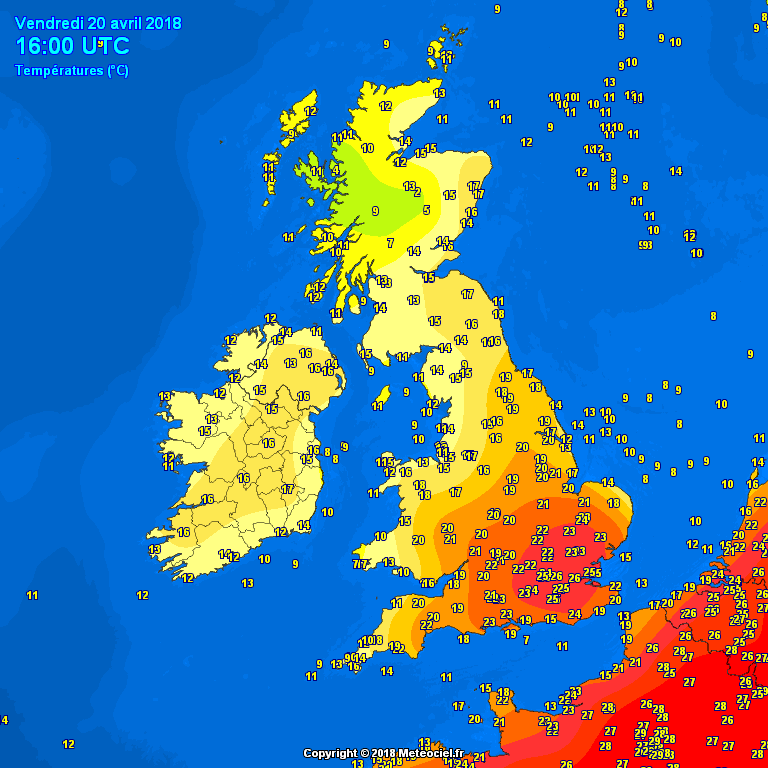 A heat wave is an extended period of unusually high temperatures and often high humidity that causes significant impacts in lifestyle and on society which may have adverse health effects, such as mortality – i.e. heat-related deaths in parts of Europe in July and August 2003. There is also the strain heatwaves cause on infrastructure such as power, water and transport. There is no universal temperature threshold for a heat wave, as social and cultural practices largely define perceptions of and responses to heat, depending on the regional climate, some countries may adopt their own criteria for defining a heatwave. But according to the World Meteorological Organistation (WMO), a heatwave is when the daily maximum temperature for more than five consecutive days exceeds the average maximum temperature by 5 °C.
The high temperatures yesterday, 25 °C+, were confined to central and eastern England, though eastern Scotland got as high as 20.8 °C (Leuchars) – which is still well above the average maximum. Today the heat, with temperatures in excess of 25 °C, has been confined to the southeast corner of England where we have seen light winds. Elsewhere, a cooler westerly or southwesterly breeze has kept temperatures in the low to mid-teens, closer to the average, away from central, southern and eastern England. So not really a heatwave for many, though perhaps for SE England it will feel like it.