Thu 7th Sep: Through into Thursday and attention then turns towards the development of an area of low pressure on the cold, diffluent side, of the jet stream across the N Atlantic. This surface low pressure is forecast to undergo modest deepening through Thursday, with the UKMO, ECMWF, GFS and GEM models are in good agreement over this development. The 00Z GFS jet stream chart below really does highlight well a very zonal pattern indeed, with a large scale upper trough just in evidence near the Great Lakes, but with then the jet is immerging out of E Canada and extending all the way towards the UK eastwards. It is that time of year too when the thermal gradient across the N Atlantic increases. The air mass around Greenland starts to cool quickly, yet the air masses trying to move N into the N Atlantic are very warm, and this is what is forecast to aid the development of such an active jet stream pattern. The 850mb temperatures also highlight the baroclinic zone well, noting 850mb temps +10C to +15C advecting N into NE Canada, yet just to the N of this region, 850mb temperatures are -5C and below.
The weather through the course of Thursday will see the arrival of the associated frontal zones with the developing low pressure. Some dry weather is forecast to start the day across more central, southern and eastern areas of England, locally chilly here too. However, showery conditions, pre-frontal showers, are likely to have moved into Scotland and Ireland first thing. Following this will be more widespread regions of dynamic frontal rain which are then forecast to spread S and E to many areas during the afternoon and evening. A real mixture of both convective and dynamic precipitation looks likely to develop through the day, with all sectors at risk of some rain. However, most of the rainfall will be across parts of Scotland, Ireland, N England and Wales through the day. A noticeable W or NW'ly breeze will develop too, locally strong around coasts and hills of the N and W of the British Isles.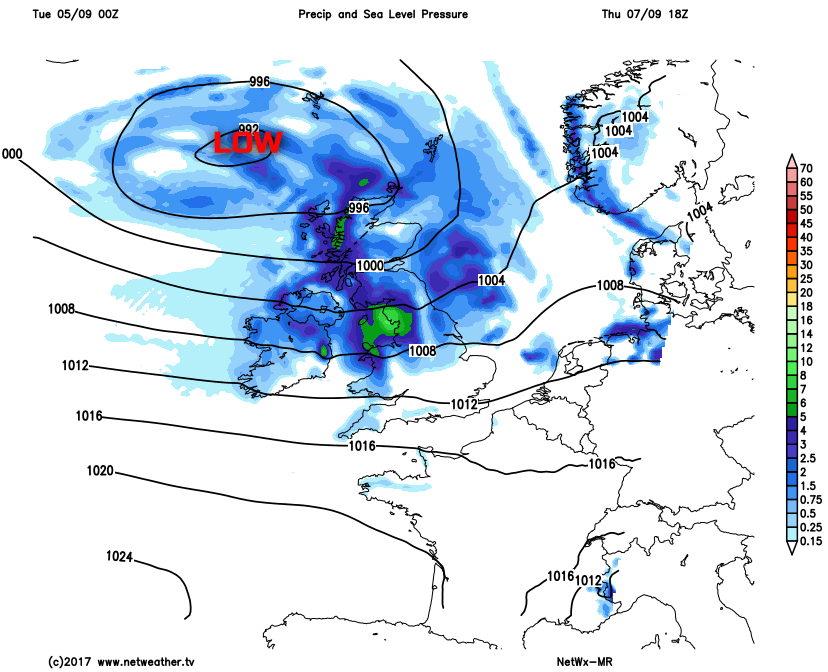 Fri 8th Sep: We end the working with this developing surface low-pressure remaining the dominant feature. All the 00Z GM's (UKMO, ARPEGE, GFS, GEM and ECMWF) have an approximately 990mb low pressure moving eastwards across the far N of Scotland through the day, then becoming located within the N Sea later on. The pattern does have a distinctly autumnal look too, not just because of the weather across the British Isles, but the overall pattern across the N Atlantic too, of which remains zonal.
Friday will be dominated by a convective regime of sunshine and blustery showers, circulating the primary surface low pressure. There may well be some occlusion debris present too, which is hard to determine at this range, but of which could bring longer spells of rain across northern areas, or at least focus showers into more organised spells of rain. The showers are likely to be heavy with forecast soundings showing steep lapse rates and no doubt there will also be a few scattered thunderstorms as well. The below forecast sounding for Glasgow on Friday afternoon does represent the expected air mass well across the N of the British Isles. Very modest surface temperatures and Td's would result in an entirely unstable atmosphere to near 25,000ft. As a result, moderate or heavy showers, with local thunderstorms are possible, but these are quickly moving through due to a fresh, locally strong W or NW'ly wind.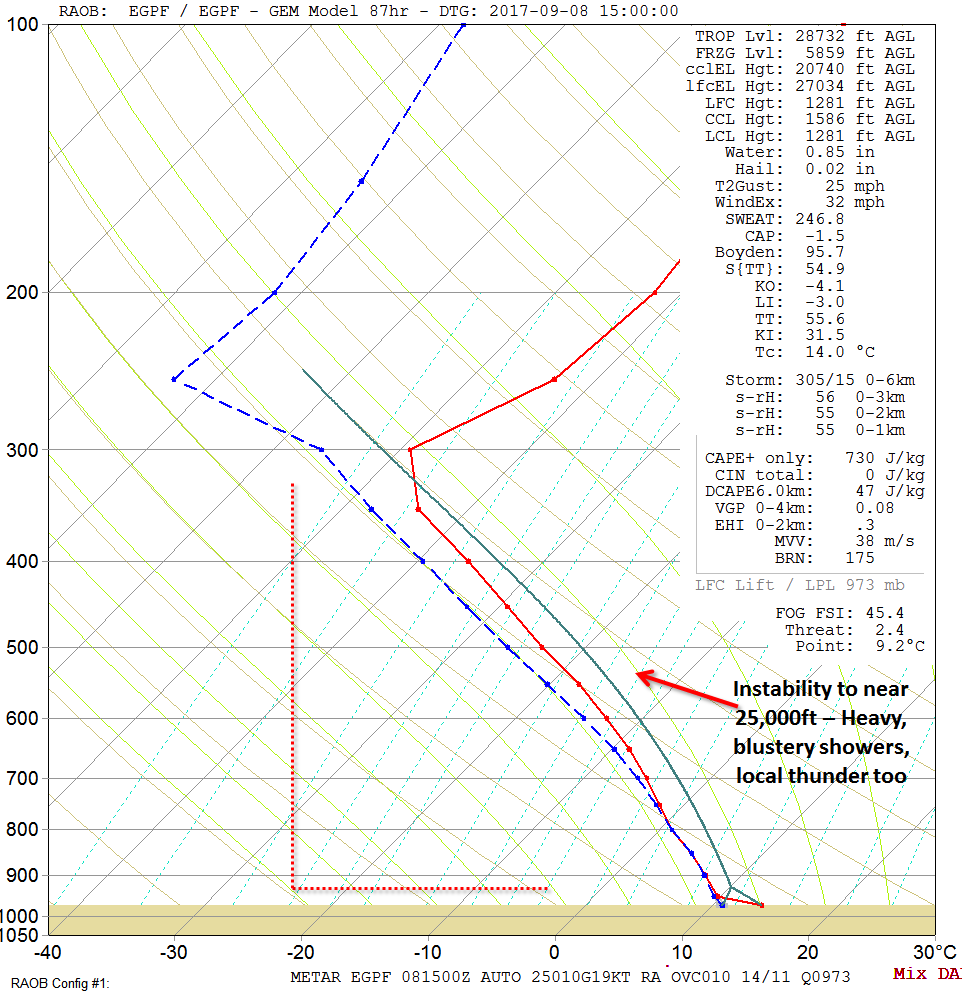 The other feature of some concern is the potential interaction of the jet on the CF moving SE; this may lead to the development of a frontal wave along the cold front through the day. There is model divergence at the moment regarding this, but the UKMO FAX chart for 1200Z on Friday does highlight this potential small feature. If this feature does develop on Friday, then a more pronounced region of moderate and heavy rain will likely run across central and mainly southern areas of England, bringing some potentially significant rainfall totals in quite a short space of time. This level of detail mind is uncertain at this stage and, equally, the CF may well just move through without any wave development.
Sat 9th and Sun 10th Sep: So, progressing into the forth coming weekend with low pressure dominant just to the E or NE of the British Isles with a cyclonic W or NW'ly air flow around the surface low. As a result, Saturday will be an unsettled day for many areas. The 00Z GM's are all in good agreement regarding this pattern, and while the mesoscale details, regarding shower streams and residual occlusion debris, is unknown, it is likely widespread, frequent showers will dominate Saturday's weather. The air mass across the UK will remain unusually chilly with steep lapse rates. As a result, further heavy showers, locally downpours and thunderstorms do all seem possible. The UKMO, GFS, GEM and ECMWF highlight this broad synoptic pattern as we move into the weekend.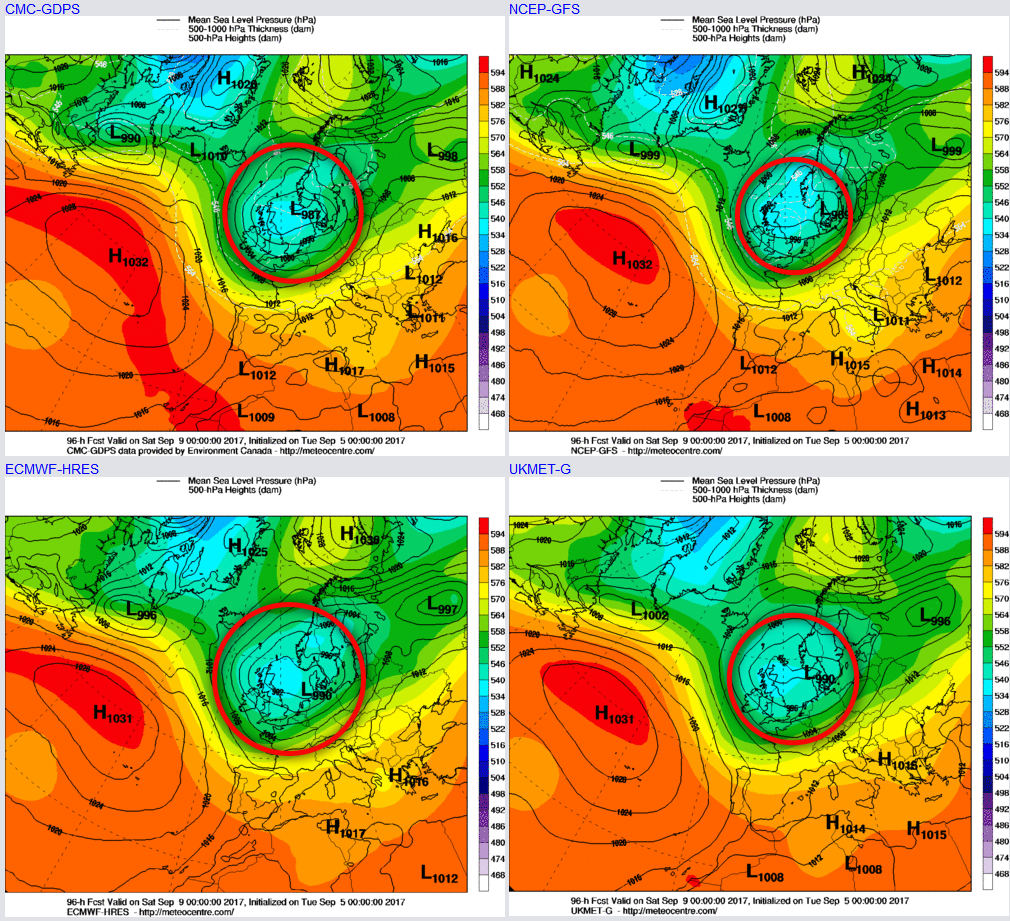 Attention then turns towards the NW of the British Isles later in the day on Saturday. After a cool and showery day, an area of low pressure that is forecast to exit out of E Canada is set to move on to the cold side of the jet stream through the latter half of Saturday, as it passes just to the S of Greenland. This feature has been picked up on, by the models, for some days now and, as it interacts with the jet stream correctly, it then leads to a possible RACY event later in the weekend and into early next week. Some model output has shown some extreme scenarios for the end of Sunday, with gales and severe gales possible. However, time is still required to determine the exact nature of this development in what may well only realised until much shorter lead times. However, the feature in question is highlighted well on the 00z GFS jet stream chart.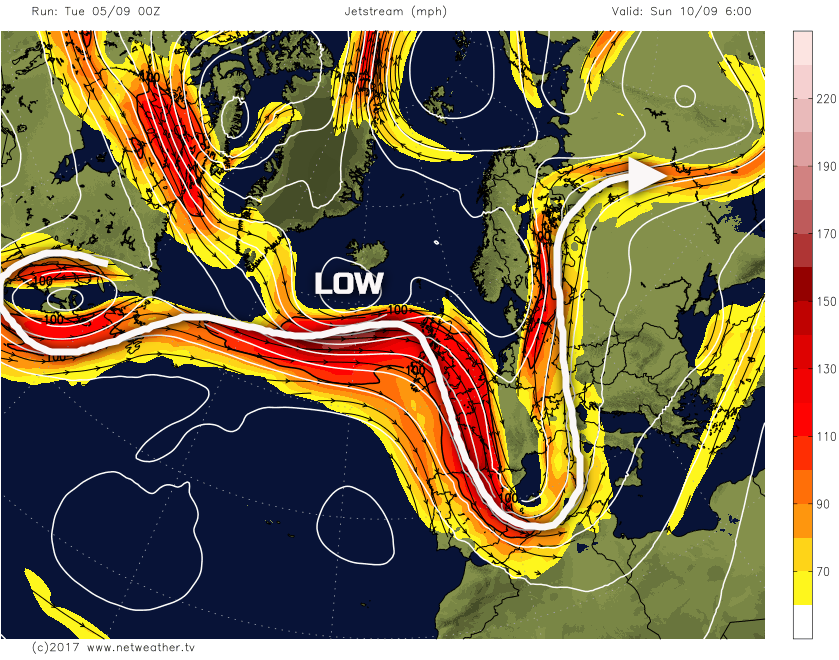 The development of this low pressure may well, naturally, signal a transient ridge ahead of it. As a result, after the showery weather of Saturday, Sunday may start quite settled, perhaps with a chilly start in places too. However, as the low pressure arrives then conditions will quickly deteriorate through the second half of Sunday with heavy rain likely to spread E across many areas, along with increasingly windy conditions too.
Some recent model guidance has taken this low-pressure system on a very S'ly track, meaning gales or severe gales could be most likely across S England and Wales. However, there has been something of a shift over the last 24 hours for the low to perhaps deepen and track on a more 'usual' path just to the W and NW of Scotland. If this does come about, then the strongest winds will be reserved for the N and W of the British Isles. There is some ENS support for this recent development as well, taking a low-pressure further N. However, despite the details being unknown all the 00Z GM's by T+144hr, so Mon 11th 0000Z show a very cyclonic and autumnal pattern over the British Isles indeed.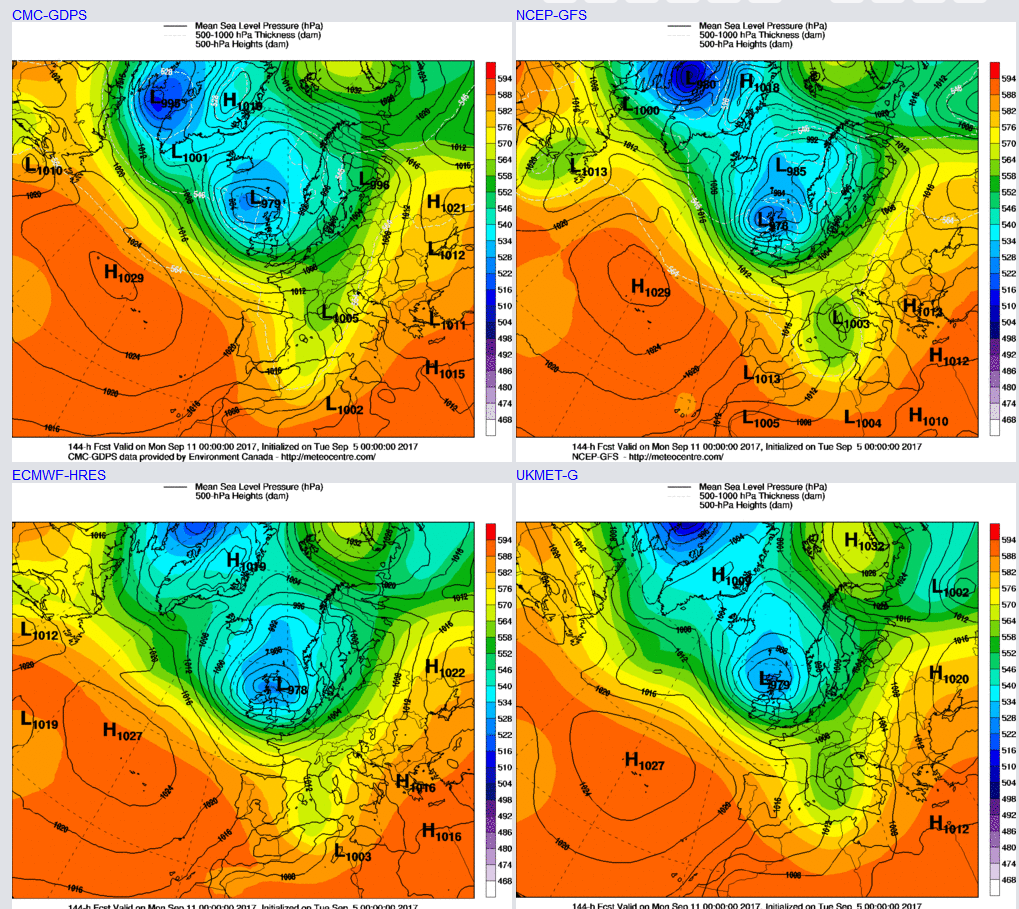 Medium and Longer Term 11th Sep onwards:
Looking ahead and there are some signs, especially within the ensembles for perhaps more of a meridional flow to develop. However, the UK may well be 'stuck' on the wrong side of that pattern with low pressure potentially become anchored over Scandinavia. As a result, this may mean that temperatures become more significantly below average with some unusually chilly weather as we approach the middle of the month as winds become more N or NW'ly at times while remaining predominantly unsettled. After that, it's very uncertain, but one thing for sure, if you were hoping for some warm and sunny late summer weather this year, then you're likely to be very disappointed!