high CAPE
strong wind shear
high absolute moisture at low altitudes
These multicell or supercell thunderstorms can often occur in the warmer months over much of France, when a combination of cooler air aloft off the far North Atlantic overrides warm and humid air at the surface spreading up from the Mediterranean or sub-tropical North Atlantic creating strong instability when the surface is heated to high temperatures inland, creating thunderstorms. Furthermore, large amounts of CAPE can be generated when warm and dry layers (an Elevated Mixed Layer or EML) in the mid-levels of the troposphere (where our weather happens) originating from the Spanish Plateau rides above warm moist air at the surface to create a lid that builds up large amounts of fuel for storms when the surface is heated to high temperatures. This is because parcels of heated moist air cannot rise through the warm dry layers aloft (parcel has to be warmer than surrounding air to continue to rise) until the convective temperature is reached or a forcing mechanism such as trough or front arrives to break the lid or cap. These 'loaded gun' scenarios are often responsible for the strongest storms and largest hail.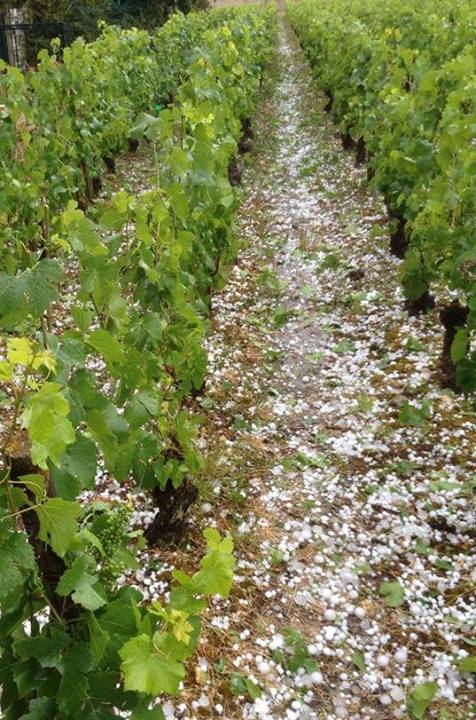 Other uses for cloud seeding
Cloud seeding first began in the mid 1940s when Dr. Vincent J. Schaefer was studying cloud formation for General Electric. Cloud seeding has been subsequently used to enhance precipitation, dissipate fog, modify hurricanes, and decrease lightning and hail in thunderstorms. Cloud seeding can occur naturally but is more often done by humans.
How cloud seeding is supposed to work. Weather modification firms launch silver iodide flares from planes or from the ground into cloud formations to try to increase rainfall or mitigate hailstorms. Credit: Yang H. Ku/C&EN/Shutterstock
Not only has cloud seeding been used to reduce the potency of hailstorms for years, it has also been used to try to enhance rain and snowfall for water storage in reservoirs and in the ground. Currently, more than 50 countries worldwide participate in cloud-seeding operations. Silver iodide has been used in cloud seeding because it has a similar physical structure to natural ice crystals. It is often used in combination with dry ice, which is very cold. The silver iodide lowers the temperature in the cloud and provides more ice crystal seeds, but doesn't freeze all of the liquid water, either. Ice crystals grow from the liquid freezing onto them and then the ice lumps together. The ice crystals then fall and create snow, and if they melt before reaching the ground, produce rain.
These cloud-seeding operations to increase rain and snowfall are growing in popularity. Almost half of the world's population will be living in water-stressed areas by 2030, according to estimates from the United Nations.
Cloud-seeding isn't just used to enhance rain and snowfall or supress hail formation, it can also be used to evaporate fog and clouds. This is particularly useful for aviation, at airports, when the fog is very cold, adding large quantities of dry ice causes the fog to dissipate because it turns all the liquid to ice, and the ice settles to the ground, leaving clear air. However, this only works with fog that is very cold, but not frozen.
At the 2008 Summer Olympic Games, Beijing authorities even employed cloud seeding to clear the air of pollutants and to keep it from raining over the Bird's Nest stadium while the games were going on.
There has also been attempts to modify hurricanes using cloud seeding, though this has only been attempted a couple of times back in the 1960s. In these attempts, the hurricanes seeded weakened, one of them considerably, though it is not known for sure whether these hurricanes that were seeded weakened naturally or if the seeding contributed to their weakening. There has also been a recent study that looked at the concept of seeding clouds to make them last longer by increasing droplet concentration, this in turn cools the sea below the clouds – meaning there is less energy to feed the hurricanes. Also another study looked at how seeding a hurricane with saltwater could also tame it.
Controversy
With many of these methods of cloud seeding to alter precipitation and cloud formation, there is a lot of controversy, because cloud seeding interferes with the atmosphere's natural cycles. If cloud seeding is done on a large scale, it may lead to increased evaporation from outside the area seeded, because the seeded area in theory is taking away moisture. Though other studies suggest that cloud seeding is unlikely to steal moisture from sites downwind.
Also, there is the issue of the toxicity of the silver iodide. Although silver is toxic to aquatic organisms in large doses, the levels found in surface water after seeding are well below the toxic threshold of 50,000 ppt. However, cloud-seeding using silver iodide on a largescale may increase silver toxicity and other environmental issues – which may become a concern.