This week's weather chat will be about the upcoming weekend warmth with temperatures in parts of the UK reaching well into the 20s Celsius. There will also be some wet and windy weather before that. The current charts show very warm air surging up from western Europe, where there has been record-breaking warmth. It will feel like a throw back to summer at the weekend and should and reach into southern Scotland by Sunday. The far north will be cooler and even chilly by night so there is some uncertainty as to where that boundary will settle. However, southern and southeast Britain look like reaching the mid-20s Celsius, perhaps even higher.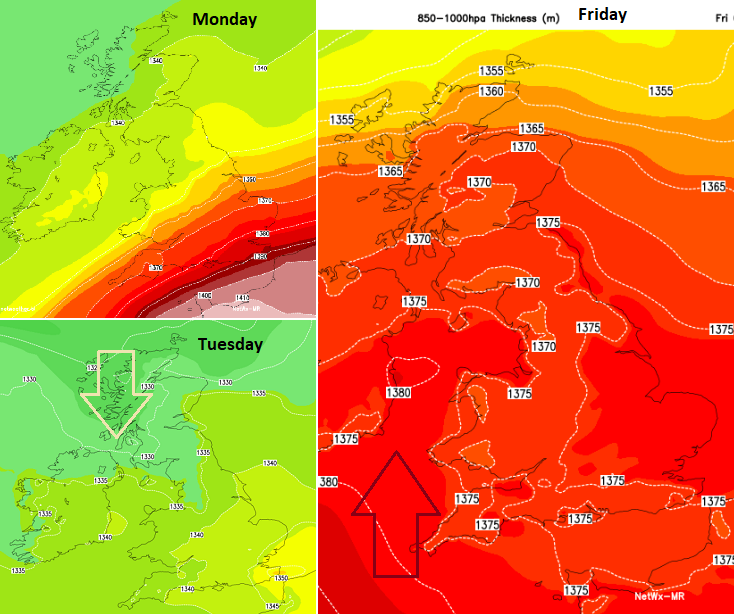 The UK record for October is 29.9 C at Gravesend in 2011. This occurred on the 1st of the month. We are quickly transitioning away from summer to winter. The loss of daylight hours shifts quickly at this time of year, so a week later is quite significant.
The Isle of Man has had its warmest September on record. Finland France and Switzerland recorded their warmest September too
Sunday, October 1st felt warm in the UK with many parts in the high teens even reaching 20 or 21C. The day maximum was 24.1C in Wisley. That warm air will fade way to the southeast on Monday night as cooler, fresher air moves down from the northwest. We've not really had a proper frost yet this season and you might not call a late warm spell an 'Indian Summer' until a frost has appeared.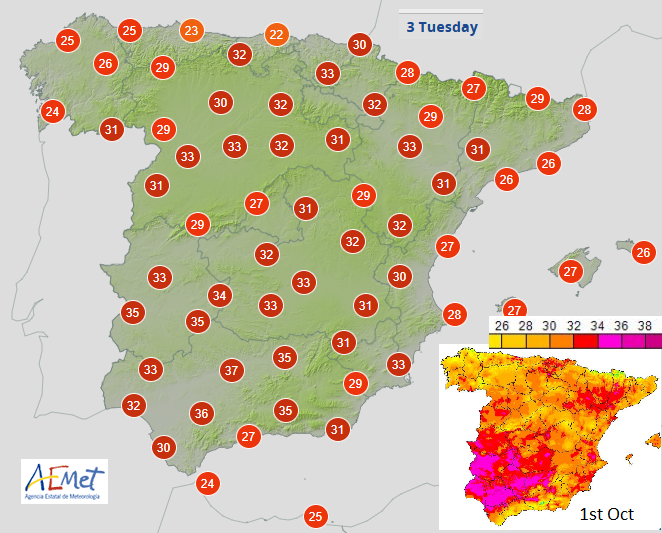 Spain provisionally saw its hottest October temperature with 38.2C (101F) at Montoro, Cordoba with Badajoz reaching 38.0C. Many local records were surpassed with Tropical Nights and temperatures above 30C by day. Florence had its highest October temperature on record (since 1931) at 33C. Morocco and Portugal experienced heat this weekend with local monthly records broken and temperatures passing 36C in places. A large number of stations broke local October records in France on Sunday with temperatures into the 30s Celsius.
SPAIN "On October 1, around one in three stations in the AEMET network broke its maximum temperature record for the month of October, some of them by more than 3 ºC difference. Two stations also recorded their warmest night for that month. Around 40% of AEMET's automatic stations reached or exceeded 32 ºC. September 29 and 30 and October 1 were records for warm days. Very hot and dry conditions for the season will continue this week."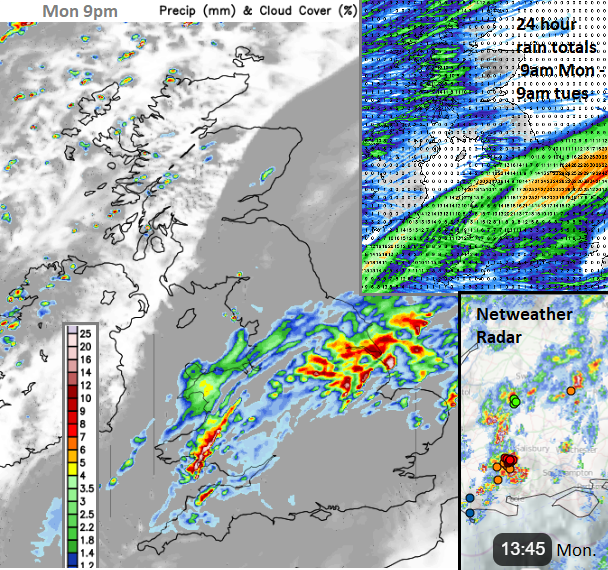 As the warm air fades from southeast England there will be the risk of heavy downpours and even some thunderstorms for Monday evening.
"The rain will tend to be showery and increasingly convective in nature across Midlands, S England and E Anglia… potential for deeper convection across these areas through the evening… Where thunderstorms do develop, they produce torrential downpours with a risk of localised flooding, frequent lightning and gusty winds." Convective forecast
Through this evening and into the night the main focus of these downpours looks to be from Wales across the Midlands to the Humber. Then by midnight, heavy rain particularly around The Wash into north Norfolk as a small low centre develops over East Anglia.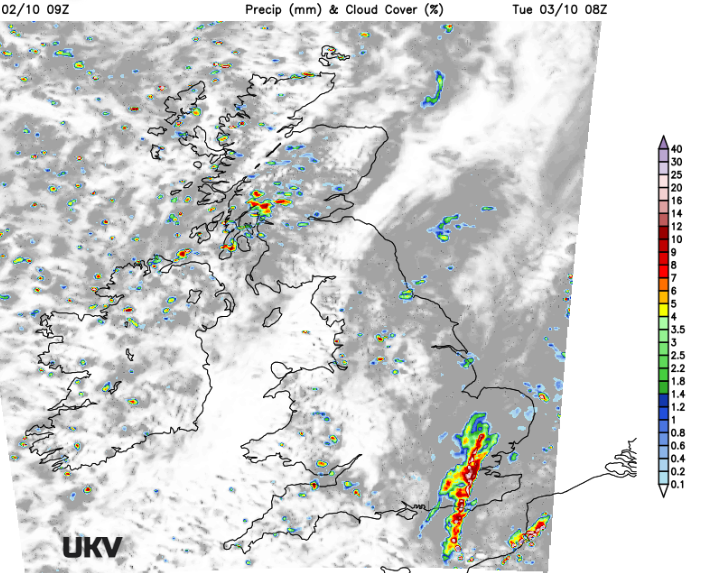 As that clears there will be clusters of heavy showers for western Scotland and southwest England with perhaps a heavier line developing over southern counties of England, and London on Tuesday morning. It will become blustery with a moderate to fresh westerly wind and feel cooler everywhere.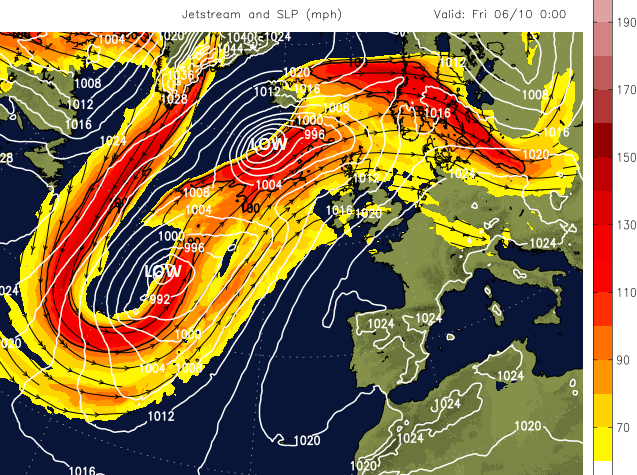 Western Scotland is in for some very wet weather later this week as the temperature contrast is accompanied by frontal cloud and rain. That rain just keeps on coming off the Atlantic. The UK Mett Office has issued a weather warning starting on Wednesday for Strathclyde, including Glasgow and Across to Stirling, Ayr and Mull. The rain warning expands in area later this week across more of western Scotland
"Heavy and persistent rain is expected on Thursday and Friday and may lead to some disruption". SEPA (Scottish Env. Agency) is highlighting the risk of impacts on the transport network later this week.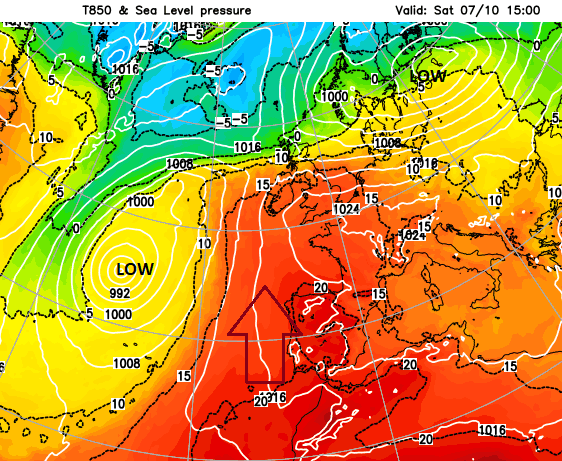 The rain starts on Tuesday night along a frontal band, a cold front. There will be high pressure away to the south over northern France and gradually southern England. The active jet stream keeps a feed of low pressure a bit further north in the Atlantic. One moves between Iceland and northern Scotland Thursday night into Friday, then away to the Baltic Sea. The second one stays out in the Atlantic and helps draw up the warmer air from Spain at the weekend.