Models are showing Fiona potentially having the lowest central pressure ever recorded for Canada as it makes landfall over Nova Scotia. The lowest barometric pressure ever observed in Canada was 940.2 millibars at St. Anthony in Newfoundland on Jan. 20, 1977. 00z GFS is showing a central pressure between 930 and 934mb as Fiona crosses Nova Scotia, while 00z ECMWF shows a central pressure of between 923 and 928mb!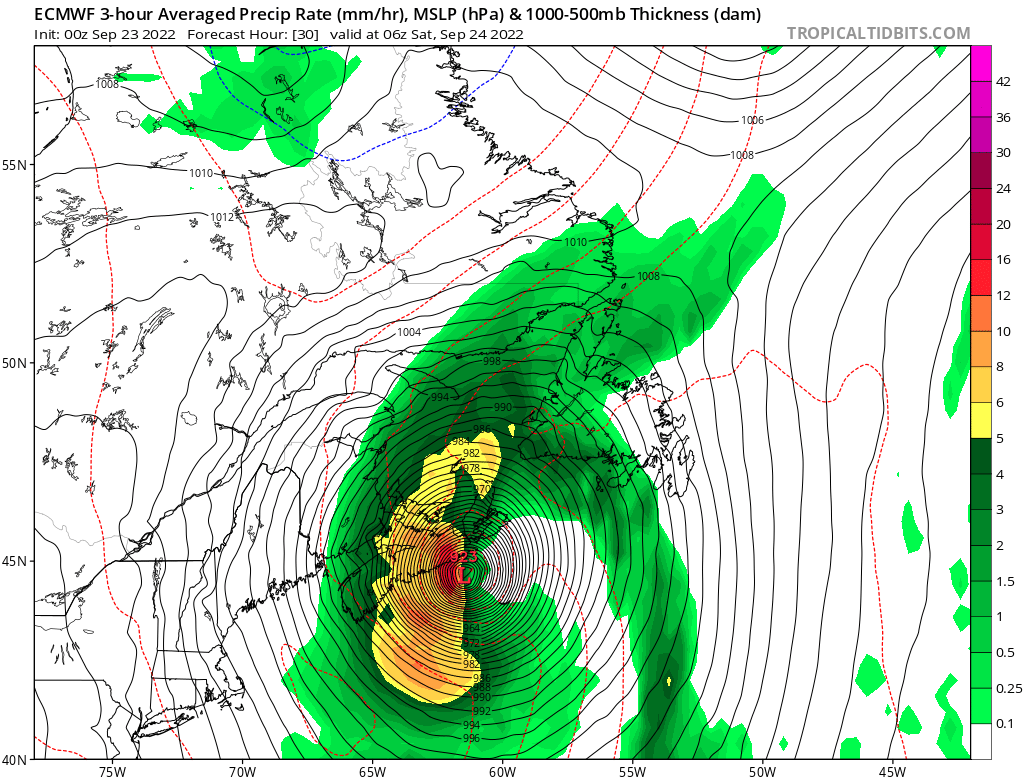 The impacts on Atlantic Canada will be significant. The hurricane intensity of Fiona as it approaches Atlantic Canada coupled with its merging with an arctic to mid-latitude trough coming east out of Canada and its interaction with associated jet stream will ensure Fiona will maintain hurricane strength as it moves over Atlantic Canada, even though it will make extratropical transition before reaching Nova Scotia.
Fiona is forecast to remain over warm waters, including within the Gulf Stream current, during the next 24 hours, although deep-layer shear is forecast to increase substantially in 12-24 hours. Given the hurricane's current appearance, some gradual weakening is anticipated during the next day or so. Extratropical transition should begin on Friday, and that process is expected to be quick, with Fiona becoming a warm-seclusion-type extratropical low Friday night before the center reaches Nova Scotia. Although continued weakening is forecast thereafter, Fiona is expected to maintain hurricane-force winds through 48 hours while it moves across the Gulf of St. Lawrence. Winds could drop below gale force by day 5 when the post-tropical low is over the Labrador Sea.
National Hurricane Centre Hurricane Fiona Discussion Number 35
Environment Canada Hurricane warnings are in force across Nova Scotia, parts of New Brunswick, south Quebec and all of New Foundland. Below is an example of a warning for Sydney Metro and Cape Breton County in the far east of Nova Scotia:
Sydney Metro and Cape Breton County

Strong category-1 hurricane force winds of 100 gusting to 140 km/h at exposed locations except 140 gusting to 160 km/h at the coast with surge of 1.8 to 2.4 m and dangerous waves from 11 to 15 m from Hurricane Fiona are expected.

This warning represents the region within the core of Hurricane / Severe Post-Tropical Fiona. Winds will likely gust to near category-two hurricane threshold, which is 160 km/h in some areas such as eastern Cape Breton and southwest Newfoundland east of the eye. Over PEI and parts of northern Nova Scotia the winds will be much colder and from the northwest and could gust up to 140 or 150 km/h.
The warnings mention 160 km/h (100mph) gusts along coasts in some areas such as eastern Cape Breton on Nova Scotia and southwest Newfoundland east of the eye which looks to track north across Nova Scotia, then over the Gulf of St Lawrence, before reaching the Labrador Sea on Sunday. But a coastal surge and large waves will be a hazard along coasts. Rainfall will also be significant, especially north and west of Fiona's track, where heavy rain could lead to flooding. The highest rainfall amounts are likely for eastern Nova Scotia and southwestern Newfoundland – where forecast guidance is suggesting widespread amounts of 100 to 200 mm, but closer to the path of Fiona, more than 200 mm is likely.
Fiona's centre crossing Nova Scotia tomorrow, with onshore hurricane-force winds on its eastern flank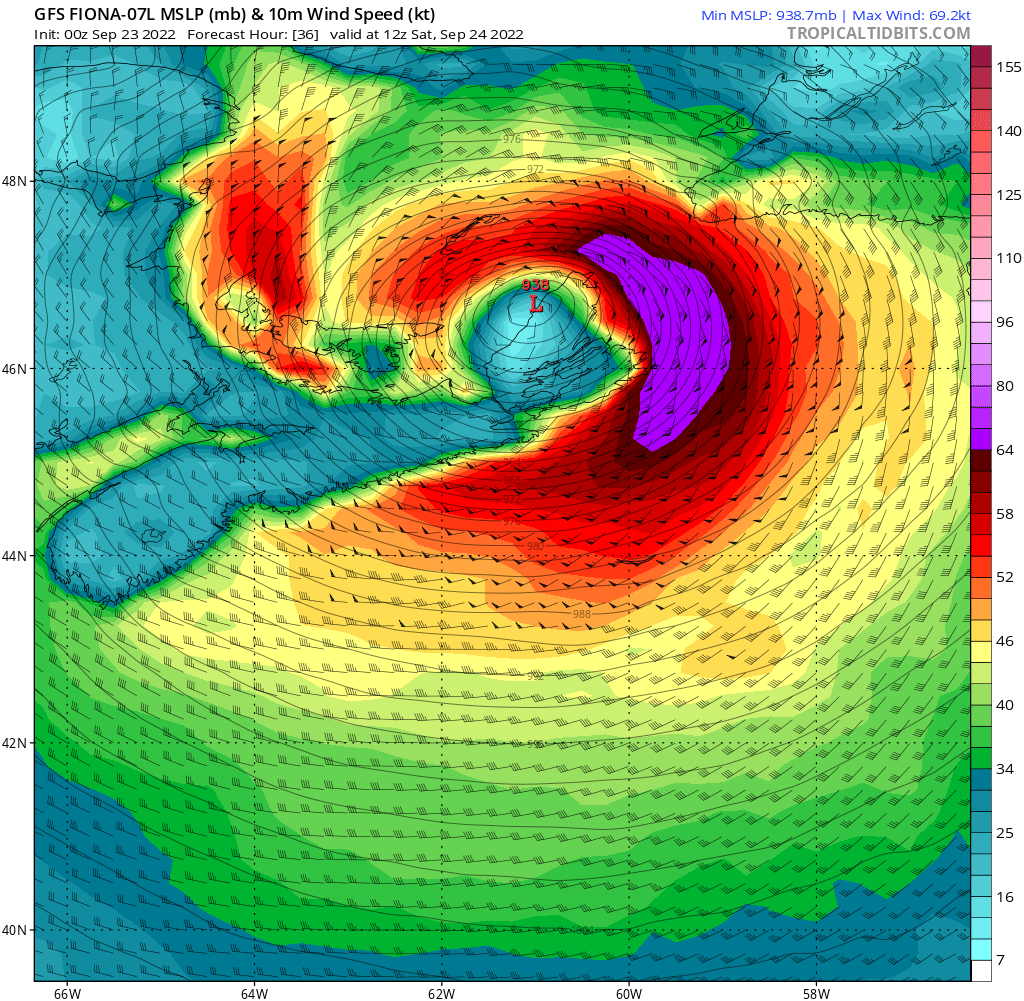 So parts of Nova Scotia, Prince Edward Island and Newfoundland can expect prolonged power outages, numerous downed trees, structural damage, washed out roads and significant coastal erosion due to battering waves and storm surge.
As Fiona's post-tropical cyclone moves up the Labrador Sea on Sunday, it will continue to weaken, but the surge of tropical warmth and moisture on its eastern flank as it tracks north will move across Greenland and will push unusually warm air in here leading to ice melt.
After Fiona, all eyes on the Caribbean, as models show another Hurricane (next Hermine) developing early next week, possibly heading over eastern Cuba then Florida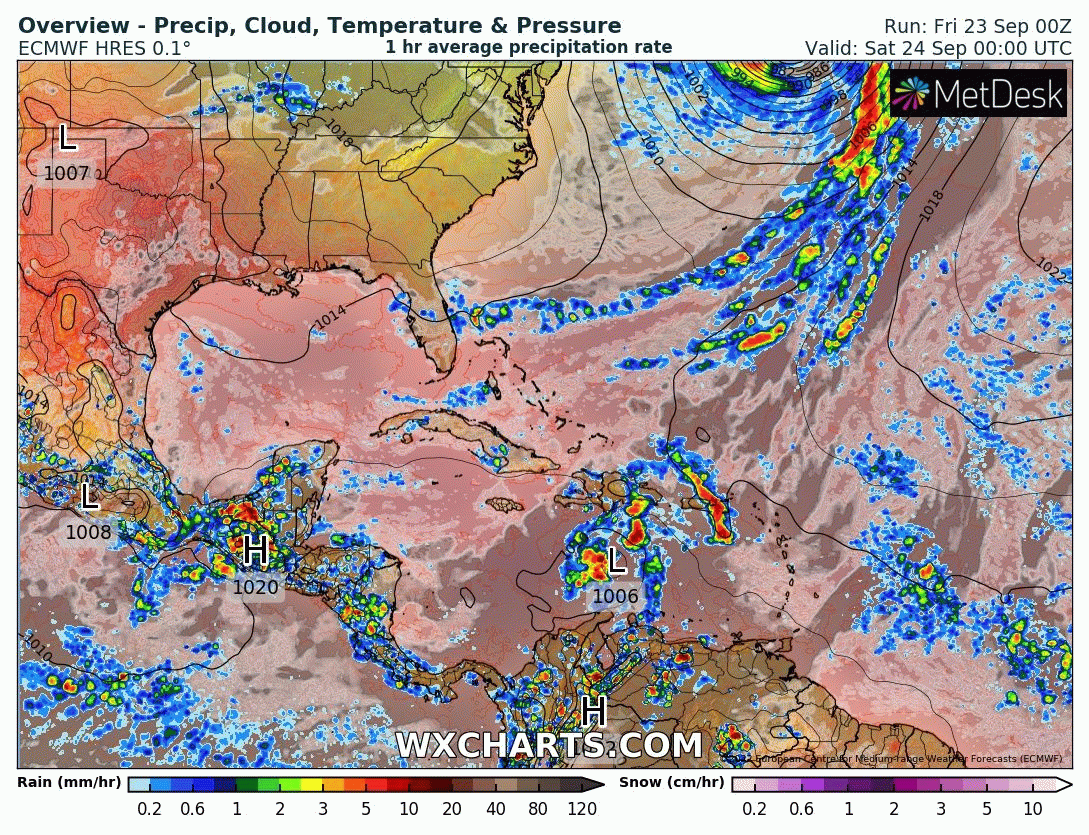 Then after Fiona, attention turns to the growing threat for a hurricane to develop from a well-defined low pressure system currently between the Caribbean and Venezuela. This system, 98L invest, is showing signs of organisation with strong convection, and is likely to form a tropical depression later today. GFS and ECMWF then develop the tropical storm into a Hurricane (next name Hermine) on Monday, which takes a turn north somewhere over western Cuba, before making landfall over Florida by mid-week. As a hurricane hasn't formed yet, there is still uncertainty where it may track, GFS had it track further west over the Gulf of Mexico until this morning. But certainly those in Cuba, Florida and perhaps southern US Gulf States further west need to keep an eye on developments over the weekend.
Read Jo's blog on The Canadian Hurricane Centre and previous storms:
To follow Fiona you can read or join in a dedicated thread on the Netweather Forum