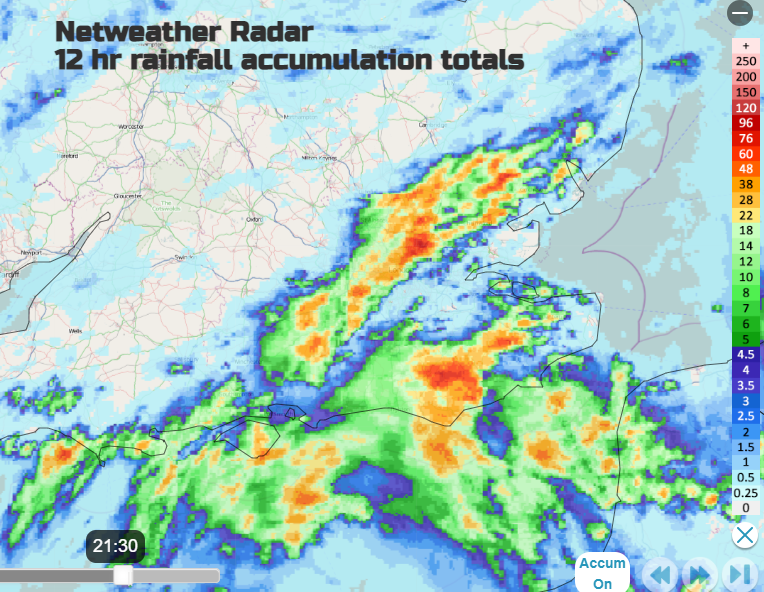 The Met Office thunderstorms warnings relate to impacts, so moving from the widespread yellow to an amber warning over SE England was to communicate the likelihood of disruption and flooding. From the thundery downpours during a working day for highly populated areas.
In Central London, Victoria Station had to close its main entrance as water flowed down into the underground flooding shops and affecting platforms. There was a mass of water at street level. Parks and roads quickly became waterlogged. The Test Match at Lords was over by early afternoon as heavy rain flooded the outfield and England retreated inside from the South African ferocious bowling.
There were delays at airports and to train services. Conditions on the roads were appalling in the deep surface water and spray. The Fire service had to pump out water to stop homes and businesses from becoming flooded and people had to just stay inside and wait until the water retreated from their streets.
However, these intense downpours will not help the overall water situation. The ground is hard and dry, the water can not soak into it. That is why we see the surface runoff, pooling water and gushing floods flowing away. Also, there have been many dry months over winter and in 2021. The background to this summer has led to these current drought conditions.
Many parts of Britain are in drought or water scarcity after the driest July for England since 1935, and the driest July on record for East Anglia, southeast and southern England. The River Thames is at its lowest level since 2005 and has led to a drop in reservoir levels in the Thames Valley and London.
"Groundwater levels are currently below normal throughout the region and declining towards levels that would be only be expected once a decade. Reservoir storage levels in London and Farmoor, in Oxfordshire, have reduced significantly and are now at levels not seen for around 30 years. " Thames Water
With thunderstorms and heavy showers, some areas get completely soaked and see flooding but other areas remain dry. What is needed is long-term, ongoing rainfall. To moisten up the ground gently and then start to replenish the natural stores, streams and man-made reservoirs
So, a lack of rain but also a high demand in the hot weather. The UK saw temperatures over 40°C on 19 July. Wales recorded its highest temperature at 37.1°C, and Scotland had a record high of 34.8°C. There have been two extreme heat events and heatwave conditions across wider parts of the UK
"Due to unprecedented weather conditions, including the driest July in 135 years and the hottest (highest) recorded temperatures since 1885, Thames Water today confirmed that the Temporary Use Ban (TUB) will come into effect across London and the Thames Valley at 00:01 BST, 24 August 2022… In addition to the large leakage reductions, it is estimated a Temporary Use Ban will help save up to a further 10% of water." Thames Water
Domestic customers should not use hosepipes for cleaning cars, watering gardens or allotments, filling paddling pools and swimming pools nor cleaning windows.
While the TUB does not cover businesses, Thames Water is asking businesses across its area "to be mindful of the drought and to use water wisely, for example, by not washing commercial vehicles or turning off water features on their properties."
Hopefully, areas with less dramatic rainfall saw some welcome relief after the heat. The deluge threat has now subsided as we return to the more usual Atlantic flow with fresher air, showers from the west but still strong August sunshine. Southern and eastern areas won't see much rain this weekend as the next region deals with its official drought conditions.
Plenty more discussion and chat about this summer and storms in the Netweather community forum