The risk of heavy downpours and thunderstorms continues, mainly later in the day and overnight. By day, Saturday looks more settled but Sunday see pulses of heavy showers heading northwards through the UK. Where the humid, close air remains remember your water bottle and do still slap on the sunscreen, even if the day starts off cloudy.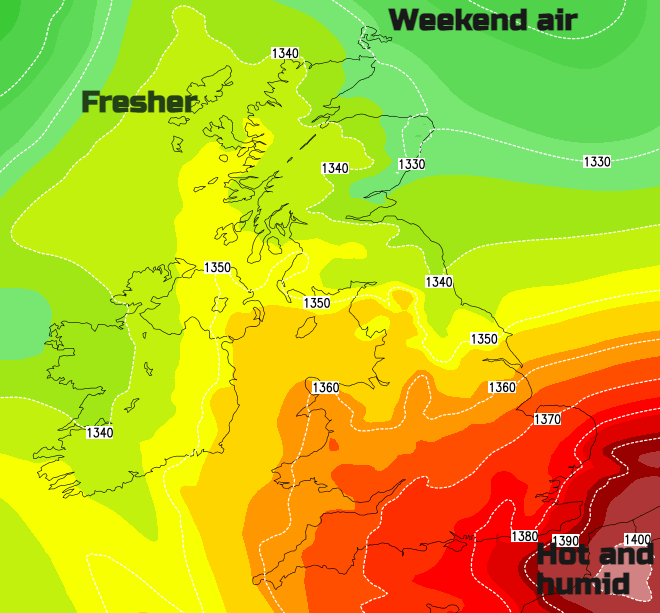 Low pressures keep on developing along a frontal boundary which keeps the hottest and most humid air to the SE of the UK. Heavy downpours and thunderstorms on Friday will be clearing away from North Sea coasts by Saturday morning so don't be put off by the rain and rumbles on Friday night.
Light winds for Saturday morning with more of a breeze from the east by the afternoon. Not as hot or humid as it was in the week but still with strong sunshine and high, even very high pollen levels. By Saturday evening, another pulse of thunderstorms will be heading up from the south and although there will be some fine, drier weather about other areas will see sharp showers and more cloud. Sussex and Hampshire could see some drier weather on Sunday but there will be the risk of showers too.
What if you are out walking and get caught in a thunderstorm or hear thunder in the distance?
South Downs Way
The South Downs Way lies entirely within a National Park. It stretches from the ancient cathedral city of Winchester in the west, through to the white chalky cliffs of the Seven Sisters and Beachy Head at Eastbourne in the east, "almost all of its stunning 160 km length is blissfully off-road."
"On visiting the South Downs you might spot some of our iconic species such as burnt orchid, round-headed rampion, otter, skylark, barn owl and brown trout. You might even be lucky enough to spot some of our less well-known residents such as the barbastelle bat, the chalk carpet moth and sundew (a carnivorous plant)."
This weekend, plenty of fine weather on Saturday and not as hot or humid as it has been. Do watch out later in the day for incoming thunderstorms. Keep an eye on their progress on the Netweather Radar. Again there should be an improvement in the weather along the Way on Sunday after overnight storms and heavy rain. This could make paths slippy, even worn or uneven as heavier bursts might cause some channelling down slopes.
'Walk Your Way' will run from June to August. From Monday 7th June, there will be a series of special, online Ramblers 'Walk your Way' inspiration packs covering regions and nations in Britain to give new route ideas or maybe a reminder of forgotten old favourites.