What does each level of warning mean? Can I do this, should I do that or just stay at home? The current UK warning system for severe weather relies on three colour codes; Yellow, Amber and Red. All reflect upcoming severe weather which could impact your life but also need further understanding beyond the basic stages.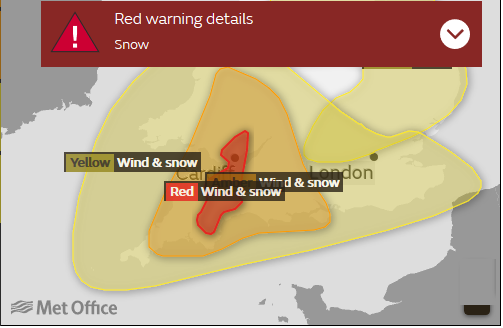 Red warning for Snow and Wind in the Beast from the East, combined with Storm Emma in March 2018
Much like the pandemic restriction levels and tiers around the UK, whilst we get the general idea about which is the direst situation, the nuances of the banding are often hidden or just too involved. If we need to make a decision about whether to go ahead with an activity or a journey, there can be so much extra information to consider or background reading, that it all leads to confusion.
Boundaries have to be set in some way, a definite cut off point. Processes are gone through, discussions completed and a map appears. A region of risk appears and sometimes gets altered or honed.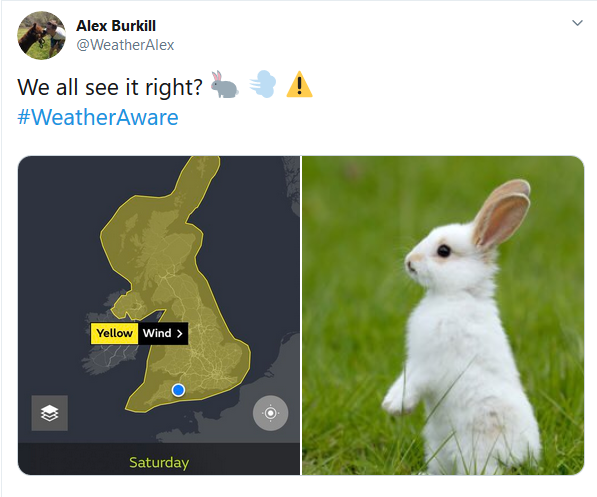 For the weather warnings, the squiggly lines can occasionally cause amusement but even within a yellow warning area, not everyone will see snow or the high wind gusts and particularly in the case of thunderstorms, some places will stay completely dry. It is the risk of torrential downpours and dramatic storms that has to be highlighted.
Understanding that risk is really important for the public as end-users and is a consideration for forecasters when outlining an area so that people don't start to ignore the warnings. You might remember the last Yellow wind warning and how the weather "wasn't that bad" (for you) or a warning for snow but you only got a few flurries. Yet this may not reflect what happened elsewhere within the warning area. The risk or potential was still present (as long as the forecast was good) it just might not have been in your back yard. In the future, it is hoped that warnings will be more specific, pinpointing certain routes, exposed locations and even users route map of the day.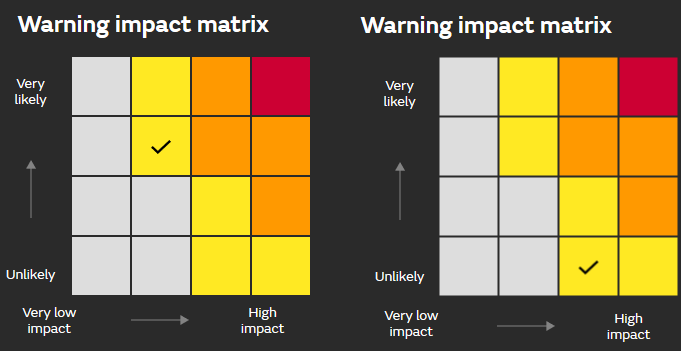 The Matrix
The Colour code for the weather warnings is put together by using a Matrix looking at Likelihood and Impacts. If this weather occurs what will be the impacts. Very Low impacts (typical) Low, Medium or High. How likely is this to happen within the warning area? Unlikely (at any given spot), up to Very likely, in four stages.
Really you should look at the matrix each time a warning of interest appears. It's in the "What to Expect" section. It might be that the likelihood is low, but the impacts could be high and there is a yellow warning. Or it seems very likely heavy rain is on its way, but the impacts are in the medium category, still yellow.
Upgrade warnings, say from Amber to Red, will see the likelihood move to Very likely. They don't happen very often. An example could be a snow situation where it is already snowing, and the conditions are about to get more dangerous and transport networks will shut down. Or if a rapidly deepening Atlantic low pressure is heading our way and a sting jet situation looks likely. That can see things shift along the axes to High Impacts and Very Likely.
However, all Yellow and even Amber warnings are not equal.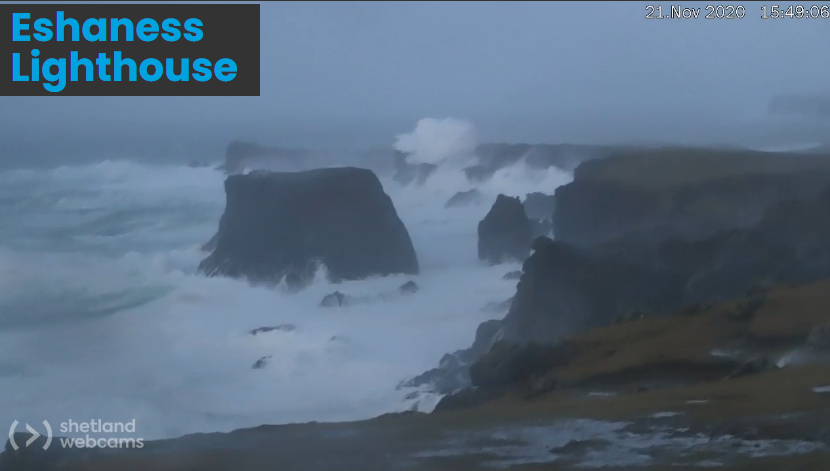 Mid-November, as a deep low pressure moved to the north of the British Isles, Shetland saw a yellow warning for wind from the UK Met Office.
"South-westerly gales will increase further through Saturday morning with gusts of 60-65 mph expected across the Northern Isles. Blustery showers will bring some temporarily stronger gusts as well with 75 mph possible for brief periods."
The inshore waters forecast mentions severe gales, high seas and generally wild conditions. The warning ran from 0500-1300 on Saturday but not the overnight period. In the end, Lerwick had sustained gales, plenty of gusts over 70mph and a top gust of 81mph.
Shetland is used to very windy weather. To get a warning, it will need to be properly windy. The landscape of inland Cambridgeshire or Bedfordshire wouldn't be as used to gales to 70+ gusts. Also, during the night, with fewer people moving about, is there a need for a warning? If you are a shift worker you might say Yes, but with the majority of people safely tucked up in bed that is a factor for issuing warnings.,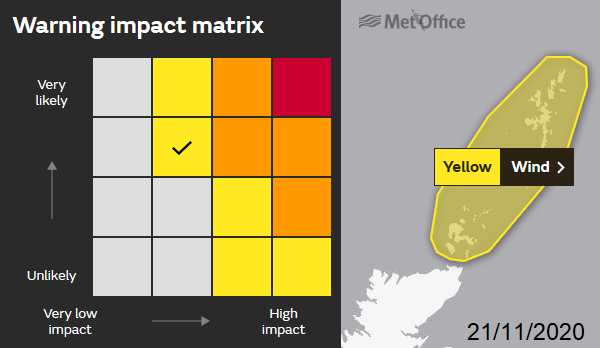 Recently I had a discussion before an outdoor event on a windy day about whether to proceed or not and the conversation highlighted common misunderstandings about how the warning process works. That they are not just about quantifiable limits, such as wind strength or rainfall totals. This is an impact-based system, hence the matrix.
Time of day, the week, location even lockdown restrictions play a part. Also, if it a holiday weekend coming up and traffic is expected to be busier than usual or more people heading out, then that can be influential. Say a storm for Christmas Eve, that would influence whether a warning is issued several days in advance.
That is fine if you have a warning where you live and are familiar with the area, however it can be a worry if you work elsewhere or are on holiday or are a tourist. Also, if you aren't aware of all these factors, it lessens your ability to make your own decisions about outdoor safety. This would be especially important when leading others in group activities.
For example, the M25 on a Friday evening in 'normal times' with heavy rain will be impacted more than the Pennines on a Sunday night.
The rain warnings are issued by the Met Office in conjunction with the Environment Agencies. Usually, the Met Office are looking at the rain until it hits the ground and then the Env. Agencies take over with more information about river levels, surface water issues, groundwater levels and tides. The antecedent conditions also are important and go into the warning mix. If there are pre-existing high river levels, sodden ground, recent flooding etc then that will affect the likelihood of a rain or thunderstorm warning.
There is a balance between seasonal weather, so in autumn we would expect wet and windy weather. Impacts would be very low, without any warnings but there still could be some impacts just "expected to be short-lived or fairly localised."
"In any particular weather event, not every location in the warning area may experience the same level of impacts indicated. " Met Office.
This is really important, particularly for snow and thunderstorms.
So, what are the possible impacts?
Rain – the main one would be flooding. Disruption to traffic then the wider transport network.
Thunderstorms and lighting - again flooding including flash flooding. Injuries from lightning strikes and hail, sudden gusty winds and disruption of the power supply.
Winds – structural damage and injury from debris. Transport issues particularly on bridges and coastal areas
Snow and ice – Transport, power supplies and communities or drivers getting cut off. Fall injuries resulting in load on NHS
Fog – Road traffic and delays at airports and ferry terminals.
Note that there are no High Impacts for Fog, so it can not reach Red on the Matrix. Only Yellow or Amber warnings for fog are possible.
It is worth remembering that just because an area is not inside a warning area it doesn't make it immune from "bad weather" There can still be a lightning strike or an icy patch on a road elsewhere.
Some definitions used in the impact tables:
Localised: there will be a few instances of the impact across the warning area
Widespread: impacts are expected to be experienced across much of the warning area
Prolonged: impacts could persist for several days
Short-lived or short-term: impacts could last for a few hours
Unlike with the increasing legal constraints that now accompany the various pandemic restrictions, we are still left to make our own decisions under the three levels of weather warnings. All your train home could be cancelled. Having a wider picture of the weather situation, how they are created and what they actually mean should help us to make safe choices and preparations when our UK weather does get lively.