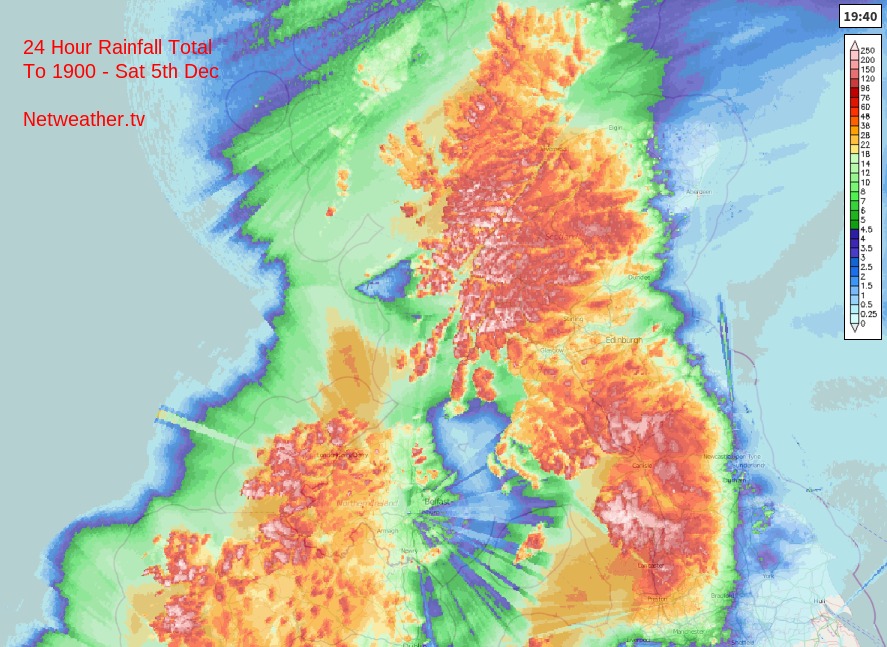 Storm Angus (19-22 November 2016) – brought severe gales to the south and southwest of England and through the English Channel including the Channel Islands. A gust of 84mph was recorded on Guernsey, while on the mainland a gust of 81mph was recorded near Dover, Kent. In the English Channel, a cargo ship collided with a barge, while a passenger ferry become stranded for 26 hours.
Storm Doris (23 February 2017) – underwent explosive cyclongenesis as it crossed N. Ireland and northern England. The storm brought heavy snow to the central belt on its northern flank, causing widespread disruption, while bringing severe gales across many areas, particularly north Wales – where Capel Curig recorded a gust of 94mph, while Weybourne in Norfolk recorded a gust of 81mph. As a result, there was widespread travel disruption.
Ex Hurricane Ophelia (16-17 October 2017) – in the case of a storm that is an ex tropical storm or hurricane that triggers criteria for naming, the name given by the US National Hurricane Centre is adopted. Ophelia was the second named storm of the 17/18 season after Aileen and before Brian. Most significant impacts from the storm were felt across Ireland – where 3 people lost their lives from falling trees. There was also significant disruption across western parts of the UK, with powers cuts affecting thousands of homes and businesses while flights and ferry crossings between the UK and Ireland were disrupted or cancelled. Ophelia was the easternmost major Atlantic hurricane on record. Winds gusted to 90mph in west Wales, 97 mph in Ireland. Tracking northeast from south of the Azores then eventually over western Ireland, strong winds from the storm fanned wildfires in Iberia, which also had the consequence of the smoke combining with Saharan dust being dragged up to the UK to bring hazy skies across parts of the UK, leading to an orange or red sun well before sunset and an early eerie darkness in the afternoon.
Storm Eleanor (2/3 January 2018) – the storm brought gales or severe gales widely across N. Ireland, England and Wales. Gusts of over 60mph were recorded inland, with a gust of 72mph at Northolt in NW London, unusual for this part of the UK. The Needles on the Isle of Wight recorded a gust of 89mph. As a result, there was widespread travel disruption, with large waves affecting southern and western coasts.
Storm David (17/18 January 2018) – the storm was named by Meteo France, who name their storms in collaboration with the meteorological agencies of Spain and Portugal. Much of England and Wales was affected by strong winds, the strongest swathe from North Wales through the southern Pennines to Lincolnshire and Norfolk. A gust of 83mph was recorded at Tibenham in Norfolk. The storm brought significant and widespread disruption across the UK, strong winds caused power cuts to over 100,000 properties and disruption to rail services. While significant falls of snow caused disruption across southern Scotland.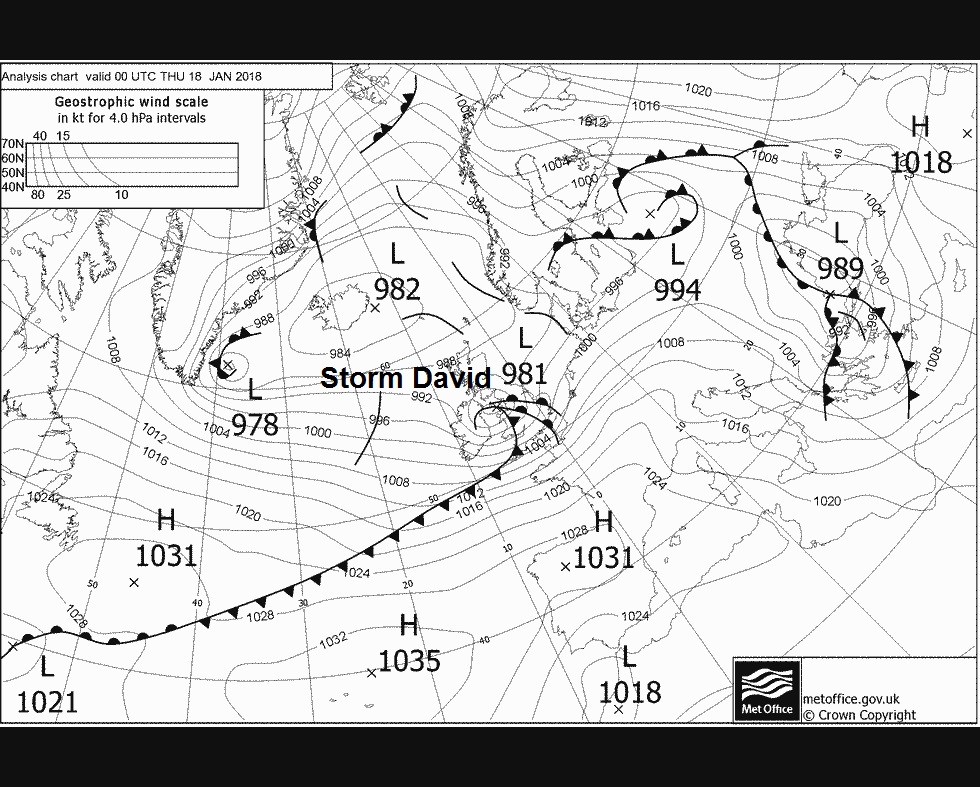 Storm Emma (1 March 2018) - named by the Portuguese Weather Service, but not by the UK Met Office or Met Eireann, was a depression that tracked north from west of Iberia across the Bay of Biscay before swinging northwest and deepening towards SW Ireland. Relatively warm and damp air wrapping around Emma rode over the cold air that had already flooded the UK via the Beast from the East a few days previously, leading to heavy snow falls across parts of SW England - triggering a rare Red Warning for snow from the Met Office. A red warning for snow was issued for central Scotland too the day and night before. Major incidents were declared in Wiltshire Avon and Somerset, Devon and Cornwall and Hampshire, after hundreds of drivers were stranded on roads in the west country. The A303 was worst hit with drivers complaining of being stuck in their vehicles for 15 hours. Around 40 people including a baby were stuck on a bus from London stranded on the A303.
Storm Ali (19 September 2018) – brought gusts up to 91mph in N. Ireland. The storm brought widespread travel disruption, downed trees and extensive powers cuts across N. Ireland, NW England and Scotland. 2 people lost their lives.
Storm Callum (12/13 October 2018) – brought widespread gales to the UK, but most notably heavy and persistent rain over 2 days that brought serious flooding to parts of south Wales.
Storm Ciara (8/9 February 2020) – brought widespread gales and heavy rain, gust of 97mph at The Needles on the Isle of Wight, widespread gusts of 70-80mph, even in some inland sites, widespread travel disruption as a result.