Saturday Winds
A wet and windy start for Ireland, the Irish Sea, coastal Wales and western Scotland, also inland high ground with strong southerly winds and high gusts.
Met Eireann is mentioning "severe and damaging gusts" up to 80mph during Saturday and has amber warnings for the strength of the winds.

The UK Met Office has a yellow wind warning for Northern Ireland and western Britain "Very strong winds may lead to some disruption on Saturday." These winds pick up on Saturday morning with squally gusts between 60 to 70mph for exposed coasts and hills. Eastern England starts off quieter but it will become windy across the UK through the morning. They veer from a southerly to a westerly during the day. As the rain clears the worst of the winds will be over for much of Britain.
However, as the low centre moves closer to Scotland there will be gales, even severe gales for Co. Donegal, possibly northern counties of Northern Ireland and coastal western Scotland. The Western Isles could see southerly gusts over 70mph in the afternoon with gales, coastal severe gales and high gusts for the Inner Hebrides, Argyll and Highland from teatime into the evening.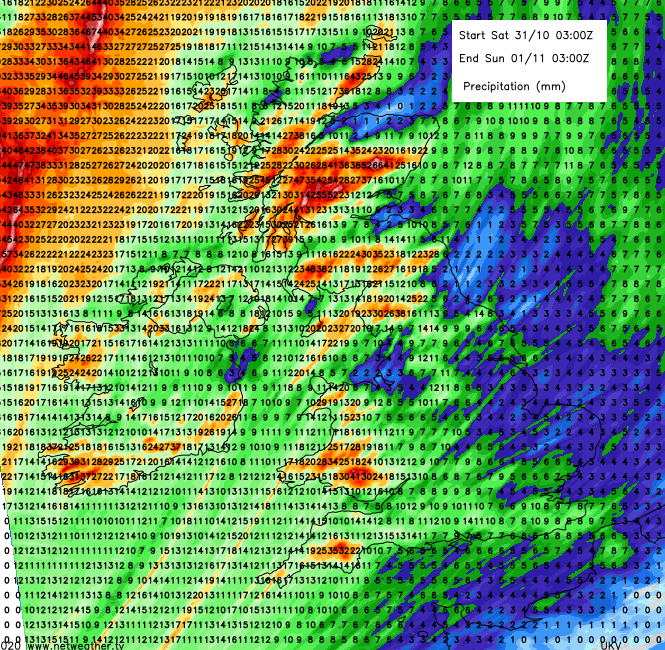 Saturday Rain
The heaviest rain will be over western Britain particularly for higher areas such as Dartmoor, Snowdonia, Cumbrian Fells, the Southern Uplands and Highland Scotland as the mild air is lifted upwards on the southwest then westerly flow. This flow off the hills adds back into the rivers which are already at higher levels after recent rains. The ground is also wet with flooding concerns over the past few days and with further leaf fall in the strong winds this will lead to drains begin blocked and additional surface flooding.
NW England, Wales and SW England are covered by a weather warning during Saturday. "20-30 mm can be expected widely with 40-60 mm across higher ground, possibly 80 mm. "before the rain clears away eastwards during the afternoon.
For Scotland – "20-40 mm rain falling quite widely across southern, western and central Scotland and perhaps more than 60 mm over hills and mountains. "
There will be a band of heavy rain working its way north through Britain early on Saturday (the warm front) and then after dawn, bands heading in from the west with more heavy and persistent rain. By Saturday afternoon this will be over the rest of England, so an area outside of the warning area but it could still cause some issues as it marches towards the North Sea. There will be a distinct clearance after this rain but western Scotland will see further heavy rain during Saturday evening.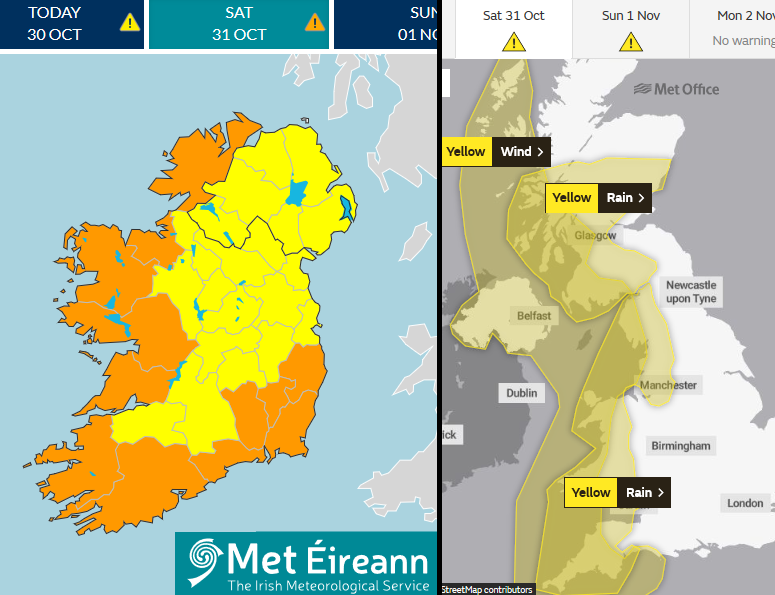 The next low pressure will bring cloud cover and rain to SW Britain before midnight on Saturday night and then another for Monday. So the flooding risk continues.
You can check the latest forecast for your area using our 7-day forecast and also keep an eye on the incoming rainfall with Netweather Radar. Follow us on Twitter, Facebook or Instagram
Floodline 24 hour phone number - Telephone: 0345 988 1188 for England, Scotland and Wales.