Descending air from this strengthening upper level ridge is leading a rapid pressure rises across the UK and Ireland today, the centre of the high pressure system will be over SW Britain today into Monday – where central pressure is forecast to rise as high as 1050 hPa Sunday night. The record highest pressure in the UK, 1053.6 hPa, was set at Aberdeen on the 31st January 1902. So, we could get close to this record. The last time 1050 hPa was breached was at Benbecula in Outer Hebrides and Belmullet in the NW of the Rep. of Ireland on 16th January 1957. So those of you in the southwest might want to check your barometers or weather station pressure readings over the next 24 hours.
Synoptic chart 16 January 1957, source: RMets February 2007: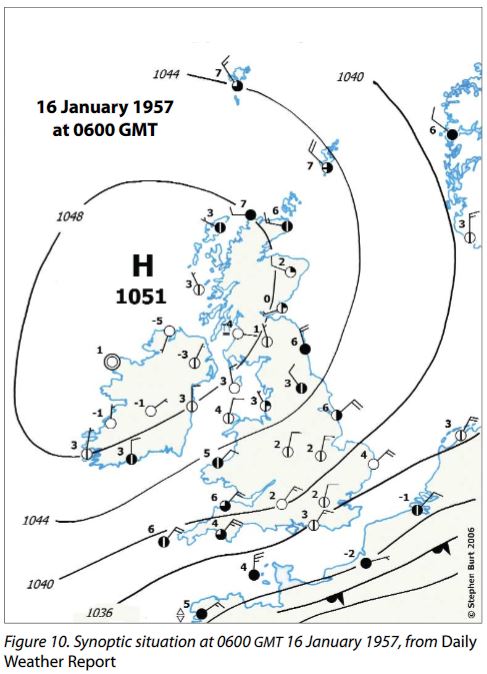 Intense anticyclones tend to be a mid-winter phenomenon for Britain, of the nine past occasions where 1050 hPa has been breached, all but two have occurred in January. These intense anticyclones are often connected or driven by intense depressions. This weekends intense anticyclone, as explained, driven by the winter storm moving over the NW Atlantic.
Past high-pressure readings in the UK of 1050 hPa have not always be readings at the centre of an intense anticyclone either. On 23 January 1907 the barometer in Abedeen reached 1051.8 hPa, but the centre of this particular intense anticyclone was over the Baltic bordering country of Estonia, with Parnu in the country reading 1067 hPa!
MSLP on 23 January 1907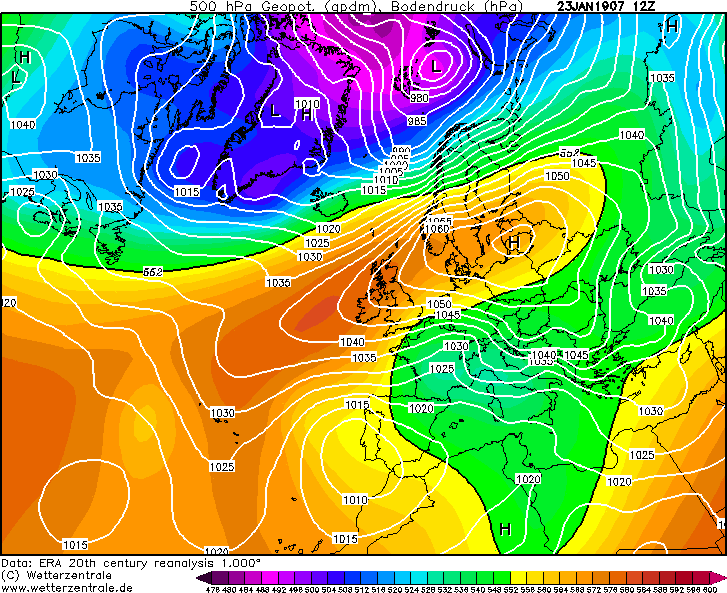 So what does this intense anticyclone mean for our weather? The intense pressure is caused by descending air which is dry, so that means cloudless skies by day and night. The clear skies at night leading to rapid loss of any warmth accumulated in the sun during the day to the atmosphere above, so it quickly turns cold after sunset. So widespread frosts will be a common theme over the next few nights.
Anticyclonic gloom from mid-week, as high moves west and weak fronts sink south bringing cloud.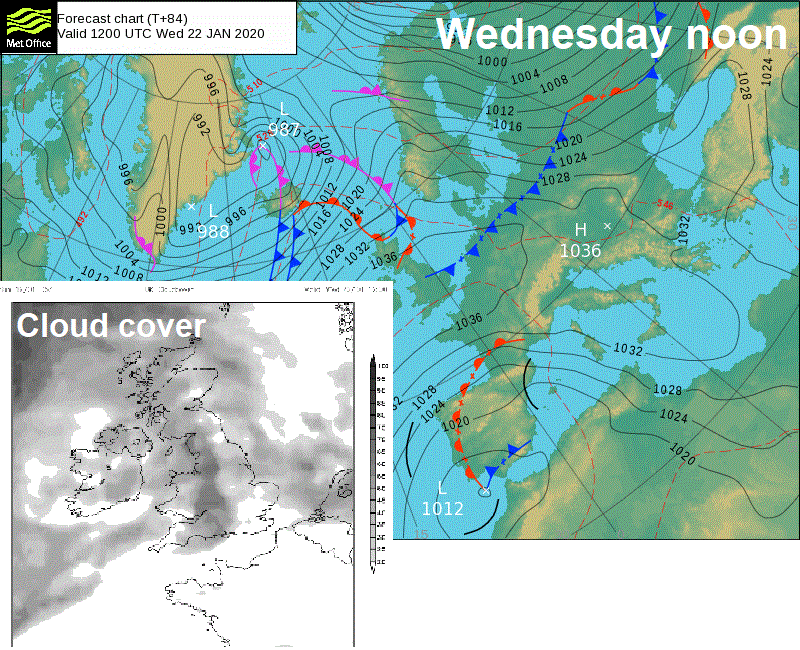 By mid-week, the centre of the anticyclone looks to reposition to the west of the UK. This will allow weakening Atlantic fronts to topple south across the UK and Ireland, bringing cloudier skies across many parts for the rest of the week. The cloud thick enough to bring some patchy light rain or drizzle in places. We will still be under the influence of high pressure though throughout next week, but from mid-week it will be more like 'Anticyclonic Gloom' than Anticyclonic Cheer', the next few days crisp sunny days a welcome relief after last weeks windy and very wet weather.
Souce for some the data in this blog and a good read: "The Highest Of the Highs ... Extremes of barometric pressure in the British Isles, Part 2 - the most intense anticyclones" - RMets February 2007