Last year there were concerns that Santa might have travel difficulties with no snow in Lapland. Would he be able to get his sled going for the Christmas deliveries? This year, I heard on the radio, children are querying if Brexit could affect Father Christmas's visit to the UK. At least this year the Lapland snow is just fine.
The snowfall has been back to "normal" in Lapland this year, starting in November with even some early snow for southern areas. In 2018 there was nothing for much of November, right up into the Arctic Circle with mild air and even when a little snow arrived later in the month, it then rained and that disappeared. Travel companies were forced to cancel dream trips and it was all a bit of a seasonal nightmare. Finally, in early December it did snow but it has made people uneasy about an area that was considered to have guaranteed snow.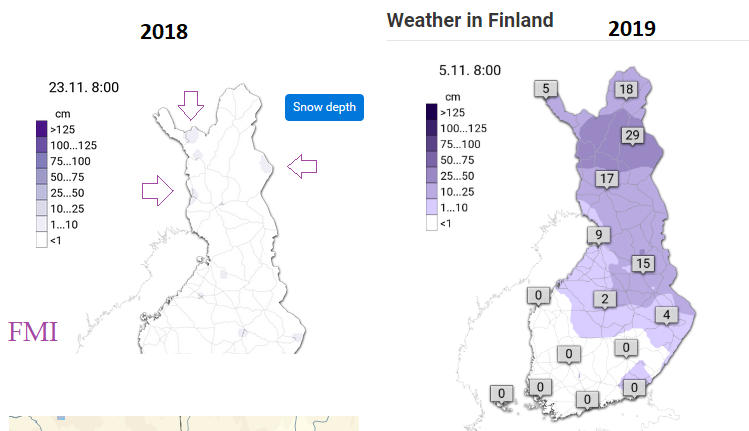 If you are lucky enough to be visiting Santa and the Lapland resorts you can check the current conditions and forecast on the Finnish Meteorological Institute website. If you are going to Lapland in Finland. Scandinavian Christmas is such a tourist draw that there is Swedish Lappland and Norwegian Finnmark. Sweden is home to the famous IceHotel with resorts Lulea and Kiruna and the Aurora Sky Station but most of the main resorts for UK visitors are in Finland.
With a good covering of snow already there is more forecast this week, along with blustery winds to start the week. This is a fast moving forecast but it does show the midweek snow. Visitors will expect cold weather and snow but strong winds can affect travel and activities, frontal bands bring clouds, so if the northern lights are active it is a shame when there aren't clear skies. However, the region and venues are set up for more extreme weather than here in the UK and are much more robust as wintry conditions pass by.
The snow depth charts are available on the Finnish Meteorological Institute site along with the radar. So you can see current snow amounts but also watch bands of precipitation moving across Scandinavia.