It will stay dry for most today, the best of the sunshine across the south. It will be cloudier, breezier and milder in the north over the next few days, with rain moving in across Northern Ireland and Scotland from the west on Wednesday, while on Thursday wet and windy conditions look to sweep in across the north. The south will be dry until Friday, when rain will push southeast across many areas, followed by showers in the north.
Today
For now, a dry and cold start for most, but a fair bit of cloud around, where skies have cleared in places across southern England temperatures have fallen below freezing locally, with some mist and fog patches in places too, but generally cloud has held temperatures above freezing. A southwesterly breeze across Scotland, brisk wind across the far northwest, means a milder and cloudy start here, with the highest temperatures in the whole of the UK across the far and west of Scotland – with 10C already by dawn.
Mostly dry today, with variable amounts of cloud and some sunshine, the northwest mostly cloudy.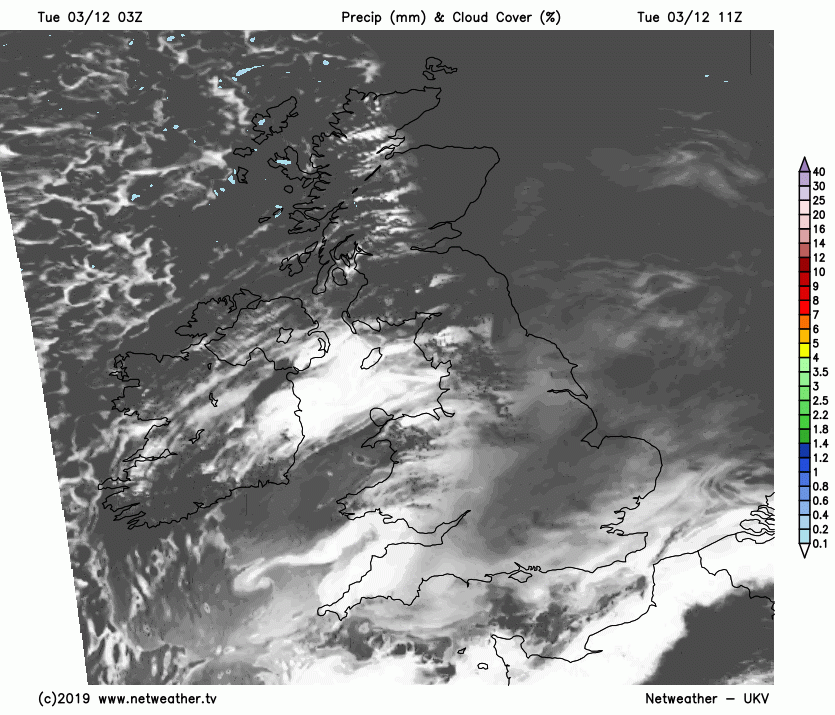 Any mist or fog patches will tend to lift through the morning and cloud will tend to break elsewhere, with many places seeing skies brighten through the morning, with much of England and Wales remaining dry with decent sunny spells through the afternoon. Scotland and Northern Ireland generally dry but on the cloudy side, but, unlike yesterday, at least it will be mostly dry for Scotland today. Some brightness or sunshine likely though to the east of high ground in eastern Scotland though. NW Scotland will see some patchy drizzle or light rain though.