It will be nippy tonight, feeling cooler than recent nights. NE Britain will see temperatures down near to freezing with a touch of frost, also some fog as the winds fall light across much of eastern Britain. Further west a southerly wind will be picking up as the low centre heads in and more showers feed up from the southwest. So, a blustery start for Co. Londonderry and Co. Antrim, also the Western Isles.
Thursday To start with, many areas will have a fine, autumnal morning but interrupting this will be clusters of heavy approaching the west and south of the UK. A larger area, with thunderstorms possible, is being picked up on the UKV model to affect southern England.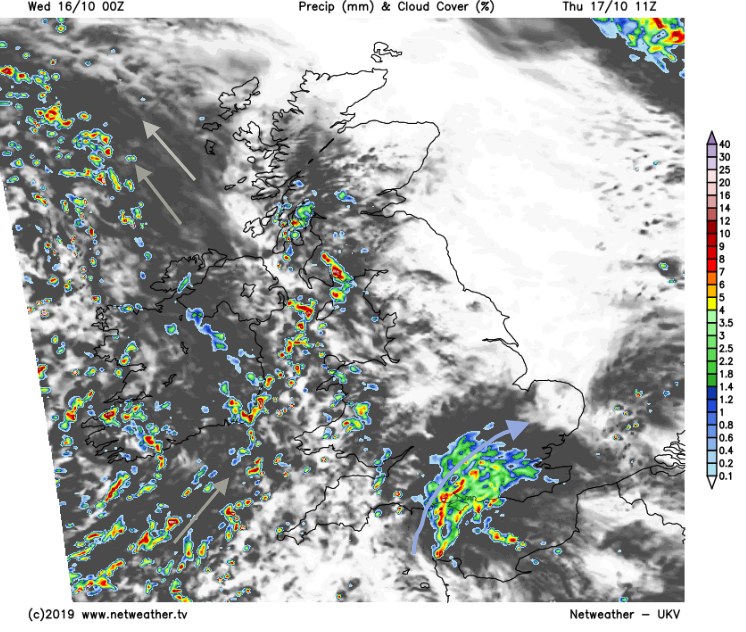 Through the day the S/SW winds freshen with strong winds for western coasts and along the English Channel later on. All the time driving sharp showers in, so some areas get a downpour which comes and goes on the wind and other areas miss them.
Your weather app maybe showing shower then shower followed by another shower symbol, especially if your location is in Ireland, Wales or SW England tomorrow. This is a risk of downpours but do remember that they are usually cells with gaps around them. Keep an eye on the radar to see their progress.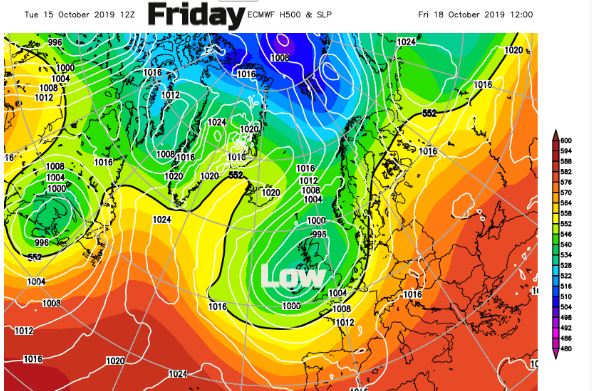 The rainfall charts for Friday and Saturday show high totals for Wales, particularly the west and southern counties of England as these showers rattle through. The showers will be heavy at times with hail and thunder in places. Cumbria also wet and western counties of Ireland have been drenched this month with flooding and there are plenty more showers from the Atlantic this week. By Sunday the focus of the showers will be shifting as the low centre slips across Britain.
Today is the 16th October, 32 years ago southern England was waking up to damage from what is now known as the 'Great October Storm'. Michael Fish puts the story straight about 1987.