It's a little late for this type of weather, with the autumn equinox on Monday. But in timely fashion, this weekend also heralds a breakdown of the summery spell. By the start of the working week, it'll be turning wet and windy, when it'll certainly feel more like autumn. So for most let's enjoy today before parts of Wales and the South West see some locally sharp showers breaking out later.
We have patches of mist, fog and low cloud to get rid of first though mostly over North East England and East Scotland, much of this should have gone mid-morning. It'll then be another day of 'wall to wall' sunshine across the bulk of the country, although the sun may tend to become hazier in parts later in the afternoon. Although largely dry, the Channel Islands and the Isles of Scilly will see a few sharp showers this morning. These'll then spread to the South West, Dyfed and perhaps to parts of Northern Ireland later some heavy giving thunder.
It'll become warm or very warm, with temperatures reaching 20 to 23C fairly generally and 25 or 26C across the South East and over parts of Highland and Moray to the lee of the Grampian Mountains and the Trossachs. It'll also feel increasingly humid, despite a more noticeable than of late East or South Easterly breeze.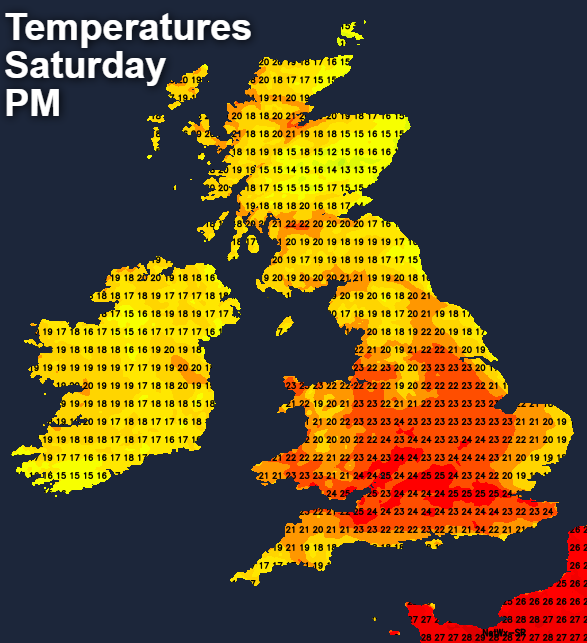 Much of Scotland and eastern England after a beautiful early evening, should stay dry after dark. There'll be clear spells, but it'll turn misty, probably with a few patches of low cloud forming overnight. Parts of the East Midlands could also stay dry, but elsewhere, there's a greater risk of catching a sharp shower or even a thunderstorm. A South Easterly wind will be gusty near any storms in a noticeably much milder, humid night when temperatures generally shouldn't fall below 10 to 15C.