Pressure continues to rise slowly, with the weather now settled over the bulk of the country. So, if the adage 'quick rise soon past, slow rise long last' is true, there should little in the way of wet and windy weather for some time. Although mainly dry and quieter, most parts are fair rather than fine as like yesterday; we will be chasing the cloud around.
There's lots of cloud this morning that's thick enough to give a little light rain or drizzle, this mostly in the West and towards coasts of North East England at first, but for the bulk of the country, it's dry. The best of the cloud breaks at the moment are across the Midlands, but even here large amounts of thin high cloud will make any sunshine quite milky. During the afternoon an approaching front will bring heavier bursts of rain to the Northern Isles and the North of Scotland, but elsewhere it'll remain much the same in a dry but often disappointingly cloudy day. The cloud will break in a few places though, with districts around the Moray Firth, the Welsh borders and the East and South East of England most likely to see these.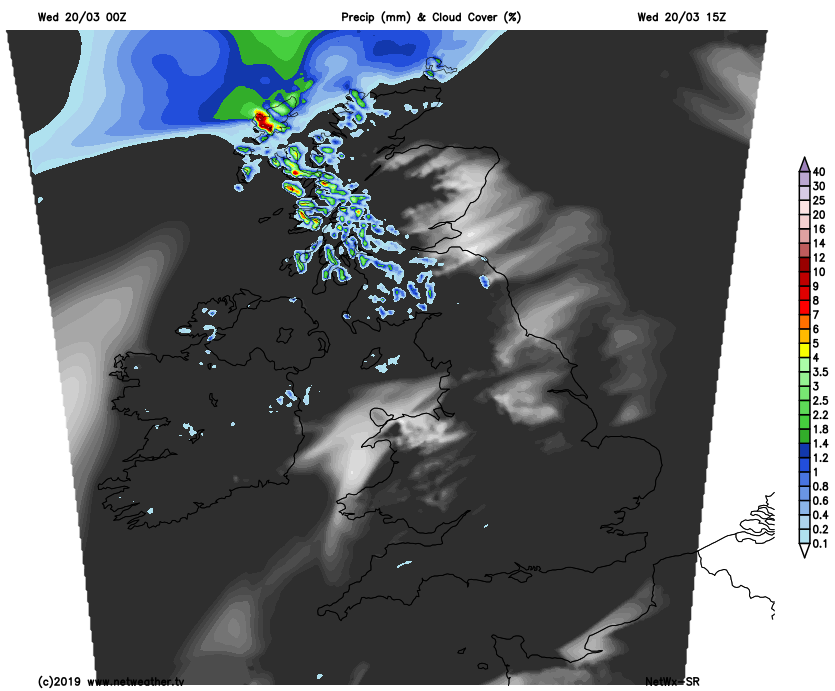 A South West wind will be moderate or fresh across Northern Ireland and most of Scotland, freshening further across Highland and the far North of Scotland, where gales are likely later. Over England and Wales, winds will be lighter, making it pleasantly warm by the afternoon where the sun comes through. Top temperatures of 11 to 13C in the North and 14 to 16 locally 17C in the East and South will be somewhat above normal for the start of astronomical spring.
Districts to the North of the Great Glen and perhaps the far North and West of Northern Ireland see further occasional rain after dark, probably with heavier bursts in a stiff South West wind that should moderate a little later in the night. Elsewhere it'll be less windy and mainly dry, with much lighter breezes in the South. Cloud amounts will remain quite large, but some clear spells are likely mostly East of the Pennines and in the South. Here it could turn chilly with perhaps a few mist or fog patches towards dawn, but it's not expected to be a cold night, with minimum temperatures mostly in the range 5 to 8C.