Back in 1897 Aberdeen recorded a daytime temperature of 17.9C (65F) and that Scottish record maximum for the month of February has stood for 122 years.
However, thanks to very mild air flowing all the way up from NW Africa and the Canary Islands, the record was broken today with 18.3C recorded at Aboyne .
"Even with quite a breeze, it is so mild in Scotland today. There has been glorious sunshine, ideal for those on half term or just getting your washing dry and it feels quite peculiar to be this warm in February especially thinking back to last year." Jo Farrow, Netweather Forecaster
The mild air on its own isn't enough to lift the temperatures that high, other parts of the UK have peaked at 12 to 16C. In a brisk mild flow from the south or southwest, the air can be dried and warmed as it is forced up and over high ground, in this case the Grampian mountains.
This process called the Foehn Effect often results in high temperatures in surprising places, such as Aberdeenshire, Merseyside, north or west Wales or Yorkshire. Anywhere to the lee of high ground.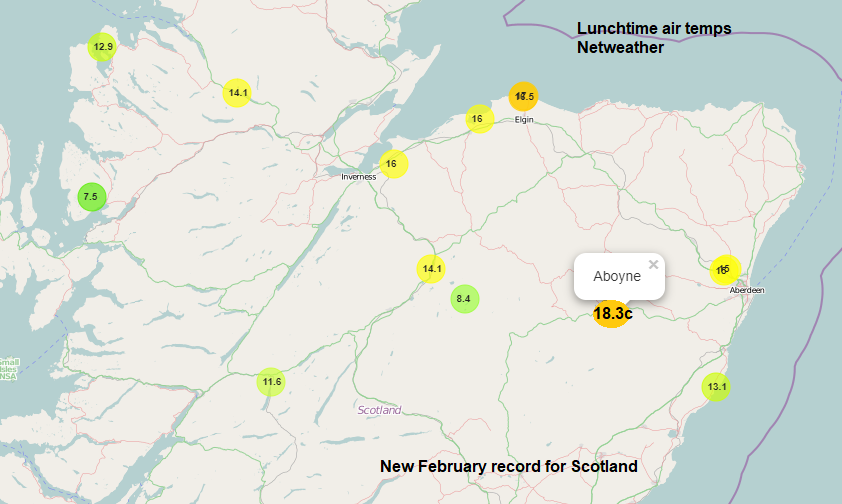 The mild air has to go upwards as it reaches the hills or mountains, it cools, condensation occurs and clouds form, it may rain on the windward side and heat is released as the water vapour turns to liquid rain. Sometimes all the air makes it over the hill, other times warm air aloft is drawn down and with overturning and mixing of the flow there will be drier and warmer air accelerating down the other side of the high ground. There is often more sunshine as the clouds have formed elsewhere and temperatures can rocket.