Currently, the overriding theme for our UK weather in the days before Christmas is a westerly flow off the Atlantic. Usually, this means unsettled, wet and windy weather, and average or above average temperatures. The jet stream driving in low pressures looks active and there is a strong signal in the forecast charts for this kind of setup in the run-up to Christmas. If there was a high pressure sitting over Scandinavia blocking out all these lows, that would be a different story and often results in drier weather but colder and a more settled picture. That doesn't seem to feature around Christmas but may early in the new year.
If you wanted a forecast for Christmas Day right now, it looks mild with a front moving across the UK, bringing a wet and windy spell. 10th Dec a deterministic solution, one answer. However as it still two weeks away, we don't deal in forecasts like that. The frontal band could be delayed or faster. The low pressure could be further north or south, deeper or not so developed. There could be a high pressure and a cold east wind. This is when Ensemble forecasts are useful. They include several runs of a model, with slightly different initial conditions and throw out numerous solutions which can show clusters of themes.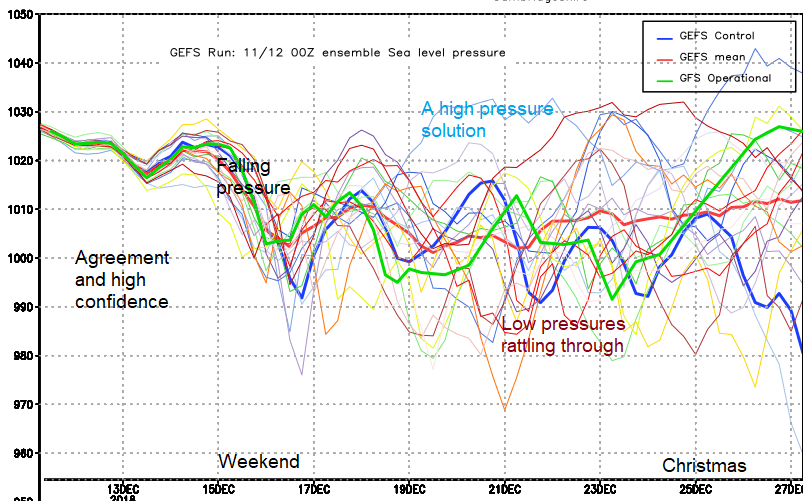 So with a weather app, you get one outcome, the deterministic answer, no explanation or confidence attached. And this can lead to outrage of the weather forecast being wrong. In ensemble forecasting, the computer can create a mean, an average of the solutions, or a forecaster can look at the output and say 32 of the 50 ensembles (a majority) show an unsettled picture with low pressure near to the UK on Christmas Day, so we think a windy spell with rain is most likely. However, it still could be a solution from the other 18, maybe they cluster as 12 cold settled easterly solutions and 6 something in between. There can be a wide spread of solutions, that equals low confidence.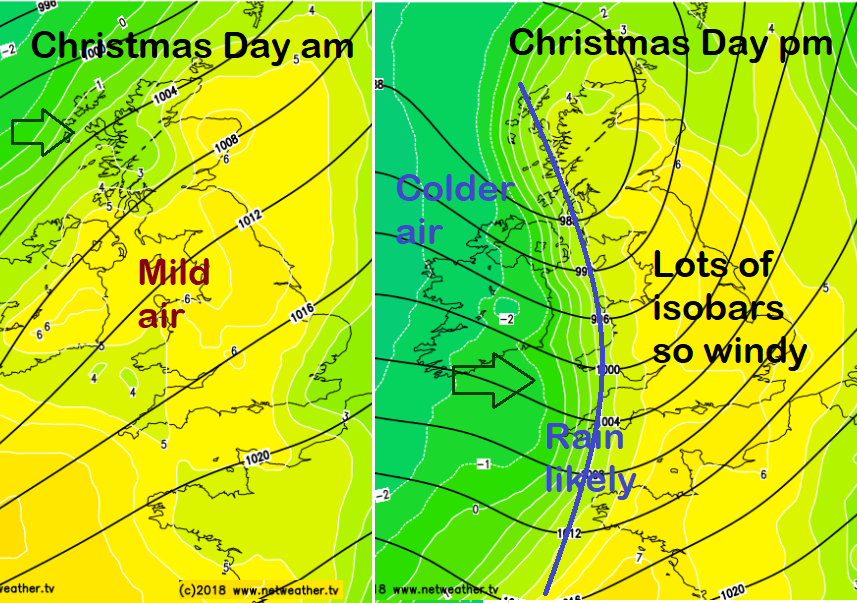 The deterministic, operational GFS output for Christmas Day, forecast charts from Dec 10th. Timings of the frontal rain are irrelevant but if you had to say snow Yes or No, I would say No for nearly all of the UK. However, if a cold front did go through at some point on Christmas Day, then there is the chance of wintry showers, sleet, hail or snow coming in on a NW wind, and parts of westerly Britain and Northern Ireland COULD qualify for a White Christmas. It's a tricky business.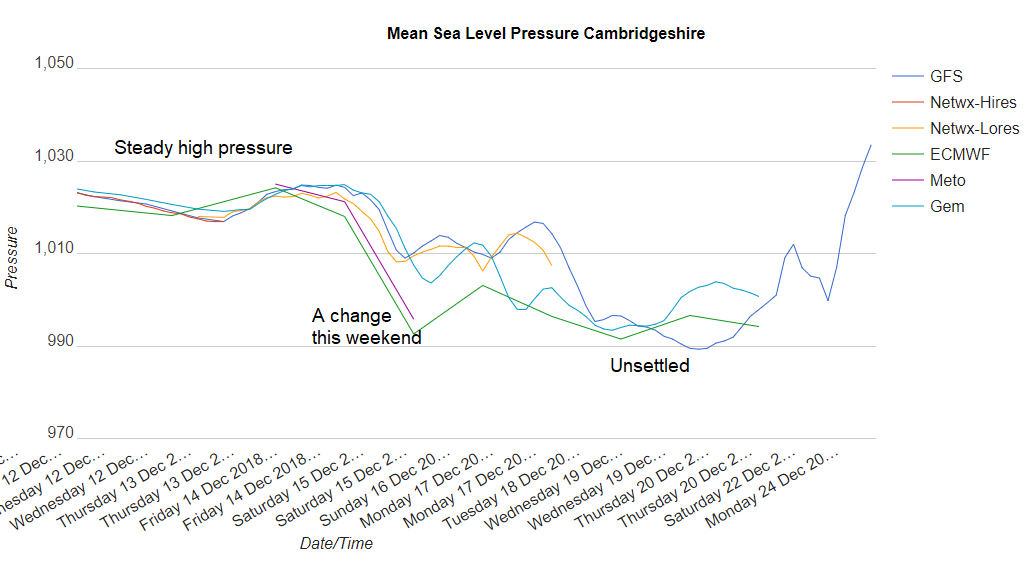 There is also an ensemble derived from multiple models (a super or grand ensemble). Found in the Netweather Extra charts. This change in our weather at the weekend is showing well, high confidence for a fall in pressure and more wet and windy weather to end the week. Next week shows signs of low pressure and so more unsettled weather, from the west so not that cold. Ignore the rising GFS line at the end by Christmas Eve.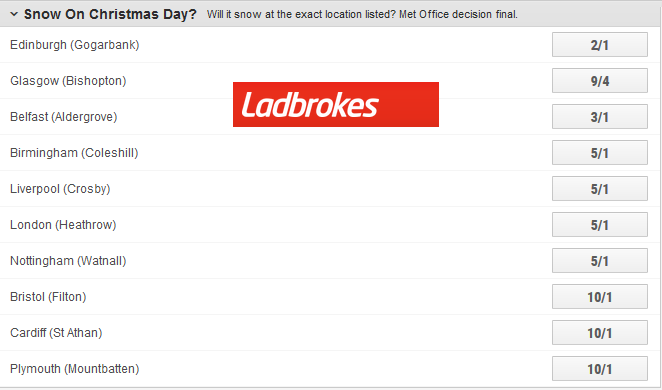 People who love the cold weather and potential for big snow (coldies) await a significant signal or even a little hint. You can't start to plan your Christmas Eve travel, or Boxing Day walk of these charts yet, but we are not seeing a strong cold, snowy signal at the moment like there was before the Beast from the East earlier this year.
A low pressure could move past overnight, come up against cold air in the north and give snow over northern hills. It's still a fair way off, a lot could change. those odds will probably go down a bit more too.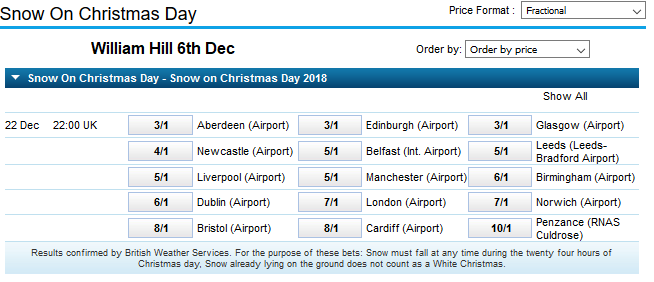 It does look like a No, at the moment, but that could change. As the Santa Shaker will tell you there is still a small chance. And still, two weeks to go. We'll keep you updated but remember the odds don't tell much of a story, except by climate, that it's more likely to snow in Scotland than in Cornwall. A snowflake has fallen somewhere in the UK on Christmas Day 38 times in the last 54 years. The last Christmas card type whiteout Christmas was in 2010.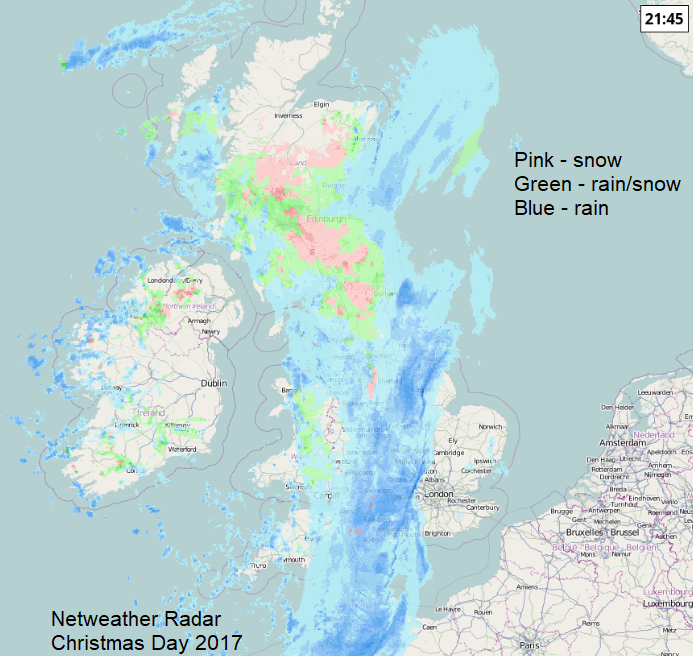 The Netweather Radar will give an idea of where any snow is falling. This was the picture from last year, when a tuck of colder air, behind a front brought sleet and snow from the NW. Click on the image for real time radar or download the Netweather Radar app and check on the day.