First front moving east Wednesday perhaps weakening with most rain fizzling out as it reaches the east, second on Thursday may have more oomph, with heavy rain perhaps turning to snow across northern, central and eastern areas as it bumps into colder air flowing from the southeast from a cold continental Europe ahead of the front. Evaporative cooling may play a big part in lowering the temperature to allow snow to fall too, given the surface airmass will be very marginal for snowfall. A potential low running across the south later on Friday could again bring some snow on its northern flank. So, an increasing chance some may see some snow later next week, perhaps significant locally, higher ground in the north most likely to see it, though can't rule out elsewhere.
Perhaps a spell of milder Atlantic weather in the week before Christmas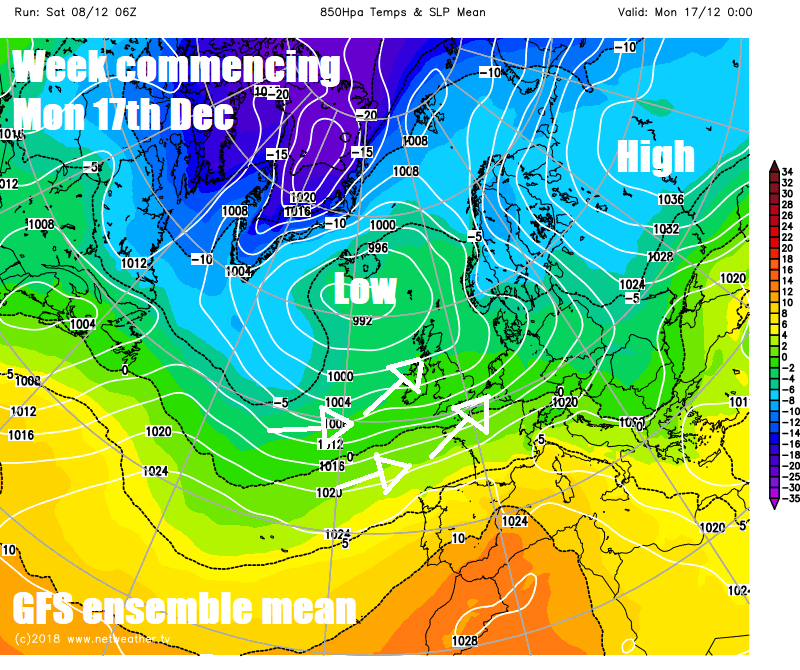 Thereafter, we may see a return to a spell of changeable, milder, sometimes wet and windy, weather off the Atlantic, as the blocking high over Scandinavia trying to push cold air west across the UK next week retreats. This unsettled and milder weather could last through the week before Christmas week (Mon 17th – Sun 23), but there are signs that this may be temporary before the upper flow buckles again, like the next few days, stopping the lows moving through off the Atlantic and perhaps allowing colder conditions to develop as we head into the weekend (22nd – 23rd) before Christmas.
Christmas Week?
Then into Christmas week (Mon 24th – Sun 30th) – it's too far off to commit to forecasting a white Christmas, suffice to say there is a greater chance than normal for more settled and colder weather this week, with a small chance of snow, using recent longer range guidance – such as the twice weekly ECMWF model 500mb forecasts for 46 days (6 weeks) ahead, but just as likely is an Atlantic low pressure influence continuing and bringing a mild and green Christmas.
Towards New Year
Longer term as we approach and head into the start of the New Year, the current moderate El Nino event over the tropical Pacific, which is expected to last through the winter, is expected to continue to have large background influence on the extra-tropical weather patterns downstream across N America, N Atlantic and Europe. The bursts of westerly momentum in the upper flow caused by El Nino and the related Madden-Julian Oscillation (MJO) wave propagation around the global tropics can cause poleward pulses of energy that create waves in the jet stream – which produce ridges and troughs, allowing blocking highs to form and subsequently a greater chance of colder conditions for the UK, if we get on the 'right' side of the block. These waves in the upper flow also propagate higher up towards the stratosphere, causing warning at high latitudes, which can impact the stratospheric Polar Vortex (SPV) by displacing it from its normal home over the North Pole.
If there are more than one of these planetary waves impacting the polar stratosphere, then we may see a sudden stratospheric warming (SSW), which can split the SPV and weaken it so much that stratosphere warms above the arctic and feeds down to troposphere creating prolonged high latitude blocking which causes cold air over the arctic to be pushed to lower latitudes of N America and Europe, bringing cold and snowy weather. Such an event occurred in late February this year and led to the 'Beast From The East' as marketed by the media when we saw bitterly cold easterly winds and snow in March.
We are also heading towards a solar sunspot actiivity minimum, the minimum predicted in the next year or so, which can also lead to an increased chance of cold and wintry spells in winter. The winters of 2009-10 and 2010-11 featured some notably cold and snow weather and were also during a solar minimum.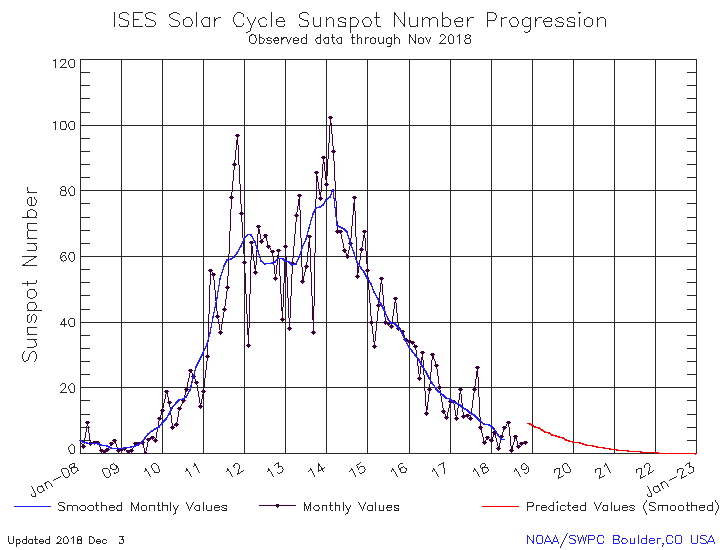 The American GFS weather model for a while now has been showing the zonal winds of the upper stratosphere declining rapidly towards the end of December, indicating a weakening of the polar vortex and warming in the stratosphere.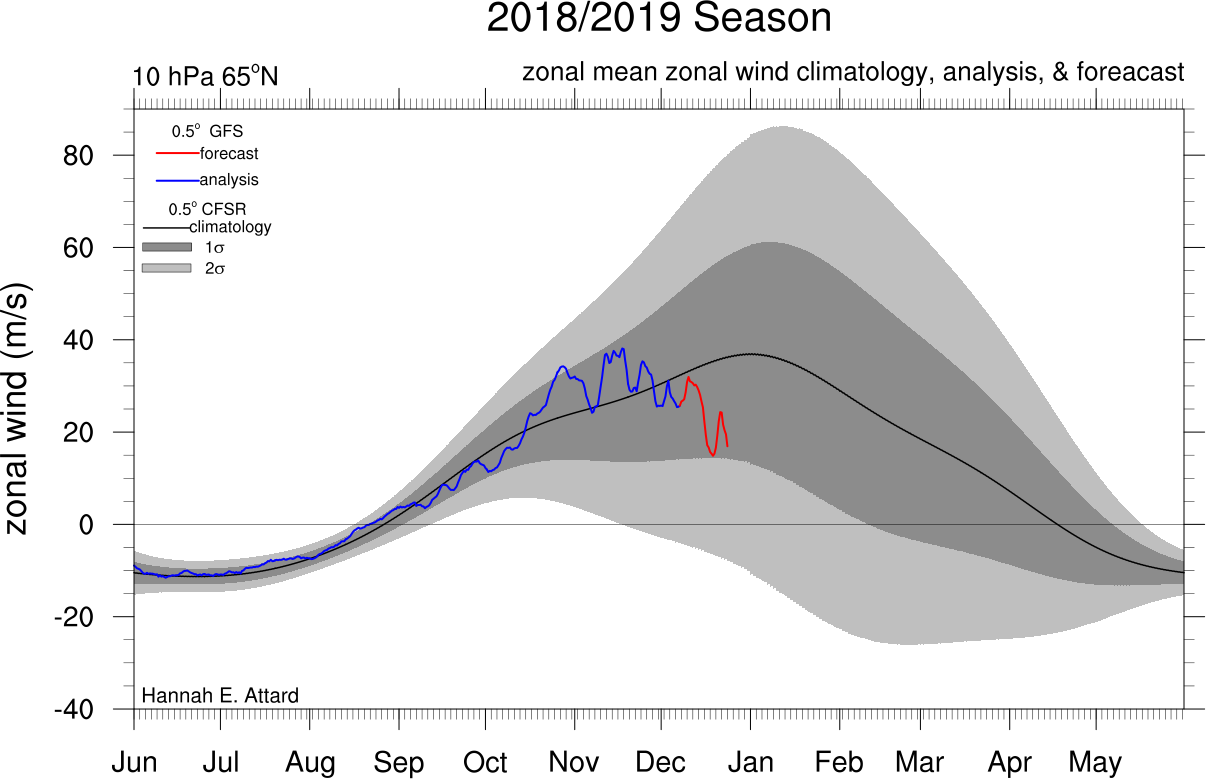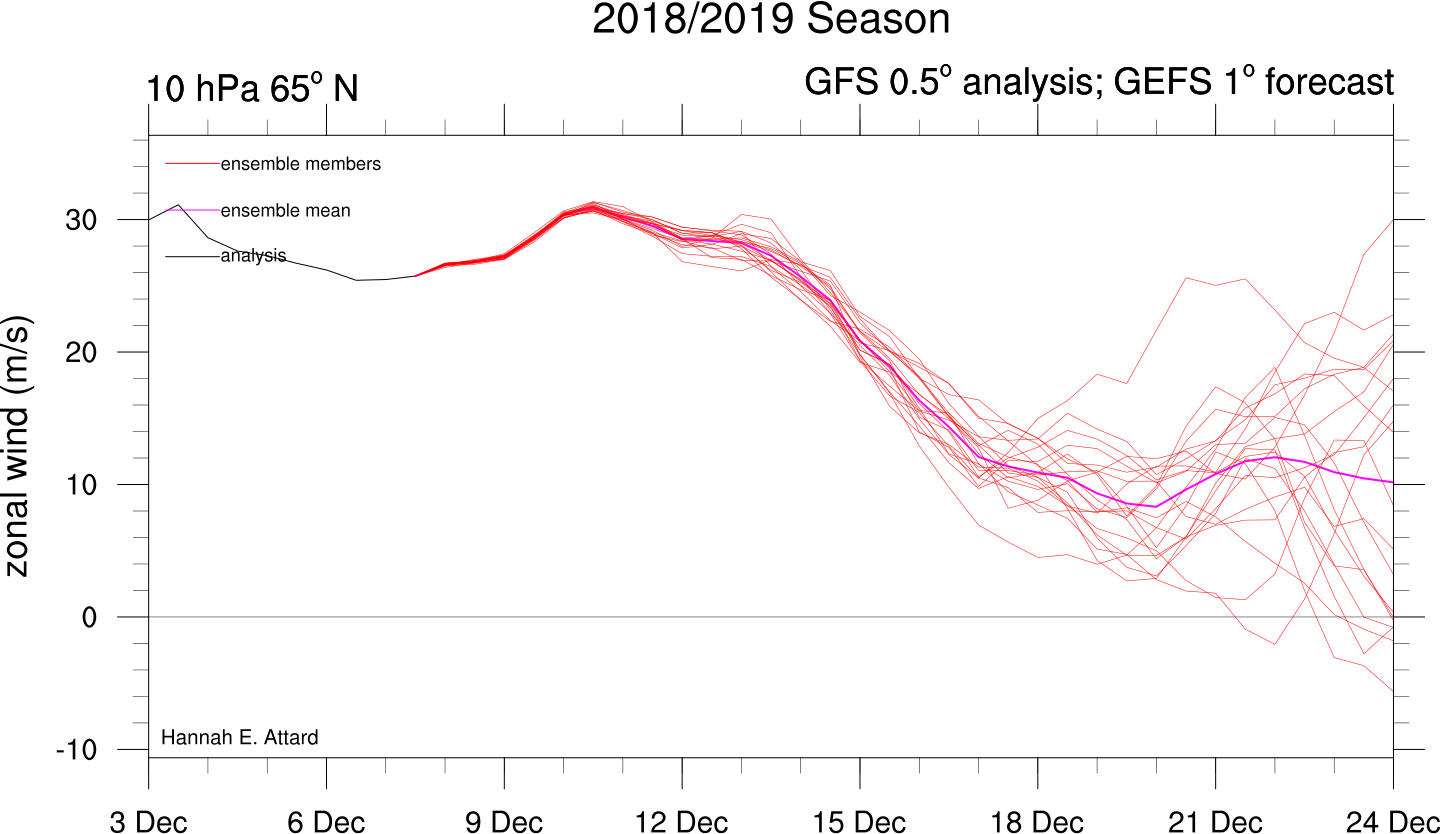 Some of the ensembles for 10 hPa wind, that's near the top of the stratosphere, have shown a reversal of zonal stratosphere winds at this level, indicative of a SSW, but we would need to see more ensemble members heading this way to say it is likely. But there are strong signs we may see a SSW early in the New Year, increasing the risk of deep cold from the north, northeast or east arriving and plunging the UK into wintry weather. A SSW could occur as early as late December, but more likely the New Year.
So all-in-all, promising signals at the moment for those who want to see cold weather with a risk of snow, more particularly later this month and in January.