There will be cloud and some rain spreading in across the north today, but generally it will be fine and sunny across the south. The north-south split continues through the weekend, with the north rather mixed on Saturday, with cloud and rain across western parts, southern areas dry and sunny again. It will be rather mild tomorrow, despite the chilly start. Sunday will see cloud and outbreaks of rain moving southeast across northern areas, the south hanging on to the dry and fine weather. High pressure close to the southwest next week should ensure much of England and Wales stays dry and fine, more mixed for Scotland.
High pressure will hang on across the south this weekend, while northern areas are prone to Atlantic fronts
Today
Following a mostly dry and sunny Thursday, with unbroken sunshine for some across England and Wales, clear skies overnight have allowed temperatures to fall into low single figures, locally as low as 0 to -1C across central and northern areas, allowing a frost. There are also some mist and fog patches to watch out for on the morning commute. For the far north and west it is a milder to start Friday, with cloudier skies and outbreaks of rain spreading in across the west and far north of Scotland.
We will see a bit of a north-south split in the weather through today, generally across much of England and Wales it will stay fine and dry today with plenty of sunshine and light winds once early mist, fog and low cloud has cleared away. Cloudier skies and outbreaks of rain already across the Highlands, Western Isles and NW Ireland will gradually spread east across Scotland, N. Ireland and Cumbria through the day, after a dry and bright start across eastern Scotland, though the rain tending to fizzle out and become lighter generally away from the far west. Brighter skies eventually following across northern and northwestern Scotland. Temperatures reaching 12-15C generally, perhaps 17C in the Channel Islands.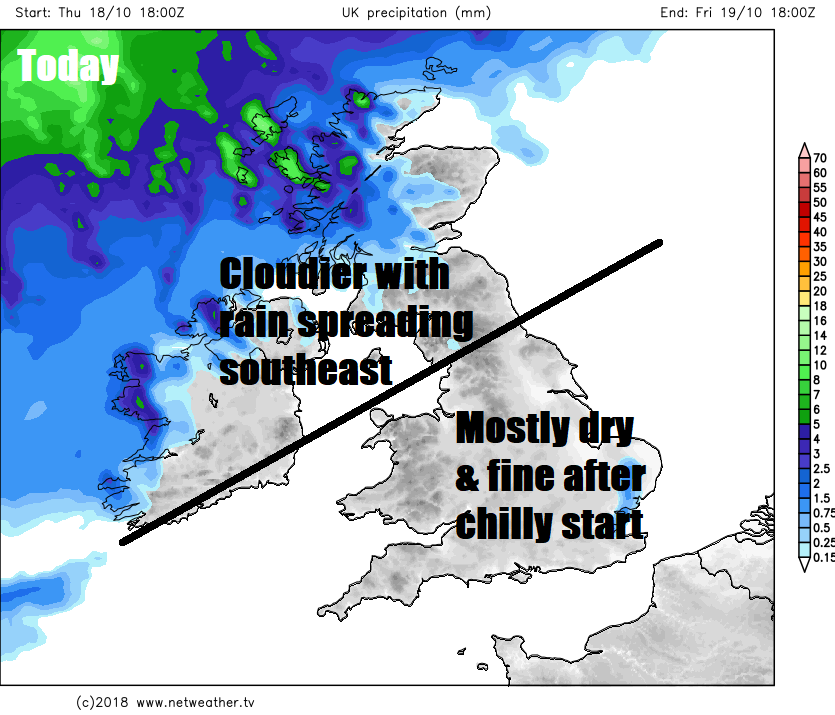 Tonight
Through the evening it will become generally more cloudy across northern England, with some patches of drizzle or light rain over the hills, staying cloudy across Northern Ireland too, with the odd spot of rain. Scotland and the rest of England and Wales generally seeing clear skies which will allow mist and fog to develop quite widely and temperatures to fall to low single figures bringing a touch of frost in places. Cloud and rain arriving across NW Scotland later in the night.
Saturday
The north-south split continues into the weekend. After a cold, misty or foggy start across England and Wales, sunny spells will develop and it will stay mostly dry and fine. For Scotland and Northern Ireland, cloudier skies with some rain for western Scotland, though eastern Scotland may see some sunshine. Turning into a rather mild day though after the cold start in the south, temperatures reaching 15-18C widely where there's sunshine.