Strong southeast, veering southwest, winds associated with Storm Callum, coinciding with high spring tides will affect Ireland on Thursday night and Friday morning.
Winds will be strongest overnight and early on Friday, gusting between 110 and 130 km/h (80mph) at coasts.
Winds
The UK Met Office currently has a yellow wind warning for Friday and rain warning into Saturday. These maybe get updated to Amber as the forecast gains more confidence. The worst of the winds will impact on Friday morning rush hour, people will be travelling in Scotland for October holidays. It is likely that Irish Sea ferries and those to the Scottish Islands will be impacted throughout Friday. Bridges and more exposed road routes will also be affected. There will be rough seas and large waves, making coastal areas dangerous.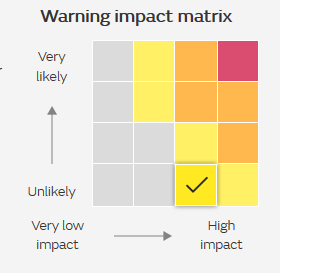 Image - Met Office impact matrix for Friday's wind warning. as event become more likely, could rise to an Amber warning.
The winds will ease over all of Ireland on Friday afternoon and by Friday evening for Scotland. Another bout of strong southerly winds will spread in during Friday night and last into Saturday but this won't be as bad as on Friday, just another windy day. The Western Isles could get another hit of severe gales and high gusts on Saturday afternoon, again not as stormy as on Friday but worth bearing in mind.
Rain
There are two rain warnings from the Met office, one for Friday for Wales, also Cumbria into southern Scotland. And another for Saturday which covers more of Scotland. There is the risk of localised flooding, tricky conditions on the roads with surface water and spray. Rail services may also be hit as the trees still have some leaves, there has been recent heavy rain in the N and as the rain continues into Saturday as another (lesser) low pressure whirls in from the Atlantic, there could be localised flooding, further landslides or wind debris on the tracks. Fallen leaves will lead to blocked drains and flooding issues.
Netweather Forecaster Jo Farrow said" Storm Callum is expected to bring very strong winds to western Britain and Northern Ireland during Friday morning, lasting for NW Scotland into the afternoon. There will also be spells of heavy and persistent rain bringing the risk of localised flooding for Wales, NW and SW England, Northern Ireland and again to western Scotland. Travel disruption is likely for ferry services and possible to rail and road networks. It looks like a stormy start to Friday and a wet and windy end to the working week"
Environment Agency for England and Wales
"Widespread flooding from surface water and rivers is possible across south Wales on Friday and Saturday, and is possible but not currently expected elsewhere in Wales and parts of north-west England. Properties may flood and there is likely to be travel disruption. More localised surface water and river flooding is also possible for high ground parts of the south-west of England on Friday and Saturday. Localised coastal/tidal flooding is probable on Friday along the south Wales coast and is also possible for west Wales, the Wye estuary, and some north-west and south-west coasts of England. The west coast of Dorset may continue to be affected on Saturday morning. Land, roads and some properties may flood and there could be local travel disruption."
Keep an eye on the rainfall live, using Netweather Radar.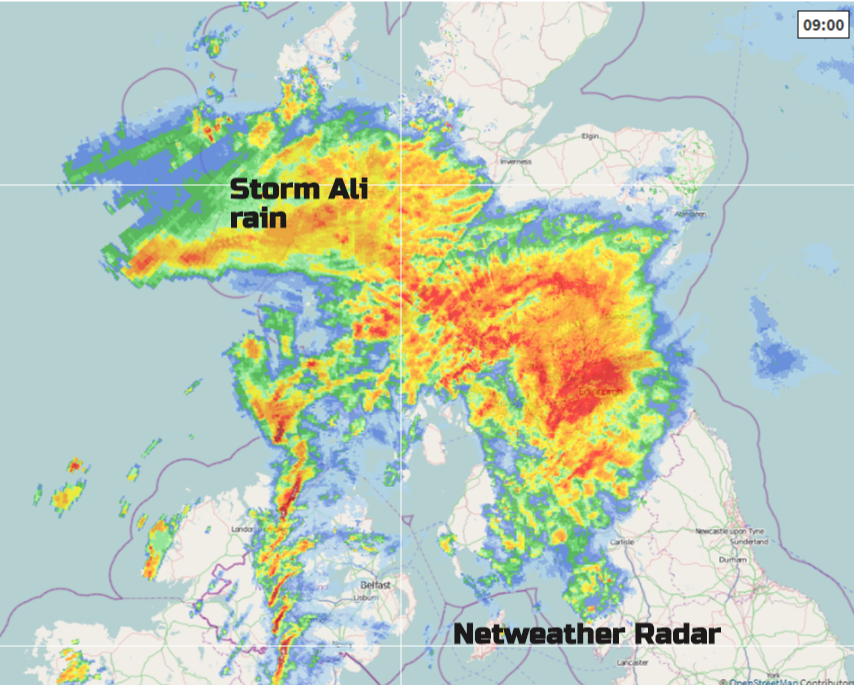 Image - example of rain radar from Storm Ali back in September 2018
Outlook
The warmth for SE Britain remains through Friday and could peak on Saturday, with 25 or 26C possible. Sunday looks calmer and cooler, once the showery rain has cleared into North Sea
You can find out the current forecast in your area using our forecast pages and by following us on Twitter and Facebook, as well as using our mobile Rain Radar app which is available for Android from the Google Play store.
Contact Us
Mean (sustained) wind speeds – Gales 39-46mph. Severe gales 47-54mph. Storm force 55-63mph